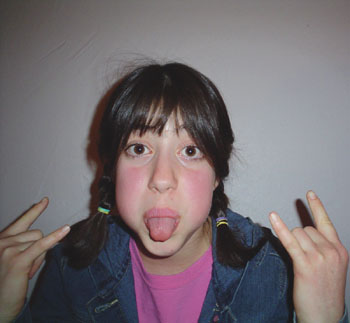 Biter

Saratoga's Comedy C-Word: Clean

By Matt Reed

SO A grasshopper walks into a bar. One of the bartenders looks up, gives him the once-over and says, "Hey, do you know we have a drink named after you?" To which the grasshopper says: "You have a drink named 'Phil?'" Or something like that. Anyway, the kids thought it was funny. Which was the whole point. This is Clean Comedy night at the Blue Rock Shoot in Saratoga, where once a month you can hear local standup comedians tell jokes on a 4-by-8-foot stage about life, love and marriage, but without the potty-mouth delivery. Even with those restraints, there were more than a few moments at last week's show when the coffee shop's cramped backroom filled with laughter.

And then there were the flat, Chris Rock-at-the-Oscars kind of moments. Like when one of the night's four adult comedians said his back hair was a "comb-over you wouldn't want to see."

The big draw of the night was Sarah Kay, a pig-tailed 11-year-old dressed in Converse high-tops, jeans and a denim jacket, with a bright pink shirt that read "It's nice to be naughty." Some of her friends sat up front, laughing along at her lively act, which includes an array of voices. There's the Al Pacino-in-Scarface imitation, the Asian Indian, the Latino, the high-toned Englishwoman, the bad singer.

"I love Bob Saget. And I love Dana Carvey, and I love Jim Carrey and I love Robin Williams. I love imitations," she said after the show. "I work on my delivery and my timing. I practice in front of the mirror almost every day. It's my dream to be a comedian and an actress."

The MC of the night, as well as the show's first act, Dan Edwards, is cited as the driving force behind the Clean Comedy night, which began in November. He's also the one who, several months ago, gave Kay her first opportunity at standup at the Blue Rock Shoot.

Despite the mandate to keep it clean, the comics did venture into PG-13-rated territory at last week's show. There was the joke about the aunt of one comic who went through a pat down at airport security and then turned to her husband and said: "That's how you do it."

There was even, thankfully, toilet humor: one joke compared a contemplative and constipated diaper-wearing toddler to Rodin's "The Thinker."

Of course, at the Blue Rock Shoot, there weren't any F-words. That's OK, though, because Kay told one of the best jokes of the night on that same subject.

"In our house, the F-word and the S-word are big no-no's," she began. There's also the T-word, which stands for taxes and makes her father upset. And the D-word, for diet, which gives her mother a nervous breakdown. And then there's the M-word, which stands for Michael Jackson. "And "if we all hear it, we all freak out," Kay says.
---
Send a letter to the editor about this story to letters@metronews.com.
---
[ Silicon Valley | Metroactive Home | Archives ]