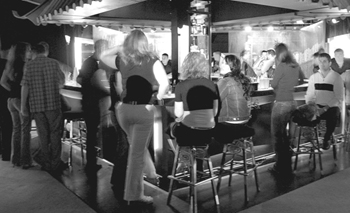 Photograph by Felipe Buitrago


Club Life

Buddha Lounge
251 Castro St., Mountain View; 650.965.7665; www.buddhanightclub.com

By Christine Lee
---
Amenities: Asian-themed lounge
Ambience: No cover Fridays ($5 cover Saturdays unless otherwise stated)
---
IF YOU haven't been to the newly opened Asian-themed Buddha Lounge on Castro in downtown Mountain View (formerly 251 Castro and Pocket's Billiards), it won't be hard to find—just look for the big wooden Buddha head mounted in front. At night it glows eerily red, beckoning you with its vacant eyes to enter its interior, equally awash in a neon red landscape. Pass through the chain-link curtains, and you'll enter the first room, where a pagoda roof languishes, suspended above the square bar where you can meditate on well-mixed drinks served by the friendly bartenders. The rear holds another bar, a remnant pool table and a small dance floor bookended on each side with fog machines and white neon cubes meant for dancing ladies (an offering to the party gods?).
The upstairs room is a lofty nook away from the din but has a disconnected theme—party-goers can play chess while resting amid the cushy couches and pillows and tables imprinted with images of vintage French posters. The modern black and metal bar stools lining the balcony give patrons the opportunity to preside over the dance floor below. The club aims for high class but falls a little short on the details—wires and electrical lines and carpet stains still show up under neon inspection.
It's still a pint-sized blessing for local clubbers, bringing a more intimate lounge vibe previously lacking in downtown MV. The Limelight across the street (now the Monte Carlo) floundered in its enormity and rowdy teen audience. The Buddha Lounge is a smaller, more stylish spot where the Silicon Valley crowd can groove to Top 40 all night and still stay awake through those early morning meetings the next day. On Fridays and Saturdays, the club becomes a victim of its geography as most serious (read: better-looking) club hoppers trek to San Francisco. Go on a Thursday night for a larger, trendier crowd. And if it still seems too hipper-than-thou for Mountain View, there's always the Irish pub a couple doors down.
---
Send a letter to the editor about this story to letters@metronews.com.
---
[ Silicon Valley | Metroactive Home | Archives ]