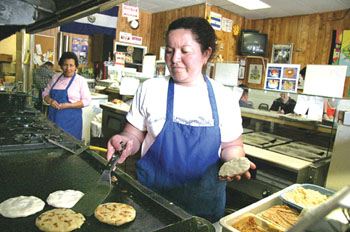 Photograph by Felipe Buitrago

Super Savor: Sabor Salvadoreño serves Salvadoran fare like pupusas (foreground), a pickled cabbage side dish called curtido and cold Salvadoran soda.

Savoring Salvador

Sabor Salvadoreño brings the flavors of El Salvador to Santa Clara

By Stett Holbrook

THE RUINOUS civil war that engulfed El Salvador in the 1970s and 1980s sent thousands of Salvadoreños packing for the peace and prosperity of the United States. In California, most headed for L.A. and, to a lesser degree, San Francisco. One of the upsides of this diaspora is the profusion of Salvadoran restaurants and pupuserias, casual eateries that specialize in pupusas, the country's beloved meat- and cheese-stuffed griddle cakes.

Silicon Valley's Salvadoran population is small, and finding a good pupusa or other Salvadoran specialties can be a challenge. That makes Santa Clara's tiny Sabor Salvadoreño ("Salvadoran flavor" in English) a real find. Owners Mario and Conchita Hidalgo ran a cafe in El Salvador before they moved to the United States 20 years ago to escape the violence of their homeland. "There were dead bodies in the street," Mario remembers gravely. "There were dead bodies in front of my restaurant. That was too much. It wasn't good for my children or for me."

Mario, a stout, impish man, had a friend in Sunnyvale who helped him and his family settle into life here. After saving money and working a number of jobs over the years, he and his wife opened Sabor Salvadoreño almost four years ago. The 10-table restaurant occupies a storefront in a minimall between a bar and a nail parlor just off Lawrence Expressway. The restaurant specializes in Salvadoran food but also serves Mexican standards like tacos, burritos and chile rellenos. But you can get that stuff anywhere. Come here for the Salvadoran food.

Although they had to flee El Salvador, it's clear the Hidalgos love their native country. Posters from El Salvador, oversize Salvadoran currency and Salvadoran artwork hang on the walls of their restaurant. The front counter is inset with a replica of the nation's seal and tiled with the national colors, blue and white. Pupusas ($1.75) are the main attraction. With skilled hands, Conchita grabs a handful of masa dough, the corn meal used to make corn tortillas, and pats it flat. She places a dollop of cheese, fried pork, beans or other ingredients into the center and then reforms the dough with a few more slaps of her hand to seal it. Then she tosses the stout pancake onto the griddle where it cooks and blisters to a toasty brown.

Hot off the griddle, pupusas are crusty on the outside and steamy, oozy inside. I love the bits of cheese that leak out and fry crisp. Unlike Mexican food, Salvadoran food doesn't use a lot of chile peppers and is quite mild. Salsa aficionados might dismiss the tomato sauce served with the pupusas as too bland, but that's the way they do it in San Salvador. The other accompaniment is curtido, pickled cabbage and carrots. The vinegary bite is just the thing to cut through the richness of the pupusas.

Pan con pavo ($5.75), bread with turkey, is another classic Salvadoran snack. The turkey-stuffed roll looks a bit like a Mexican torta. The juicy, highly seasoned meat is good but quickly saturates the bread, making it soggy and hard to hold. Perhaps a little pre-stuffing drainage would help.

The restaurant makes several big-bowl soups, some of them available only on weekends. Sopa gallina ($6.50) is a hearty chicken soup filled with rice and large chunks of carrots, zucchini, chayote (a kind of squash) and red bell peppers. It has a rustic charm but needs a squeeze of lemon and a few dashes of hot sauce to bring it to life. It is served with big and thick Salvadoran-style tortillas.

Don't miss Sabor Salvadoreño's specialty drinks. Horchata Salvadoreño ($2.50) differs from the sweeter, cinnamon-laced Mexican version. The drink is made with toasted rice, peanuts, cacao, sesame seeds and morro seeds, a unique Salvadoran ingredient. The ingredients are blended into a milky, slightly sweet beverage. Good too is arraya ($2.50), a tropical-tasting, sweet but tart drink made from imported Salvadoran fruit.

For dessert and a real taste of El Salvador, chilate con nuegados ($5.95) is a hearty but simple local specialty. Chilate is masa mixed with hot water into a thick, pasty drink. (In Mexico it's called atole.) On its own it is quite bland, but the idea is to eat it with the nuegados (sweetened fried yucca and cinnamon-spiked, syrup-steeped plantains). I confess, I didn't drink much of the chilate, but the nuegados are pretty good. Think of them as Salvadoran donuts.

With only a few of Salvadoran restaurants in the South Bay, Mario says he gets customers from as far south as Gilroy who come for his pupusas and other dishes. "They like our food the best," he says.
---
Sabor Salvadoreño
Address: 2045 White Oak Lane (off Poinciana Drive and Lawrence Expressway), Santa Clara.
Phone: 408.985.6464.
Hours: 11am-9pm daily.
Price range: $1.75-$8.95.
---
---
Send a letter to the editor about this story to letters@metronews.com.
---
[ Silicon Valley | Metroactive Home | Archives ]