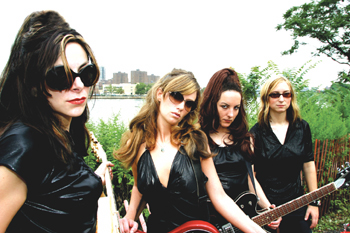 Bloodsports: Detroit's garage-rock credentials just got renewed: The Gore Gore Girls.

Gory Details

Forget the First Twins. The Gore Gore Girls are here to kick ass.

By Geoff Wong

"FROM DAY ONE, I had a very definite idea to combine primal rock & roll and the aesthetic of a girl group," says Gore Gore Girls founder, vocalist, guitarist and songwriter Amy Surdu. "Those two things just got put together because they're just two things I like. There might be some other bands doing that but not as well-defined as we do and not as well as we do."

No shortage of confidence, here. Surdu first started writing and recruiting band mates in 1995, and they performed their first show two years later. Strange Girls, G3's debut album, was released in 2000, followed by Up All Night in 2002. On their latest release, the 7x4 EP (which had a March 8 street date), Surdu demonstrates just how well she and her Gore Gores (guitarist Marlene, drummer Nikki Styxx and bassist The Deuce) have been able to mate garage-rock and girl-group traditions through their own musical point of view. One track sounds as if it were an original song that pays homage to the girl-group sound of the '60s. Like the tough female surfer/motorcycle gang absent from motion pictures, the G3 sing about being 17 and "all grown up/ And I'll go where I want to go/ See who I want to see/ Stay out late."

"Sweet Potato," in turn, could have taken the heart of its lyrics from some unearthed blues number, with the juicy-sounding tuber serving as euphemism for something—or someone—considerably naughtier. It turns out "All Grown Up" is a cover, while "Sweet Potato" is a G3 original, written by Surdu. But both have backstories as colorful as the Gore Gore Girls' own history. Surdu had heard "All Grown Up" on a cassette years ago, but she lost it. She learned it from memory and sang it out loud and made the chords fit (she eventually won on eBay a recording of the Crystals' version). As for "Sweet Potato," the inspiration came from an unlikely vintage source: fruit-crate art, in particular, Don't Cry sweet potatoes from the '40s.

"I thought the art was so colorful and so neato that I wanted to use it for a 45 cover, so I wrote two songs—one called 'Don't Cry' and one called 'Sweet Potato'—just so we could use that art."

The Gore Gore Girls will have the opportunity to perform both "All Grown Up" and "Sweet Potato" as the quartet tours with Shonen Knife. G3 and the Knife had played on the same bill for a CMJ showcase two years ago but only got to really chat recently in Chicago, where they filmed an episode of Chic-A-Go-Go.

"It's a kids' TV show on cable access. It's so much fun," she says. "It was surreal, because it was a big studio full of kids. Their parents let them dress up as crazy as they want, and you lip-sync in the middle of this room with a bunch of kids dancing."

The Gore Gore Girls and Shonen Knife got on so well, they teamed up for a West Coast tour, which stops at the Blank Club on Sunday, March 20. Tickets are $12 and available through Ticketweb.
---
Send a letter to the editor about this story to letters@metronews.com.
---
[ Silicon Valley | Metroactive Home | Archives ]