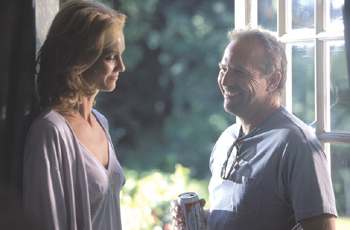 Photograph by Paul Chedlow/New Line Productions

Pickled Pair: Joan Allen and Kevin Costner slurp their way through Mike Binder's 'The Upside of Anger.'

Loco Parentis

Allen and Costner mix estrogen and vodka in 'The Upside of Anger'

By Richard von Busack

IT IS Little Women done drunk. The Upside of Anger by Mike Binder is one very salty script. As a movie, however, it looks as if it had been mauled by a focus group. A bracketing sequence of a funeral nails down the story, providing everyone a chance to retrieve their innate WASP good breeding. What survives is more important than the funeral sequence or the many red herrings brought in to make us suspect they'll be the corpse.

It all takes place in a woodsy country suburb outside Detroit. (Remember 8 Mile? This could be called 30 Mile.) Terri Ann (Joan Allen) was ditched by her husband in favor of the proverbial Swedish secretary. She salves her hurt feelings with Grey Goose vodka, denouncing everyone in earshot and giving up any wardrobe more ambitious than a purple nightgown and bathrobe. The TV set, always an extra character in movie comedy, brings plenty of bad news from the Arab world, encouraging Terri Ann's decision to go to pieces. Her neighbor Denny (Kevin Costner, not this good since Bull Durham) doesn't mind the bitter hausfrau's sharp tongue. This ex-Detroit Tiger has a tough hide, thanks to much soaking in Budweiser. Denny's occupation, if you could call it that, is appearing on a talk-radio show. Since the two have afternoon drinking in common, they end up arguing their way through an affair.

Allen has been phenomenal over the years, but her piques of comic rage are something to see; she strains her neck tendons like a muscleman bench pressing 500 pounds. She is particularly infuriated over the conduct of her four daughters, of which it must be said that each is more underwritten than the one before. Hadley (Alicia Witt) is at college and eager to become a suburban mom just like her mom. Erika Christensen's open-faced, innocent Andy hooks up with a skeevy 40ish radio programming director named Shep (director Binder). Emily (Keri "Felicity" Russell) develops a stomach problem because of her ambition to be a ballerina. And the youngest (Evan Rachel Wood), who is called Popeye for some reason (because she's a photographer?), narrates a video essay on the subject of anger.

The family is doomed to reconciliation, to becoming a large cloud of waving red hair silhouetted against the autumn leaves. Binder is a TV writer who specializes in the quick epiphanies, easily resolved crises, wacky neighbors and Swedish secretaries. More interesting is the clash of styles between Costner and Allen—the slob and the patrician. This sure-fire romantic formula hasn't been used recently, mostly because the male stars of today are more peacocky than the ladies. The coupling has the charm of Tracy and Hepburn gone loco and is studded with verbal cocktails—"Heartbreak heals, it just heals funny." Binder is at his best directing Terri Ann's bad behavior at her daughter's engagement dinner. This is the reward of The Upside of Anger, not the film's downside: Terri Ann's rehabilitation at the grave. We're meant to keep watching to find out whom the funeral is for. By the end, we don't care who the hell is in the casket, as long as it's not Terri Ann or Denny.
---
The Upside of Anger (R; 118 min.), directed and written by Mike Binder, photographed by Richard Greatrex and starring Joan Allen and Kevin Costner, plays at selected theaters.
---
---
Send a letter to the editor about this story to letters@metronews.com.
---
[ Silicon Valley | Metroactive Home | Archives ]