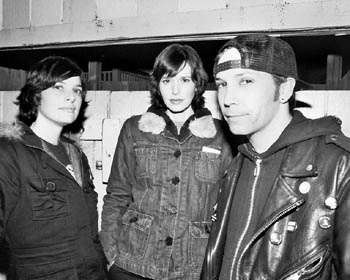 Here Kitty Kitty rips and tears.

Hello Kitty

Bubblegum-punk trio Here Kitty Kitty unleashes sophomore album

By Sarah Quelland

THEIR MATURE-SOUNDING style is influenced by Joan Jett, the Ramones, the Muffs and the Go-Gos, and Santa Cruz trio Here Kitty Kitty celebrated the release of their second album, This Is Broken (Lorelei Records), last Sunday (March 21) at the Catalyst. Appearing cool and in full control, the female-fronted pop-punk group looked as at ease on the Atrium's small stage as it might in such dissimilar spaces as a Santa Cruz house party or a San Francisco nightclub.

Guitarist Aricka Scarborough and bassist Mikala Clements take turns on lead vocals and drummer Dave Lorber rounds out the lineup. With songs under two and three minutes long on the 11-track album, Here Kitty Kitty takes short-but-direct swipes at girls who sleep around ("Lucy Grey"), traitorous friends ("Unfriend") and worthless ex-boyfriends ("Time"). Though the vocals sound sweet, the claws come out in the lyrics. The title track opens with the line "This is a love song to the boy I fucking hate" and continues, "He's the one responsible for my shattered state / He wasn't always bad, it's true, and this I'll say / He broke my heart, and I hate him to this fucking day."

Despite the catty angst and anger, though, the girls don't take themselves too seriously. Their lyrics are often funny. "Destroy" retaliates against elitist punks who ignore them ("Fishnets are ripped / Skirt is plaid / Trying hard to make you think I'm mad / My boots hurt / My feet are blue / I guess I'm not punk enough for you").

Girlish without being girly, Here Kitty Kitty has an appealing edge that's sharpest on the badass rocker-chick anthem "Firecracker." The tale of a girl who spots a cute guy and follows him down the street and into a bar, "Last to Know," brings to mind Josie Cotton's "Johnny, Are You Queer?" when she discovers "When I walked into that bar there were no girls in my sight / And that's when it hit me that girls just aren't your type." The album even contains a 7 Year Bitch-styled birthday song, aptly titled "Birthday," that's likely reserved for special occasions.

On its first release, Daddy's Girl, Here Kitty Kitty covered ex-Runaway Lita Ford's "Kiss Me Deadly." This time around, the band bites from another former Runaway by covering Joan Jett's version of Gary Glitter's "Do You Wanna Touch," the song that closes out the new record.

After playing the Blank Club last Saturday (March 20), Here Kitty Kitty returns to the South Bay to play an all-ages show at the Outhouse in Los Gatos this Saturday (March 27) with the Phenomenauts, Groovie Ghoulies and the Silent Attack. Visit www.herekittykittyrocks.com.

HOT TOPIC: Celebrating women, winter sports and music, the Girl Powder tour hits the area with a number of regional dates including March 29 at the Catalyst with Milka, Mudbath and Simon Stinger; March 30 at the Blank Club with Milka, Mudbath and the Cyn Project ... Recently signed to Epitaph Records and already generating a national buzz, Oakland's promising new stars, the Matches, play a teens-only show next Saturday (April 3) at the Mitchell Park Center in Palo Alto with Army of Freshmen, Moonlife and My Former Self. Visit www.thematches.com.

PLAN AHEAD: The Breeders, Lucero and Go Betty Go, March 25 at the Catalyst; Sonic Mirth, Shit Outa Luck, Meander and Unknown Theory, March 25 at the Gaslighter Theater in Campbell; Maida, the Cursed and Breather Resist, March 26 at the Outhouse in Los Gatos; Plans for Revenge, Five Minute Ride, Know You're Waking and Novice, March 26 at Gaslighter's Music Hall in Gilroy; Drist, Splyt and Reeve Oliver, March 26 at the Blank Club; 5606, Storytold and the Silence, March 27 at Westgate Church in San Jose; the Bellamy Brothers, March 28 at the Saddle Rack in Fremont; Spoke and Dirt Bike Annie, March 29 at Waves Smokehouse; Dirt Bike Annie, Bozo Porno Circus and the Traumedies, March 31 at the Blank Club; Mindeye, V.O.P., In Balance and A Burning Water, April 1 at spy.
---
Send a letter to the editor about this story to letters@metronews.com.
---
[ Silicon Valley | Metroactive Home | Archives ]