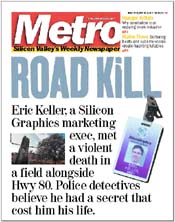 For the Week of
March 25-31, 1999
Cover: Deadly Secret
How a successful 41-year-old exec named Eric Keller came to Silicon Valley to make his mark and wound up beaten and stomped to death in a field in Vacaville.
News: Macy's Parade
A pair of sisters, falsely accused of shoplifting from the cosmetics counter at Macy's, say they were targeted because they are Mexican-American.
Saratoga: New ordinance regulates adult businesses.

Willow Glen: BID welchers slide, despite amnesty plan.

Los Gatos: Group and county cut a deal on spraying mountain roads.
Public Eye: The campaign to defeat the initiative blocking the expansion of San Jose Airport takes flight.

Puppy Love: Someone has to give service dogs their start.






Cupertino Crüe: Headbanging Mötley Crüe keeps the metal lifestyle alive at the Flint Center--of all places.
Boogaloo Bop: Pucho Brown and His Latin Soul Brothers keep the groove deep on the album Yaina.
At Schnalle's 'Place': Local drummer takes his own steps on new DIY album, That Place.
Electronic Lullabies: Halou's music caresses the knots of the soul.
Aural Fixation: The Chums turn up the buzz at Bennigan's.
Audiofile: Reviews of the latest CDs by The Controls, April March and various artists.



Making Whoopi: A dose of wisecracks helps the self-glorifying medicine go down at this year's Oscars.
Tastes Great, Less Filling: The new cannibalism movie Ravenous doesn't have as much meat on its artistic bones as such classics as Night of the Living Dead and Texas Chainsaw Massacre.
Black Forest Hams: A little-known German group performs its hits in The Harmonists.
Celluloid Heroes: IMAGEfest honors local directors.



Do You Fondue?: Whimsical medieval decor and a unique menu of hands-on cuisine make Saratoga's La Fondue a place to indulge fantasies.



Look for the 'Reunion' Label: John Bisceglie brings back his over-the-top revue Rock 'n' Roll Reunion.



Please don't forget to write! Metro welcomes letters. Like any great work of art, they should be originals -- not copies of letters sent elsewhere. Include address and daytime phone (for verification purposes only). Letters may be edited for length and clarity or to correct factual inaccuracies known to us. Postal: Metro Letters, 550 S. First. St., San Jose, CA 95111. Fax: 408/298-0602. . Emailers, please include name, city of residence and phone number. Letters printed will list email address unless otherwise specified. Letters to the editor are not currently published in the online version of this paper.