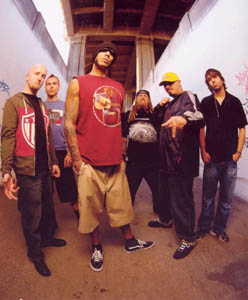 This urban metal assault unit from Huntington Beach is (hed) strong.

(hed)'s Up

(hed)P.E. returns to Northern Cali to hit the Fillmore with songs from its newly released album, 'Blackout'

By Sarah Quelland

AFTER BEING DELAYED FOR A YEAR, (hed) Planet Earth's Blackout, the eagerly anticipated follow-up to Broke, hit stores last Tuesday (March 18), and the band roars into the Fillmore on April 2 on the Jagermeister Tour with Saliva, Systematic, Breaking Benjamin, Stereomud and Mystic Rage. (hed)P.E. is arguably the best rap-metal band that didn't blow up--and better than many that did.

I caught up with (hed)P.E. frontman Jahred to grill him on the deeper motivations behind his lyrics on both Broke and Blackout and the angry themes of betrayal that carry through Blackout.

Broke played like the tale of a man who was raised to believe in Jesus, then realized he couldn't find Jesus in his life anymore. He rails with his fists toward the heavens screaming, "Where are the angels? / Nowhere / Where's the honesty? / Nowhere" ("Swan Dive"); begs for compassion on "The Meadow" ("Please forgive my broken soul"); and prays, "Jesus, make everything all right," on "Jesus (of Nazareth)." But although he says his father was a reverend, Jahred doesn't want to talk about Jesus. "I'm not preoccupied with Jesus," he tells me. "I'm more preoccupied with Buddha." OK, so, that could be taken two ways, but he does read Buddhist literature.

Maybe I'm wrong in my assessment of his intentions. But in addition to the persistent current of betrayal that runs through Blackout--especially on songs like "Carnivale" ("Know your enemies well / They enter your life disguised as your friends") and "The Only One" ("So much drama in my life that I wish I could forget / But my tattooed skin won't let me / Feels like my so-called friends, they're all out to get me")--there is the desperate need to believe in something. On the powerful first single, "Blackout," which opens with a heart-monitor flatlining, Jahred reveals, "I can't breathe / My heart is freezing / While we pray, my soul is packing its bags and leaving." With guitars rumbling like a diesel engine on "Flesh and Bone," he refers to himself as "just another lost soul" and sings, "I'm running through the shadows in a circle, trying to find my way." On "Revelations," he declares "This is my revelation, Lord, this is the end / This is my Exodus, oh Lord, I'll break before I bend."

As Jahred explains it, "Blackout is an introspect of a really dark time in my life. At the time of the writing of the album, I was really reaching some depths of my life with betrayal and substance abuse, and it all just came to a head. The album's been done for a year, so I'm very much in a different place." Now, he says, "I'm healthier mentally and spiritually. I'm more happy."

Dark times create some of the best art. Referring back to Buddhism, Jahred explains, "You should be thankful for the demons that are sent to you, 'cause those are the ones that will teach you the patience and the perseverance. It's easy to be OK when everything's going all right, but when things don't, that's the true test."

His struggle helped produce an exciting and appropriate sequel to Broke. Blackout opens with the booming (hed)P.E. sounds of "Suck It Up" and powers through 14 tracks that stand as the ideal union of sexy rap-tinged rock vocals and intense urban heavy metal. Drum 'n' bass meets reggae on "Get Away," while the dusty and twangy acoustic song "Other Side" serves as the (hed)P.E. version of a ballad. Complex and diverse, meaningful and empowering, it's a tremendous record. So why does this band signed to Jive Records keep grinding it out in the clubs?

Reflecting on Sevendust and Kings X, I suspect it has something to do with the dichotomy of Jahred being an African American frontman in a metal band. He groans when I broach the subject but acknowledges that the color of his skin probably makes it more challenging for his band to find its niche. Still, citing substance abuse, loneliness and feelings of betrayal, he says, "The things I talk about, I think, are common to much of humanity, if not all of humanity at one time or another."

HOT TOPIC: Larry Trujillo announced he's going to book some shows at the Knitting Factory in Hollywood starting with the Faction/Death on Wednesday bill on May 31. ... INQ (formerly Baby) plays this Saturday (March 29) at Waves.
---
Send a letter to the editor about this story to letters@metronews.com.
---
[ Silicon Valley | Metroactive Home | Archives ]