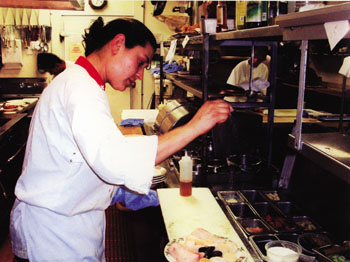 Photograph by Chris Revell

Spice Island: Chef Andrea Serrano works some magic behind the scenes at Emile's.

The Really, Really Good Life

Already a legend, Emile's just got better--and the reason is the vibrant presence of a gifted new chef

By Christina Waters

IT'S NO NEWS that Emile's, in downtown San Jose, is a serious salon of the sensory. Since it opened nearly three decades ago, the terra-cotta-colored restaurant has pumped out elegant California renditions of Swiss, French and Italian foods, shored up by a wine cellar plump with more than 300 selections.

But--surprise!--surprises keep emerging from this bastion of the gourmet. The latest is Andrea Serrano, flavor visionary and culinary adventuress. Serrano joined Emile's at the beginning of the year and lost no time in putting her impressive Bay Area résumé (Chez TJ, Spago, Rubicon) to work. From start to finish, from Maine crab timbale with sweet corn risotto to gossamer Grand Marnier soufflé, my dinner at Emile's last week was--on a scale of 1 to 10--a 15. It was extraordinary in every respect: concept, design, ingredients and ecstatic attitude.

Emile's is not cheap. The ornate ceiling décor and towering floral centerpiece announce that this is no ordinary dining room. Fresh roses on white linen echo the glamorous effect. And that was fine with me and Ann as we began last week's dinner with a bottle of exuberant Rosenblum Cellars Zinfandel, Paso Robles '98 ($35).

A smart waitstaff exerted restraint as well as style in allowing us ample time to wander through one of the most appetizingly updated "continental" menus imaginable. Foie gras parfait with spiced figs, roast chicken with mushroom duxelles, petit filet with Szechuan peppercorns--even (gasp!) two caviars. A wild game special of squab stuffed with nuts and berries tempted me mightily, as did a pomegranate molasses-glazed lamb shank touted as "heart-healthy cuisine." Serrano is clearly committed to seasonal possibilities, and gastronomes will be intrigued by Serrano's prix fixe tasting menus.

In the center of a frosted-glass square, a pale pink knot of crab arrived seductively warm and studded with sweet corn risotto and frisée. A surrounding band of spicy red pepper coulis, brilliantly crimson, was punctuated by orange segments, while pools of transparent basil oil dotted the perimeter ($16). Each erotic bite of this sophisticated starter unleashed a full arsenal of textures. Ann's appetizer re-envisioned beef tartare as a pillow of maroon laced with capers and juniper berries, topped with a quail egg and joined by sensational potato crisps flecked with chive and chervil ($16). Partnered with one of three fine breads, the beef was sheer decadence.

Could the kitchen maintain this pace, we wondered? A minute later, on large plates served with Old World flourish by a duo of ace waiters, our answers arrived. Four large, al dente day-boat scallops rode a buttery "chowder" of leeks and more sweet corn dotted with the tenderest possible gnocchi and generously dusted with black truffles ($29).

Ann practically purred over this refreshing version of a culinary fixture, mumbling, "Earthy ... pungent ... sensual," between bites. Meanwhile, I had struck a vein of pure gold with an entree of plump veal tenderloin medallions, each topped with a white gulf prawn rich with the flavors of the sea ($34). Pricey? Yes. Justifiably? Yes.

The subtle flavor of the buttery veal was heightened by a sauce of veal demi-glace, shallots and flinty green peppercorns. I'd forgotten how good the once-ubiquitous spice of California cuisine could be. The peppercorns in turn revved up a wild mushroom risotto infused with the rich flavors of golden chanterelles, black trumpets and even a hint of candy caps. A sheaf of slender green beans, perfectly steamed, played counterpoint to the meaty richness. But it wasn't quite over.

Cups of espresso love to accompany something sweet, and knowing that in advance we had wisely ordered a warm soufflé as light as spun angel's wings with Grand Marnier ($18 for two to share). Angelic was the effect of this beautiful cloud of orange zest, liqueur and eggs, presented and served tableside and sauced with a thick rivulet of crème anglaise. This retro tour de force produced a reaction, to quote Madonna, like the very first time. Kudos to chef Serrano, whose skill transcends the price tag.
---
Emile's
Address: 545 South Second St., San Jose
Phone: 408.289.1960 (or book a reservation online)
Hours: Dinner 6-10pm Tue-Sat
Cuisine: Contemporary French
---
---
Send a letter to the editor about this story to letters@metronews.com.
---
[ Silicon Valley | Metroactive Home | Archives ]