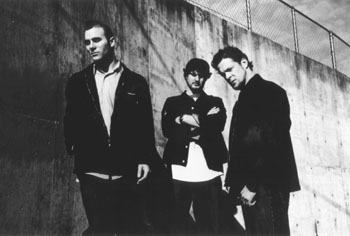 EchoBrain keeps Metallica's Newsted busy.

Alive and Kicking

Jason Newsted finds there is life after Metallica with his new band, EchoBrain

By Sarah Quelland

YOU CAN TAKE THE MAN out of METALLICA, but you can't take Metallica out of the man. Not quite, anyway. Former Metallica bassist JASON NEWSTED brought his new band, ECHOBRAIN, to the USUAL last Thursday (March 21), and though there's nary a trace of Metallica in the group's mellow, melodic, even hypnotic rock & roll tunes, Newsted performed crunched down in the full-force metal-assault position he's been accustomed to for more than a decade.

Avid fans crowded in front of the stage showing full support of their not-so-fallen hero, who seemed to be having the time of his life. With DYLAN DONKIN on vocals and guitar, and BRIAN SAGRAFENA on drums (along with this tour's hired guns: guitarist CHRIS SCIANNI and keyboardist/percussionist DAVE BORLA), it was a smiling, friendly Newsted who repeatedly spoke to the fans, who were screaming and pumping metal horns in the front rows. "I'm havin' a lot of fun tonight," he told them. "What about you all?" The crowd roared its approval.

Though EchoBrain's self-titled debut just came out, the band is already looking ahead. Newsted said they have most of the next record written already, and the group played quite a few songs that aren't on the current disc. The new material showed a natural progression from the only slightly more familiar songs, which sound fresh without straying too far from the heavier side of rock's traditions. The band plays one more show in the Bay Area, at SLIM'S on April 6, before taking its aptly titled Keep Me Alive tour (also the title of an EchoBrain song) to clubs across America.

ALL THE NEWS: Local rock band LAVABONE has been spending time in an L.A. studio with producer DAVE DOMINGUEZ--who's engineered discs by PAPA ROACH and STAIND--recording an industry demo. The band plays Saturday (March 30) with 12 INCHES AND A TIRELESS TONGUE, VIV, HYALINE, BIRTHDAY SUIT and SEROTONIN at BROADWAY STUDIOS in San Francisco and April 4 at the Usual with CADENCE THEORY, SUPERCHANNEL and SPUN. ... The sixth-annual CAN OPENER will be held April 5 at the GREAT HALL (2650 Sand Hill Road, Menlo Park). The lineup this year includes STUNT MONKEY, UNDER A DYING SUN, ONWARD CRISPIN GLOVER, the NOVEMBER GROUP, BOX THE COMPASS, RELENTLESS and GROUNDS FOR DISMISSAL. Bring two cans of food. ... Things are really getting going at the new PLANT FIFTY ONE (located at 44 S. Almaden Ave., San Jose). In addition to sushi bar happy hour every Thursday and Friday, with DJ BEEBO spinning on Thursdays and DJ ANDY AVERAGE spinning on some Fridays, upcoming live shows at the club include M HEADPHONE (April 6), the PIMP STICKS (April 13), PICNIC (April 20), the RASHIMI TRIO (April 26), the ODD NUMBERS (April 27) and a Vespa Club Scooter Rally with live music by MELLOW DRUNK on May 4. ... This year's CALIFORNIA MUSIC AWARDS ceremony, April 27 at the HENRY J. KAISER ARENA in Oakland, will include performances by SMASH MOUTH, PAPA ROACH, BOB WEIR, JOE SATRIANI and SAMMY HAGAR. ... Not long after, SAMMY HAGAR AND THE WABORITAS will celebrate a rocking Cinco de Mayo with a three-night run at the FILLMORE (May 5-7). ... OZZFEST 2002 hits SHORELINE AMPHITHEATRE on Aug. 29 with OZZY OSBOURNE, SYSTEM OF A DOWN, ROB ZOMBIE, P.O.D., ZAKK WYLDE'S BLACK LABEL SOCIETY, DROWNING POOL, ADEMA, the APEX THEORY, LOST PROPHETS, MESHUGGAH, NEUROTICA and PULSE ULTRA.

PLAN AHEAD: BLOODLETTING TOUR with DEEDS OF FLESH, SEVERE TORTURE, MAELSTROM, DISAVOWED and DISGORGED, March 28 at the CACTUS CLUB; DOUBLE FUNK CRUNCH, March 28 at the ICON NIGHTCLUB; JR. PANTHERS, MELLOW DRUNK and COPPER OCEAN, March 28 at the LIDO; CODE 47 and D.O.P.E., March 28 at the GASLIGHTER THEATER in Campbell; the SICK, ANGRY SAMOANS and COUNTER POINT, March 29 at the PINE STREET BAR in Livermore; UNJUST, TECHNOCRACY, DRIST, SCORCHED EARTH POLICY, KAOS and SPLYT, March 29 at the Cactus; LORDS OF THE MANOR, FRICTION, MAELSTROM, DISHARMONY and LIFE LOST, March 30 at 102 E. Alma in San Jose; VEGAS DEMILO, U.V.R. and SNEAKY CREEKANS, March 30 at GASLIGHTER'S MUSIC HALL in Gilroy; SIKNESS, G2K, WOODSHED, GREENHOUSE EFFECT and DELTA ACTIVITY, March 30 at the Cactus; DOWN (featuring PHIL ANSELMO and PEPPER KEENAN), May 19 at the Fillmore; NOT WAVING BUT DROWNING, May 23 at the Cactus; the GUESS WHO, June 26 at VILLA MONTALVO in Saratoga.
---
Send a letter to the editor about this story .
---
[ Silicon Valley | Metroactive Home | Archives ]