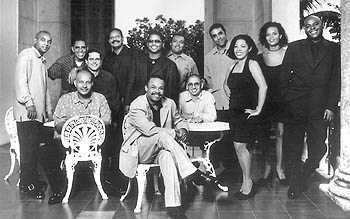 Ageless Enlightenment
Everything old is new again in the unifying sound of Adalberto Alvarez
By Marianne Messina
CUBAN COMPOSER, pianist and bandleader Adalberto Alvarez has roots in popular and traditional Cuban music that go back to the days when he played in his father's dance band. Now, after 25 years as a bandleader himself, Alvarez is still holding fast to those traditions, but he has also managed to keep pace with the explosion of new influences on the Cuban dance scene.
"I consider myself to be the bridge between contemporary music and the establishment," he says. "All my musicians are very young. So definitely I represent the new generation." As he makes his second pass through the United States with the album Juganda Con Candela (Playing With Fire), Alvarez embodies the solution to a marketing puzzle many new Cuban musicians face: How do you get American audiences, raised on prerevolution sounds of the Desi Arnaz variety, to know and love the sounds coming out of Cuba today?
Some of the bandleaders from Alvarez's generation have entirely embraced the new; others are riding the easy-market wave of nostalgia. Alvarez is following the most challenging route--why not have both? The give-and-take between new timba and traditional son, according to Alvarez, is simply the interplay between youthful exuberance and mature wisdom. Take the popular son with its easy, predictable rhythms, turn it over to young brass and percussion players whose chaotic energies blend jazz with classical, African with Cuban, and you get tradition responding to, as Alvarez puts it, "the impatientness of young people that we've all gone through but with our experience we know how to mollify so that it all doesn't go in one direction." This is Alvarez's blend. He is not afraid of change, but his idea is, keep it suave.
So far his delicate dance has been successful. Juganda con Candela contains popular elements Alvarez the songwriter has perfected over the course of more than 200 songs: folk-wise lyrics and danceable tempos.
Singer Aramis Galindo straddles the era-divide, his voice ironically reminiscent of Arnaz, complete with prominent vibrato, but which cuts sharply across current-day, beefed-up brass.
On keyboards, Alvarez's daughter, Dorgeris, is more her father's daughter than she is "younger generation." "Dorgeris was very influenced as a child by her grandfather's music," Alvarez says. "So Dogeris is young, but she's the exception to the rule in as much as musically she can think in the traditional style." On the other hand, the band performs with a choral section (Alvarez among them), shouting responses against the brass or percussion, or, under the lead vocals, adds a dimension of very timba-like tension.
Over the past few years Alvarez has progressed up the record label rungs, landing currently at the New York-based Havana Caliente, a label that has ambitious marketing plans for Alvarez.
There is still a deliberate, though weakening, effort on the part of certain Cuban exiles who harbor strong anti-Castro sentiments to stifle any artists coming out of Cuba, and because these individuals have powerful positions within the U.S. Latino radio/recording industry, it was a promising miracle for Alvarez to get on an American label, especially one that was tough, progressive and willing to risk embargo politics for Alvarez's music.
"The United States market is the most important market that there is," Alvarez says. "Unfortunately we haven't been here enough." But from his hotel room in L.A., Alvarez looks forward to a West Coast tour that has three stops in the Bay Area. "Our music can be easily be accepted here," he says, confident in his blend of the familiar and the exciting, his powerful songwriting, and most of all, the power of dance.
---
Adalberto Alvarez y Su Son, sponsored by Fuel and Metro, perform on Thursday, March 29, at 8pm at the Usual, 400 S. First St., San Jose. Tickets are $22 doors/$18 adv. (510.601.TWEB or www.ticketweb.com)
---
[ San Jose | Metroactive Central | Archives ]