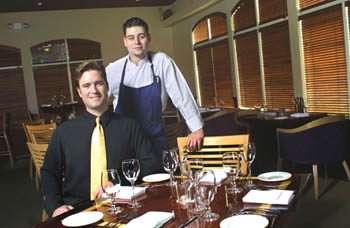 Highway 9 to Heaven: The Basin manager and co-owner Andrew Welch and executive chef Matthew Sullivan have made a stellar dining destination on Saratoga's Big Basin Way.

Tasty Basin

Saratoga's progressive restaurant and watering hole combo, The Basin, regroups for more delicious impact

By Christina Waters

I THINK HER exact words were, "Oh my God, this is fantastic!" Hanna had just taken a bite of The Basin's amazing oxtail meatloaf, one of many comfort creations given new luster by this proactive kitchen. A pared down, highly focused new menu accentuates American ideas, enhanced by Asian spin and Mediterranean comfort. And the results were rewarding.

While she hadn't exactly been on a weeklong fast, Hanna was seriously ready to dine. Glasses of Avignonesi, Vino Nobile de Montepulciano 1997 ($9.75), proved an excellent choice from a bravura wine list loaded with California premiums. Sighing over the creative martini menu, we watched the place fill up with a varied and vivacious cross-section of the community. The Basin has clearly carved a niche. The Basin has some refreshingly high standards. A bevy of top imported cheeses--including Explorateur, Pont L'Eveque, Reblochon--is on offer to enjoy with a good red wine or as an after-dinner finishing course. Produce is organic, seafoods are fresh.

Our waiter--a real pro who enhanced the entire meal--explained specials, including the signature oxtail meatloaf ($27), which had been slowly prepared over many days, during which every trace of oxtail fat had been extracted, leaving only the mahogany depths of its inimitable flavor. Fine with us, we both nodded. For balance we also chose pan-seared scallops, a mixed culinary metaphor involving soba and udon noodles, aspic of brunoise peppers, ginger and leek tops and a crostini--I love this--of caramelized bean sprouts and jalapeño ($26).

The Taste of Spain tapas platter knocked us out ($12). A head of roasted garlic (a spoon would have helped) and a huge tangle of transparently sliced serrano ham proved delicious. Tiny green and plump black olives adorned a witty slaw of Manchego cheese and baby artichokes glistening in lemon, olive oil and marjoram. It was all wonderful, including crostini topped with a roast pepper jam.

Split organic arugula salad ($10) offered tender greens, baby beets and a shallot vinaigrette. The salad was topped with a baked round of Valency chèvre and the whole thing dusted with candied walnuts. The top layers were terrific, but by the time all that candied walnut dust had filtered through to the arugula on the bottom, it was practically a dessert.

The meatloaf was as light and moist as it was intensely flavored. More like a true French pâté crossed with an ethereal mousse, this creation, Hanna observed, has returned to its French roots. Astride a pool of celery root purée, the delicious beef was sauced with a molassy reduction sauce and topped with shaved black truffle whose flavor was slight. Served in a deep bowl, a half dozen huge, moist sea scallops circled a central mound of noodles. Our waiter poured a broth of "smoked scallop consommé" around the border, though most of its flavor came from the intensely salted scallops. Knowing the scallops were too salty, we loved them anyway. The crostini of caramelized sprouts and jalapeños were fabulous. Desserts were so tempting that we caved in. From an appealing list we chose to sample the handiwork of pastry chef Erika Tennant in the forms of a blueberry crème brûlée and a lemon curd shortcake (both $7). Again, visual appeal displayed The Basin's attention to detail. Still warm and exquisitely fresh, the crème brûlée was definitive. Easily the best version I've tasted in years. It was so good I didn't even care that in other hands it might have been just another crowd-pleasing no-brainer. This one deserved the hype. The lemon curd creation--labeled as "shortcake" but described as "vanilla pound cake"--disappointed slightly. On the drier side of shortcake, alas it was no pound cake. The lemon curd was brilliant, nonetheless, and the fresh whipped cream barely sweet. Just the way I like it. One gets the feeling that The Basin--already highly evolved--is just warming up.
---
The Basin
Address: 14572 Big Basin Way, Saratoga
Phone: 408.867.1906
Hours: Tue-Sun from 5pm. Closed Mon
Cuisine: New American with ethnic spin
Entrees: $13-$19
Full bar; private room
---
[ San Jose | Metroactive Central | Archives ]