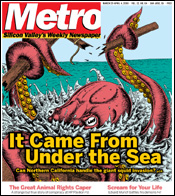 For the Week of
March 29-April 4, 2006
Cover Story: It Came From Under the Sea:
Can Northern California handle the giant squid invasion?
News: The Plot Sickens:
The strange but true story of conspiracy with city officials and a secret plan against circus protesters at HP Pavilion.
The Fly: The tiff over Measure A gets nastier.



Silicon Alleys: The Return of Soccer.
Techsploits: Feeling Everybody Up: But in point of fact, measuring people's moods about something before it comes out merely reveals how much buzz has been generated by advertising campaigns.
Rev: Virtue: He thinks a gas tax would make the Saudis angry because we're asking for more oil but increasing the price to lower demand.



Screaming: A show of Munch prints at Stanford opens a window into the Norwegian artist's troubled soul.
Hot Hues: Vivid colors and forceful figures dominate '¡Arte Caliente!' show at San Jose Museum of Art.



Bird Shots: Mexican feature 'Duck Season' tells the incredible story of a Sunday when nothing happened.



Looks That Kill: Epitaph's I Am Ghost is more than mascara.
Brain Dump: Hindsight is 20/20. Bonus beats from SXSW 2006.



Book Box: 'The Judgment of Paris: The Revolutionary Decade That Gave the World Impressionism,' 'Little Money Street: In Search of Gypsies and Their Music in the South of France,' and 'Written Lives: Essays.'



How Pie I Am: You think you know what real pizza's about? La Pizzeria will school ya good.
5 Things: Spring Crops.
Live Feed: A Different Kind Of Pick-Me-Up.



Raising Jenny: A recluse genius designs a robot to show the world in San Jose Rep's 'Intelligent Design of Jenny Chow.'
Getting Rid of Rick: 'The Nerd' pays a painfully funny visit to City Lights.



Please don't forget to write! Metro welcomes letters. Like any great work of art, they should be originals — not copies of letters sent elsewhere. Include address and daytime phone (for verification purposes only). Letters may be edited for length and clarity or to correct factual inaccuracies known to us. Postal: Metro Letters, 550 S. First. St., San Jose, CA 95111. Fax: 408/298-0613. Email: letters@metronews.com. Emailers, please include name, city of residence and phone number. Letters printed will list email address unless otherwise specified. Letters to the editor are not currently published in the online version of this paper.