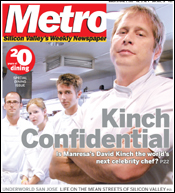 For the Week of
March 30-April 5, 2005
Cover: 20 Years of Dining:
Kinch Confidential: Is Manresa's David Kinch the world's next celebrity chef?
The Way We Ate: One well-fed critic reflects on 20 years of dining in Silicon Valley.
Silicon Valley's Multiethnic Stew: How immigration has spiced up the region's palate in the last two decades.
Cauliflower and Cleavage: Inside Northern California's world-class food summit: The 19th annual Masters of Food and Wine.
Red All Over: Perched in the hills above Lexington Reservoir, Testarossa Vineyards is on its way to being the worst-kept secret in Silicon Valley.
News: Mean Streets:
Beneath the high-tech sheen of Silicon Valley there's a darker world of sex, drugs and violence. One prostitute talks about what life is like in San Jose's underworld.
The Fly: This week's political bites.



Biter: Latin Idol.
Techsploits: Mother's Little Sniffer.
Rev: Ford's Fables: Manufacturer scores with ESUVEE creature.
Sports: Quakes Town.



Black and White: Robert Rodriguez and Frank Miller pig out on knuckle sandwiches in 'Sin City.'
Island Fever: A modern Prospero rules a crumbling commune in 'The Ballad of Jack and Rose.'
Just Desert: New Mexico is beautiful and so is Joan Allen, and yet 'Off the Map' loses its bearings.
Been There, Seen That: Even our lingering goodwill for Sandra Bullock can't salvage 'Armed and Fabulous.'



As Handsome As They Wanna Be: Handsome Boy Modeling School wants to show the world just how handsome 'White People' are.
Holy Relic: Manic Street Preachers' hard-rock sermon.
Club Life: Garden Theatre.



Tough the Shaman: Randy Fuller's new book proves that the mediums are the messengers.



On a Roll: Suedy's Koo-ki Sushi confections are sweet, edible art.
Live Feed: Chicken Soup For the Bowl.
5 Places to Love: Farmers' Markets.



Making Tracks Into the Future: SJ Rep charts the course of Asian immigration in rock epic.
Orton's Scrubs: City Lights opens all the doors for Joe Orton's farce 'What the Butler Saw.'
Starting Young: The 9-to-13-year-old actors in 'Between Dirt and Sky' reenact the life of Cesar Chavez.



Please don't forget to write! Metro welcomes letters. Like any great work of art, they should be originals — not copies of letters sent elsewhere. Include address and daytime phone (for verification purposes only). Letters may be edited for length and clarity or to correct factual inaccuracies known to us. Postal: Metro Letters, 550 S. First. St., San Jose, CA 95111. Fax: 408/298-0602. Email: letters@metronews.com. Emailers, please include name, city of residence and phone number. Letters printed will list email address unless otherwise specified. Letters to the editor are not currently published in the online version of this paper.