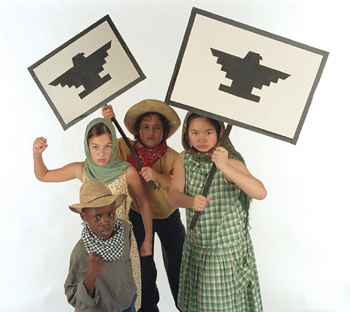 Photo provided by San Francisco ArtsEd Project

Signs of the Times: The young actors of 'Between Dirt and Sky' re-enact a famous scene in California history.

Starting Young

By Marianne Messina

THE COMPANY of 9-to-13-year-olds who will mount the musical Between Dirt and Sky at the Mexican Heritage Plaza were culled "from virtually every sector" of San Francisco, according to Natalie Hala, who heads the San Francisco Arts Education Project. The project cultivates young artists to compete for places in arts high schools and colleges. "We go to the schools, and we actually run an audition," says Emily Keeler, who runs the project's theater program and is also the choreographer for Between Dirt and Sky. She's been in production since September, but the process of building the cast has been going on for as long as three years. "The first thing we do is get them a scholarship to our summer performing arts camp. And if they do very well we ask them into the company."

Between Dirt and Sky has an ambitious scope: from Cesar Chavez's school days in San Jose to his enlistment in the Navy to his political activism on behalf of Mexican-American farmworkers; from his struggle against unfair labor practices to conflict with his friends over political means to his internal struggles between anger and progressive action. "I will say, this isn't Pippi Longstockings, this play," David Crosson jokes. The head of History San Jose, Crosson chose Between Dirt and Sky to crown the organization's 10-day Cesar Chavez birthday celebration. Crosson was delighted to find a children's production with so much complexity. "The play itself deals with Chavez's concern for the growers bringing in laborers from Mexico to break the strike by laborers who were American citizens. And that may be controversial within the Latino community itself," Crosson says. "But those are the kinds of discussions that need to be had, and that's kind of what we're about."

Despite the challenging material, Keeler expected her young San Francisco cast members to take an active part in the script's development. "In this process, they sat with the playwright, our director Danny Duncan," Keeler says, "then read through the scenes, the very initial process, to figure out what was redundant, what didn't fall over the tongue easily and what wasn't clear." Keeler believes that although a new play is challenging, even for adults, kids can rise to the occasion if you set the bar high. "To the extent that they rehearse in that way—so that it's not always about teaching them to do things but for them to give the material back to the directors—they're involved as collaborators."

In San Jose, three schools in the Alum Rock district have hosted visits from the artists involved. Composer Lisa Quoresimo will spend two days in the schools, according to Elaine Kauffman, education director of History San Jose, "to provide background information on the musical [and] teach one of the songs in the musical." All 475 of the fifth and sixth graders from Clyde Arbuckle, Cesar Chavez and San Antonio schools will be attending a special performance of the show, and like Keeler, Crosson expects that kids will have no problem grasping the play. He adds, "Children get a whole lot more than we give them credit for."
---
Between Dirt and Sky plays April 7 at 7pm at the Mexican Heritage Plaza Theater, 1700 Alum Rock Ave., San Jose. Tickets are $6/$8. (408.287.2290)
---
---
Send a letter to the editor about this story to letters@metronews.com.
---
[ Silicon Valley | Metroactive Home | Archives ]