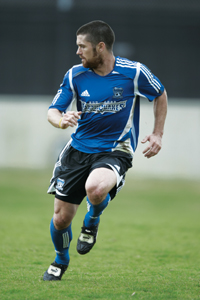 World Traveler: Defender Wade Barrett returns to San Jose after brief stints in Denmark and Norway.

Quakes Town

By

THE SAN JOSE EARTHQUAKES kick off the 10th season of Major League Soccer this Saturday against the New England Revolution at 7pm, but you might not recognize many of the players. The team, under coach Dominic Kinnear, went through some serious rebuilding during the off-season. Landon Donovan split town and went back to Bayer Leverkusen in Germany, while Romiro Corrales headed off to Norway. The Quakes traded away midfielder Richard Mulrooney and decided not to take out an option on Ronnie Ekelund's contract, leaving them with no midfield left whatsoever. Veteran defender Jeff Agoos also split for New York to finish out his career, so the Quakes were left with a gutted team to say the least.

But they soon got cracking, and the rebuild began. In the draft, San Jose picked up college midfielder Danny O'Rourke, who captained Indiana University to the last two NCAA championships. Ricardo Clark, recently acquired from New York, will probably anchor the center midfield with him. Two players also recently made triumphant returns to San Jose: El Salvador's Ronald Cerritos, the Quakes' all-time leading scorer, and defender Wade Barrett, who spent the last two years playing in Scandinavia. Barrett will now captain the team.

To ratchet up the public's awareness, the San Jose Sports Authority has footed most of the bill for a downtown rally that takes place Thursday at 5pm in Plaza de Cesar Chavez. Mayor Ron Gonzales and City Council members will speak about their preliminary negotiations with SJSU to revamp the south university neighborhood, a project that would include a potential stadium to be shared by the Quakes and SJSU's football team. The entire Earthquakes team will attend the rally to show off the 2005 kits and the 90-minute party will spill over into McCormick & Schmick's afterward.

At a recent City Council meeting, Gonzales said that it all comes down to the fans, and he's right. If the Quakes cannot cement a visibly substantial fan base and put an entertaining product on the field, their chances of reeling in long-term investors will be significantly weakened. He also said he believed that the project with SJSU will be successful. Which is precisely one of the motivating factors behind the rally. You've got the most popular game on the planet right here in San Jose, screaming fans in Plaza de Cesar Chavez, the entire team signing autographs and mayors onstage—all culminating with drinks and seafood right across the street. Now that's a major-league city.
---
Send a letter to the editor about this story to letters@metronews.com.
---
[ Silicon Valley | Metroactive Home | Archives ]