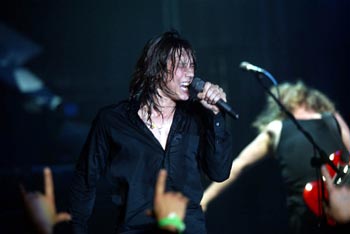 Photograph by George Sakkestad

Tesla's Jeff Keith launches into the now.

Tesla Reignites

The band played new songs to Bone listeners at Paramount's Great America

By Sarah Quelland

KICKOFF WEEKEND at Paramount's Great America began last Friday (March 26) with invite-only listener-appreciation parties held simultaneously by two local radio stations, and the park was packed for the joint event. KFOG (FM-97.7) brought hot Tex-Mex roots-rock trio Los Lonely Boys to town, while the Bone (FM-107.7) presented a special concert by Sacramento hard-rock outfit Tesla.

This marks the second time Tesla has participated in a Bone-sponsored show at Great America. In 2001, the newly reunited all-original lineup of vocalist Jeff Keith, guitarists Frank Hannon and Tommy Skeoch, bassist Brian Wheat and drummer Troy Luccketta played the station's Bone Bash at the Redwood Amphitheatre. Friday, it gave an even more intimate performance at the Showtime Theater, an indoor space nearby that has the feel of a large movie theater. As soon as they received the thumbs up, anxious Tesla fans waiting in line made a mad dash into the venue to claim seats as close to the stage as possible. Anticipation was high, and when the members of Tesla emerged onstage, they were greeted with a rush of screams.

Friday's show served as a warm-up for Tesla's cross-country trek in support of Into the Now (Sanctuary Records), the band's first studio album in 10 years. The group opened its set with the title track, a celebration of living in the present that finds Keith declaring, "Here we go, on with the show."

The band is moving forward, and there's nothing depressing or disappointing about seeing the Tesla of 2004 live. Always great songwriters and musicians, they've kept their chops up and sound as if no time has passed since their last hit. Songs from the new record blended seamlessly into a set charged by highlights from the group's 18-year career.

After opening with "Into the Now," Tesla dipped into its early catalog, appeasing fans with "Modern Day Cowboy," "Little Suzi" and its cover of Five Man Electrical Band's "Signs." Lasers and lights added to the mood of the songs, and during "What You Give," white light filtered down in four beams illuminating the four members at the front of the stage creating a mesmerizing moment in time.

Part of Tesla's sound comes from the musical chemistry between its two exuberant guitarists, Hannon and Skeoch. Keith, Wheat and Luccketta briefly exited the stage and left those two sharing the spotlight as they played the long, familiar intro to one of the greatest monster ballads of all time, "Love Song." The band was outgoing and friendly throughout the night. Pointing at each band member during the line "I know you'll find love again," Keith nodded assuringly as he told the crowd, "I did."

After Into the Now's first single, "Caught in a Dream," members of the crowd started screaming for another new one, "What a Shame." Instead, Tesla rounded out its set with the heavy "Heaven's Trail (No Way Out)" before closing with "Heaven Nine Eleven." The stage was appropriately bathed in smoggy orange light as Keith sang about the troubled state of the world.

Despite running low on time, the band returned for a two-song encore. Rather than choosing a classic, it tried out another new one, "Got No Glory," before finishing up with a sweat-drenched rock & roll jam on "Cumin' Atcha Live." Visit www.teslatheband.com.

HOT TOPIC: After closing Jan. 31 at the stroke of midnight, the NorCal metal site founded by Mario Perotti is under new ownership. Powerslave.com is expected to relaunch this Thursday (April 1). Visit the site for more info.

PLAN AHEAD: Dirt Bike Annie, Bozo Porno Circus and the Traumedies, March 31 at the Blank Club; A Burning Water, Inbalance, Victim of Circumstance and Mindeye, April 1 at Spy; Insolence, April 2 at the Aptos Club in Aptos; Atomic Mint, Myzar and Tsunami, April 3 at St. Stephen's Green in Los Altos; Universal Sound with Perry Farrell, April 3 at Club V in Fremont; the Matches, Army of Freshmen and My Former Self, April 3 at the Mitchell Park Center in Palo Alto; Brian McComas, April 4 at the Rodeo Club; Cutthroats 9 and the Extras, April 6 at the Blank Club.
---
Send a letter to the editor about this story to letters@metronews.com.
---

Tesla Photo Gallery
Web-exclusive photographs by George Sakkestad

Modern Day Cowboys: Tesla bassist Brian Wheat and guitarist Frank Hannon rock the red, white and blue at Great America.

Song and Emotion: Tesla's Tommy Skeoch wails on his guitar.

Everywhere Are Signs: Tesla vocalist Jeff Keith and guitarist Frank Hannon are gettin' better every day.

The Way It Is: Tesla vocalist Jeff Keith gets caught up in a dream.

[ Silicon Valley | Metroactive Home | Archives ]