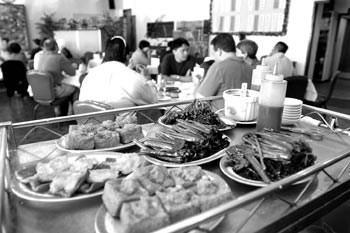 Cart Blanche: With limitless choices at Kowloon, half the pleasure is the anticipation.

Abundant Dim Sum

On the carts at Kowloon, delicacies roll by. All you have to do is point.

By Joseph Izzo Jr.

"MY FATHER loved the dim sum. We'd come here almost every week," reminisced the Rev. Marco Widman about his Sunday visits to Kowloon. The reasons for such fondness were quickly revealed to me when we stepped into a wide-open room washed with sunlight and scintillating with gold-painted ornaments and dragons.

It was almost 11am, and the tables were packed and humming with activity. The floors vibrated. Diners, mostly Chinese, congregated in great numbers at the round banquet tables waiting for savory surprises to arrive on the dim sum carts. Stacked high with bamboo steamers, these carts roll from the kitchen in one continuous procession, each one abundantly stocked with fresh dumplings, pastries, noodle rolls and sundry other snacks whipped up fresh and sent out hot (prices range from $1.80 to $4.80 a piece). We couldn't wait to sit down and begin our exploration of traditional Chinese snacks.

Like everybody else, we behaved like kids in a candy store as we surveyed the sweets. We kept pointing to this and that, and the waitresses responded swiftly, snipping dumplings, pouring sauces, spooning up soups and dealing them out like cards in Texas hold 'em. We had clams in a rich black-bean sauce, squid with spicy salt, shrimp balls, sesame balls filled with sweet bean paste, roast five-spice duck, pork-filled noodles, shrimp dumplings, potstickers, spring rolls and sweet buns filled with heavenly custard. Even after we could eat no more, we never lost our curiosity and kept looking for some new delight en route to the tables. Half the pleasure is the anticipation.

The chefs arrive early in the morning to prepare the dim sum, which is served seven days a week without fail. All the dishes we sampled on our visits were characterized by outstanding freshness. Flavors were not complicated, but were rich and full of alluring subtleties. We loved the custards and the puddings served in large milky cubes.

For many of its patrons, dim sum is the specialty here, but I discovered that Kowloon has another dimension. Along the back wall, there are tanks filled with live fish and shellfish. One evening, the reverend and I returned for a dinner of fresh fish (prices are seasonal and will vary) plucked from the tanks to order. We had whole large shrimp with heads and feelers attached, boiled and served in a simple state with only a sauce of soy and shredded scallion for dipping. Our lobster selection was cut into handy pieces and prepared Hong Kong style with a thickened clear sauce flavored with scallion and ginger. Fingers work effectively in pulling the succulent meat from the shells. I planted my elbows on the deck and dug in.

Remembering the clams from dim sum, we tried them again in a similar black-bean sauce, only this time around it proved darker and more pungent with pepper and spice. Kowloon Duck ($8.95) perfumed our table with its seasoning of five spice. We could taste star anise in the bones. The crispy roasted bird came hacked into pieces perfectly shaped for the chopsticks. We enjoyed the clay pot eggplant ($7.50), a specialty, cooked to bubbling richness with hot peppers and bits of seasoned pork.

The servers at Kowloon do not dillydally at the tables. Save for the lovely hostess, who checked in from time to time, offering insights into culture and cooking, the servers came and went, doing their job, period.

Like my friend's father, I too will return to Kowloon. I have always preferred the idea of Sunday dim sum to those schizo champagne brunches. Kowloon does it well in great quantities in a comfortable space full of room and sunlight. Even the dragons on the walls are smiling.
---
Kowloon
Address: 24 S. Abbott Ave., Milpitas
Phone: 408.945.8888
Hours: 11-2:30pm Mon-Fri, 10am-3pm Sat-Sun, 5-9:30pm Mon-Fri, until 10pm Sat-Sun
Cuisine: Dim sum/Chinese seafood
Price Range: $2-$18
---
Send a letter to the editor about this story to letters@metronews.com.
---
[ Silicon Valley | Metroactive Home | Archives ]