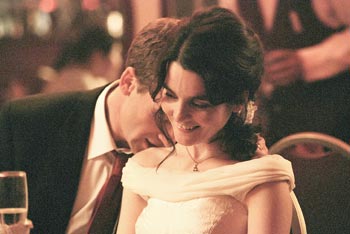 Sibling Seduction: Two brothers fall for Shirley Henderson in Lone Scherfig's new movie.

Tiny Alice

Shirley Henderson stars in a Glasgow love triangle with two brothers in 'Wilbur Wants to Kill Himself'

By Richard von Busack

HE MIGHT be 80 pounds, 10 of it black hair. She favors unadorned brown shifts, but she makes tall blondes look horsy and vulgar. She speaks in a quiet Scots whisper, yet carries such authority that she can cease a man's tirade with a semiaudible "Stop it." There aren't many actresses who can suggest how the power of a woman rests in a diminutive form; Bette Davis is the best example. But Shirley Henderson is one intense actress, a reminder of an age when female stars were prized for their intensity rather than their glamour. And the Danish/Scots movie Wilbur Wants to Kill Himself showcases her power and talent.

Lone Scherig, the female director of Italian for Beginners, jettisons all the rigors of the Dogme school. She co-wrote the script for Wilbur with the ever-improving Anders Thomas Jensen (Mifune, The King Is Alive). Dogme's gray eminence Lars von Trier pops up with a credit as script consultant. But Wilbur is a rich, widescreen movie, with iron-colored winter cityscapes of Glasgow by Jorgen Johannson and a symphonic score by Joachim Holbek--all those cinematic goodies prohibited by the Lutheran rigors of von Trier's circle. Dry, dour, yet at heart melodramatic, the film keeps one rapt.

Two brothers, Harbour (Adrian Rawlins) and Wilbur (Jamie Sives), run a moribund bookshop on the curve of a quiet street. They inherited the shop from their father, and neither is particularly the bookish type. They're more like the quayside bookseller in the Hemingway anecdote who can tell a book is valuable if it has a fancy binding. Their regular customer is a cleaning woman from the local hospital, who pilfers medical texts and resells them. Alice (Shirley Henderson) is a single mom. Both she and Harbour give off such an aura of loneliness that they attach to each other quickly.

The complication in their lives comes from brother Wilbur, a consummate artist of the failed suicide. He is so well-known for his suicide attempts that even the local support group is on the verge of kicking him out for his recidivism. When Alice and Harbour marry, Wilbur moves in. Then fate changes the arrangement. An attraction between the brother and his brother's wife grows even though, as Wilbur says, "I'd rather die than hurt him. I know that's not much, coming from me."

The tone is like a more deeply morose Bill Forsyth movie or something by Beth Henley, and the script is so fine that it's almost distracting. Sometimes writing is so clever and concise that it's difficult to play, and that's essentially what's meant by the word "stagey." This movie puzzles out how people cling to life in Scandinavia (and never forget, the British Isles are essentially Scandinavia). Henderson cracks the ice, even though she rarely or never smiles. You remember her in terms of gestures; angling her head, reaching out across a kitchen table for a hand to hold, looking out from a bathtub with her black hair wet and swept back, revealing a profile as well-made and arrogant as Laurence Olivier's.
---
'Wilbur Wants to Kill Himself' (R; 109 min.), directed by Lone Scherfig, written by Anders Thomas Jensen and Scherfig, photographed by Jorgen Johannson and starring Shirley Henderson, opens Friday.
---
Send a letter to the editor about this story to letters@metronews.com.
---
[ Silicon Valley | Metroactive Home | Archives ]