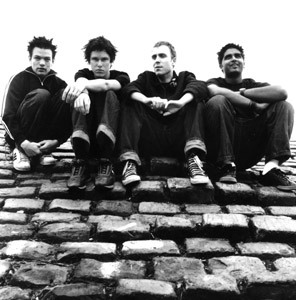 Sum 41 strips down for Channel 104.9.

San Jose Metal

Local metal bands participate in the Powerslave.com CD-release party at the Blank Club

By Sarah Quelland

LAST FRIDAY (March 28), Powerslave.com held the third in its series of CD-release shows for its Norcal Underground Metal Volume 1 compilation disc at the Blank Club. The four-band bill featured South Bay contributors to the disc Krenshaw ("Fingered"), Osmium ("Drifting Away"), Lords of the Manor ("In My Own") and Rivals ("See You Tomorrow"), and the turnout for and response to the first local metal show at the new San Jose club was very good

Friday was a night for new material. In particular, orchestral metal band Lords of the Manor's set seemed to consist entirely of new material (no "The Wheel of Corruption Turns," no "Ode to the Weak"), as the group continues to gear up for the release of Blood of Time. Backed by new drummer Taj Valadez, Lords played like a band possessed. This group creates its own atmosphere wherever it plays and makes every room its own. On Friday, in addition to keyboardist Jessica Zumwalt's deadly vocal contributions, rhythm guitarist Julie Matthews and lead guitarist Dean Celentano threw their own voices into the mix, adding to frontman Jot Dickerson's alternately eerie and brutal tongue-lashings.

Krenshaw also played a solid set, with Trip Device's Steve Ratcliff filling in on bass. Krenshaw, which is preparing its latest, Doublewide, for release, played new and newish tunes--from "Ele-flesh" to "Drain"--slated for that disc. Likewise, Osmium played songs from its forthcoming release, From the Ashes.

Because there's been talk that the Blank Club is only concerned with hosting punk and rockabilly shows, Larry Trujillo assured me that's not true and that the club will be hosting more metal shows in the future. The next one is scheduled for April 26, with Severed Savior, Deeds of Flesh and Cattle Decapitation.

KNIT MEDIA: The San Jose Mercury News and the CIM Group may have jumped the gun about the Knitting Factory taking up residence at the old Woolworth's location in downtown San Jose. According to the Knitting Factory's Scott Long, director of national club operations, "I am in talks about several locations throughout California, but we are not close to any deal. I am pushing it along though, and there are promising things on the horizon which may include San Jo."

BREAKING DAYLIGHT: DC to Daylight recently released its EP Xmas Murder '74 on Urban Cheese Records. Laid-back without being lackadaisical, this indie band's music is pure garage- and college-rock cool. Based in San Jose, the group features former members of the Jazzmen, Suburban Teen All Stars and Bad Dog Sit, including Steve Crane (instruments), Tom Nelson (drums and instruments) and Warren Hauff (vocals and instruments). Hauff's voice is so dark and raspy, it's irresistible. Though clearly influenced by Frank Black on "Just a Joke" and "Brand New Satellite," this local trio has its own sense of style, varying between sparse, loose instrumentation and thick, fuzzy attacks. Dark and dangerous, "Like a Man" careens wildly, while "I Hate Everybody" slows it down to a trashy groove. The band puts thought in its lyrics, too, using clever wordplay on "My Way to Hell": "If you're looking for Christ, you just crossed him / But sometimes you find him, once you've lost him." Visit www.dctodaylight.com to check out the tunes and some cool videos.

OVERREACTION: Last Friday (March 28) popular local rock band Reaction 31 announced that it has decided to end its run as a band. As frontman Matty C explains, "We've all got a lot going on in our lives, and we couldn't keep going on unless we were all feeling 110 percent."

HOT TOPIC: Channel 104.9 holds a special Cheap Ass $1.49 show with Ben Kweller next Wednesday (April 9) at the Edge in Palo Alto. The station is also hosting an up-close performance and Q&A session with Tori Amos (who plays April 11-12 at the San Jose Center for the Performing Arts) at the Expression Center for New Media in Emeryville on April 11 and a stripped-down performance and Q&A with Sum 41 to coincide with its April 17 date at Santa Clara University. Visit www.channel1049.com or listen to win.
---
Send a letter to the editor about this story to letters@metronews.com.
---
[ Silicon Valley | Metroactive Home | Archives ]