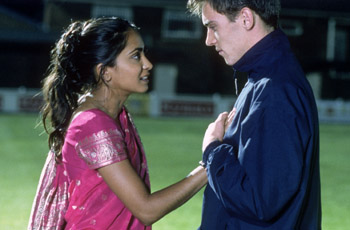 Fielding a Pass: Parminder K. Nagra and Jonathan Rhys-Meyers share some playing time in 'Bend It Like Beckham.'

Teenage Kicks

'Bend It Like Beckham' is 'My Big Fat Greek Wedding' with a sports bra

By Todd Inoue

BACK IN THE EARLY '80s, Scottish director Bill Forsyth came out with Gregory's Girl, a disarming comedy combining teenage geeks and free kicks. A Scottish boy loses his spot on the team to a hot girl. He consults with his infinitely wiser kid sister, who gives him wooing tips. But it's classmate Clare Grogan (lead singer from Altered Images, yea!) who gets him off the unrequited route. Real cute flick.

Gregory's Girl succeeds on many levels--sports movie, family picture and art house experience. Twenty years later, Bend It Like Beckham threatens to displace Gregory's Girl from the top of cross-cultural soccer-flick rankings. Bend It Like Beckham compresses all those levels into a sweet coming-of-age film that compares favorably to My Big Fat Greek Wedding.

Quick intro: David Beckham is England's golden boy, a worldwide soccer star and sports personality. An Indian family in London try to raise their soccer-loving, Beckham-worshiping daughter, Jesminder (Parminder K. Nagra), in a traditional manner. This threatens her love of soccer, since the game requires wearing leg-baring shorts and running around with her male friends. Jess' room is covered in Beckham memorabilia, and she secretly confides in her spiritual sports leader.

Jess' older sister, Pinky (Archie Panjabi), is losing her mind preparing for a traditional wedding. While kicking it around in the park, Jess gets scouted by a girl, Jules (Keira Knightly), from the local women's team. Jess joins the team on the sly, and she and Jules forge a friendship, but soon wedding woes, a flirtation with the head coach and static between Jess and her family cause all manner of stress. When Jess is forced to choose between the big fat Indian wedding and a crucial game attended by an American college scout (from Santa Clara University, no less), her family must decide whether to reign her in or let her go.

Like Forsyth, director Gurinder Chadha (Bhaji on the Beach, What's Cooking?) manages to balance the sugar and salt. The movie is very British with slang and accents thicker than stout. That may keep the young guns from totally appreciating the movie's subtle charms, but don't discount Bend It Like Beckham's cross-cultural potential, best illustrated in the relationship between Jess and Jules, two young women dealing with the expectations of what the term "traditional daughter" means.

A dynamite soundtrack of Indian and contemporary favorites pushes the movie. Bally Sagoo and Blondie rub up against Curtis Mayfield, Texas, Malkit Singh, Hans Raj Hans and one Victoria Beckham (a.k.a. Posh Spice, a.k.a. Mrs. David Beckham). The film is already an international smash. In America, it's hoped that Bend It Like Beckham will score with soccer fans, young women, sports enthusiasts, the South Asian and Asian American communities, My Big Fat Greek Wedding disciples and the art-house crowd. Does it work? Like a Roberto Carlos free kick.
---
Bend It Like Beckham (PG-13; 110 min.), directed by Gurinda Chadha, written by Chadha, Guljit Bindra and Paul Mayeda Berges, photographed by Jong Lin and starring Parminder K. Nagra and Keira Knightley, opens Friday at the Century 25 in San Jose, the Los Gatos Cinema and the Aquarius in Palo Alto.
---
---
Send a letter to the editor about this story to letters@metronews.com.
---
[ Silicon Valley | Metroactive Home | Archives ]