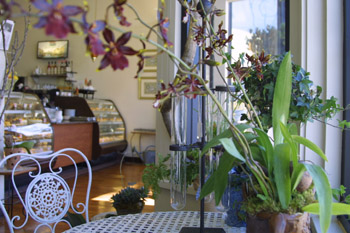 Photograph by Traci Vogel

Bloom, Bloom, Room: Flower Flour combines two luxuries: on one side, you can buy beautiful bouquets; on the other, beautiful bakery items.

Bake Love, Not War

Two elegant new bakeries, Flower Flour and Cocola, remind us why it's still OK to love some things that are French

By Aaron Robinson

I'VE ALWAYS imagined the perfect bakery cafe as a place where everything is real. By that, I mean whole cream, strong coffee, rustic pastries and genuine smiles. A gracious place where colorful arrangements of exquisite gourmet pastries stare at you through a well-polished glass casing. This type of warmth is nowadays more of a luxury than a reality. The quaint appeal of the bakery has been lost in the land of pretentious corporations.

Flower Flour in downtown Willow Glen and Cocola on Santana Row in San Jose are two bakeries that are determined to show the community what it's been missing. Both of these cafes are furnished with dainty mosaic cafe tables and provide tantalizing fresh-baked pastries that not only seduce the eye but also enthrall the palate.

Located off the beaten path from the downtown strip, Flower Flour takes its name from its twin professions: the store is both a flower shop and a bakery. In this sensory space, the scent of fresh-baked turnovers and sticky buns is enhanced by the smell of exotic hyacinths. Flower Flour is that kind of place where everything is real.

The cafe's owner, Mimi Brown, is perhaps the sweetest element in this charming little European patisserie. Like Vianne, the wandering shop owner in the movie Chocolat, this creative entrepreneur has chosen to grace a small town with her decadent intentions. Brown has spent months perfecting her recipes. Among them, you'll find the Love After Dark ($3.50), devil's food cake with honey and milk-chocolate frosting; English pudding ($3.50) with dates and nuts; and my personal favorite, the Bavarian pear cake ($3.50): Bavarian mousse, chocolate mousse, chocolate cake, jaconde band and fresh pear (which should perhaps be renamed "The Quintuple Orgasm"). All of Brown's pastries are made with minimal sugar and ingredients that have never been frozen, so that the true flavors remain as unaltered as possible, giving each pastry a consistent lightness and freshness.

Her lunch menu consists of ready-to-go sandwiches ($3.95) and sesame soba noodles with jumbo prawns ($4.95). The hand-kneaded sandwich bread is soft and slightly sweet, just like Grandma used to make. The smoked turkey is cut thick and layered with cucumber, tomato, lettuce and mayo. At Flower Flour, you can taste heart and soul dripping from each morsel.

Cocola, as suits its surroundings, leans more toward the commercial side of the bakery industry, with its sister patisserie being Maison in Valley Fair Shopping Center. Cocola is roomy; the service is not very personable; and the décor is more Starbucks than starry-eyed. The heated outdoor patio was a first-rate spot for my friend and me to unwind comfortably while enjoying what I felt was Cocola's most notable attraction: its gourmet sandwiches. I ordered the sliced turkey breast sandwich ($7.95) on a heated baguette with cranberry sauce and French brie. It was a happy marriage--the sandwich and I, that is. Tangy cranberries poured out of the side, while generous chunks of brie melted atop thinly sliced, moist turkey breast. The sandwich was accompanied by red cabbage marinated in red-wine vinegar, and canned celery root imported from France.

Cocola's pastry variety, though extensive, stands guilty of quantity vs. quality. Many of the pastries were too dry or too sweet, and the single-sized cakes were not as moist as I would have liked. One creamy and dreamy pastry that was thoroughly enjoyable, however, was the pear tart ($3.50) with vanilla custard and slivered almonds.

If you don't have the means or the time to fly to the French countryside, consider these cafes as worthy alternatives. Though similar in many ways, each bakery appeals to a different mood: Cocola is chic, while Flower Flour is pure charm. Both are ideal stop-in spots for a break while shopping, a coffee before the show, or just for hanging out.
---
Flower Flour
Address: 896 Willow St., San Jose
Phone: 408.279.0843
Hours: 7am-7pm Mon-Fri; 8am-8pm Sat-Sun
---
---
Cocola Bakery
Address: 333 Santana Row, Suite 1045, San Jose
Phone: 408.551.0018
Hours: 9am-9pm Mon-Fri; 9am-10pm Sat; 8am-7pm Sun
---
---
Send a letter to the editor about this story to letters@metronews.com.
---
[ Silicon Valley | Metroactive Home | Archives ]