Buy 'Sixpence House: Lost in a Town of Books' by Paul Collins.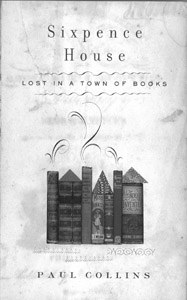 All Booked Up in Wales

Paul Collins lingers in the stacks

By Michael S. Gant

MY REVIEW COPY of Paul Collins' Sixpence House: Lost in a Town of Books (Bloomsbury; $23.95 cloth) is crisp and clean, its corners unbumped, its pages unfoxed. Which is a shame, because in Sixpence House Collins indulges in the love that does not speak its name nearly enough in our broadband era: the love of old books, used books, musty books; forgotten, obscure tomes bound in crumbling leather; out-of-print (and justifiably so) collections of sermons; memoirs by authors no one remembers; self-published juvenilia. As Collins confesses: "I like filthy old books. No, not that kind: though I've seen a few of those too. I mean the kind where the bindings are falling apart."

A few years back, Collins, author of Banvard's Folly (a kind of profiles in eccentricity) and an editor for McSweeney's Books, packed up his wife, his young son and about 3,000 books and moved from San Francisco to Hay-on-Wye, a little town in Wales that boasts two score secondhand and antiquarian bookstores. Indeed, thanks to the efforts of used-book impresario Richard Booth, Hay-on-Wye has become famous as the final repository of crate loads of the world's printed heritage--good, bad and bizarre.

While his wife hunts for a 16th-century house to buy, Collins takes on the impossible task of cleaning out the Augean stable of the American lit section in Booth's store. Although Collins provides some amusing observations on the foibles of life in rural Wales, he is blind to the truism that one's own child is rarely all that adorable to strangers. The real characters in Sixpence House are the books themselves. Collins wades through teetering tomes, rescuing such orphans as "an 1893 volume titled Current Coins, Picked Up at the Railway Station, in which S.Q. Lapius begins with the immortal invocation 'Come with me, my numismatic friend ...'"; Elinor Wylie's Renaissance fable The Venetian Glass Nephew; and miscellany expert John Timbs' 19th-century marvel Things Not Generally Known--and many more, all just as obscure and just as worthy of a spot on someone's overcrowded shelves.
---
Paul Collins appears Thursday (April 10) at 7:30pm at Kepler's, 1010 El Camino Real, Menlo Park. Free. (650.324.4321)
---
---
Send a letter to the editor about this story to letters@metronews.com.
---
[ Silicon Valley | Metroactive Home | Archives ]