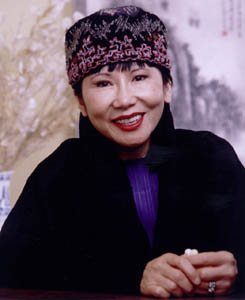 Forged From Crisis: Amy Tan's new novel was born from personal tragedy.





Total Recall

Amy Tan champions the power of memory in the face of death

By Patrick Sullivan

'SO I HAD THIS terrible despair," Amy Tan says in a quiet voice. "Not only had I lost my mother and my editor, but I was also losing this book."

The acclaimed author of The Joy Luck Club is explaining why her new book--Tan's first novel in six years--almost didn't see print. For those who need what some publicists call a human-interest story to get them jazzed about a new work of fiction, this one's tough to top. But for people who have experienced a recent loss of their own, Tan's tale may be profoundly painful.

The Oakland-born SJSU graduate began work on the new book, The Bonesetter's Daughter, shortly after the publication of The Hundred Secret Senses, which appeared to decidedly mixed reviews back in 1995. But Tan's new endeavor--a deeply personal work of fiction about the end of life and the power of memory--was thrown into crisis by the deaths of two of very important people.

First her mother, who had suffered from Alzheimer's disease, passed away. Then, two weeks later, Faith Sale, Tan's longtime editor, died after a long, agonizing fight with cancer. The deaths, which came at the end of 1999, marked the climax of a period Tan spent shuttling back and forth between her home in San Francisco and an apartment in New York, between her dying mother and her dying editor.

It's the kind of one-two punch that would drop some people for good, and it certainly staggered Tan, both personally and professionally. The novel she had been working on, which represented an attempt to come to terms with the deaths before they happened, suddenly rang hollow.

"I thought, this book doesn't really feel anything like what I've gone through," she recalls. "You know, beforehand I was trying to anticipate what the loss would be like, and it just didn't seem the same to me anymore, what I had been writing."

The Bonesetter's Daughter (Putnam, cloth, $25.95) returns to Tan's two favorite themes: the complicated tensions between past and present, and the even more intense relationship between mothers and daughters. The book's main characters will also seem familiar to Tan fans: Ruth Young is a workaholic, fortysomething writer struggling to understand her overbearing, pessimistic mother, LuLing, an elderly Chinese immigrant whose behavior is growing more erratic and confusing by the day.

On a quest to uncover the truth about her mother's haunted past, Ruth works to translate LuLing's own written account of her life's story, a memoir that takes a compelling plunge into the tumultuous events of midcentury China.

But this epic novel was almost annihilated by the stark reality of death. The story survived to see publication for two reasons, Tan says.

One key lies in a dramatic revelation about the past the author received only hours before her mother died. As the family was preparing the death certificate to prevent her mother from having to undergo an autopsy, Tan's older sister suddenly revealed her mother's real name: Li Bingzi.

That discovery made Tan realize anew how complicated her mother's history had been, and the revelation made its way into The Bonesetter's Daughter in the form of Ruth's struggle to uncover the true name of Precious Auntie, her mother's nursemaid during her childhood in China--a tragic figure who turns out to have been the most important person in LuLing's life.

But the novel still needed help. For assistance, Tan turned to her friend and writing teacher, author Molly Giles. Tan has always had her manuscripts read by Giles, a former North Bay resident. But in this case, Giles' assistance proved crucial: "She said some things that reminded me of what I was writing and reinvigorated me to continue and just simply go deeper," Tan explains.

TAN'S LIFE is a reminder that what some folks dismiss as melodrama is what other people call family history. The author's father died of a brain tumor when she was 14. Her brother passed away from the same cause. Her best friend was murdered in the mid-'70s. And her mother, who watched her own mother commit suicide, was herself suicidal most of her life.

Small wonder, then, that Tan's novels are so deeply personal, so intimately connected to family, so deeply concerned with relationships and death and memory.

Not everyone appreciates those qualities. "I've had a number of people who will tell me when they meet me at social events, "My wife really loves your work, but I have to say that I'm not really into chick books," Tan says with a laugh.

But the author offers no apologies. For Tan, who turns 50 next February, writing is a form of meditation, a kind of therapy, a way to focus on questions she wants to ask herself: "I've found that I cannot write as a reactionary writer, trying to respond to opinions of people, either real and current or imagined and anticipated," she says.

"I have to find the reasons for writing it and for making it worthwhile at the time that I'm writing it," she continues. "So ultimately I go back to whatever is personal or important to me."

Still, Tan seems ready to try something new.

"I hope that people don't think that my only terrain is mother-daughter relationships or first-person narratives or whatever it is that if you looked at the books that I've written you could say, 'These are the similarities,'" she says. "I've written other books. I've just never finished them."

That may be about to change. Tan won't discuss the book she's working on in hotel rooms and airplanes as she tours the country reading to eager audiences from The Bonesetter's Daughter. But she will say it marks a departure from her previous work.

And she's certainly passionate about her new project: Tan says she finished The Bonesetter's Daughter at 1 in the morning, and then started work on the new book by 2am.

What could the work in progress be? Here's one theory: Tan may be about to depart the realm of fiction to write a conventional memoir. That seems to be what Tan's main character begins to write at the end of The Bonesetter's Daughter. And it's a subject that provokes a vivid and specific response from the author.

"If I were to write [a memoir]," she says, "it would be probably about a particular period of my life, and that would most likely be the year that my father died and the year my mother took us to Europe to live, the year that she and I very nearly literally killed each other.

"It was a coming of age, a coming to terms," Tan continues. "It was a year of events that were too full of coincidences to really to make for good fiction--and yet really happened."
---
Amy Tan reads April 9 at 8pm at City Arts and Lectures, Herbst Theatre, 410 Van Ness Ave., San Francisco. (415.621.6600). She also reads on Wednesday, April 11, at 7 p.m. at Copperfield's Books, 2316 Montgomery Drive, Santa Rosa. (707.578.8938).
---
[ San Jose | Metroactive Central | Archives ]