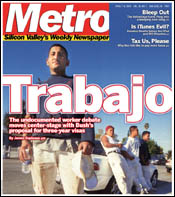 For the Week of
April 7-14, 2004
Cover Story: Trabajo:
The undocumented worker debate moves center-stage with Bush's proposal for three-year visas.
News: Get Rich: Raise Taxes
Let Los Gatos homeowners show you how.
The Fly: This week's political bites.



Biter: A Saratoga spa pampers more than just the body.
Techsploits: Annalee Newitz says the iPod is evil.



Passing Fancies: A new exhibit in Los Gatos traces the touchy subject of preparing for the great beyond.
Visuals: A new show at WORKS samples the art of California MFA grads.



Rock & Roll Royalty: From Mountain View to L.A., Rodney Bingenheimer crowned himself the 'Mayor of the Sunset Strip.'
Death and Texas: 'The Alamo' gives a revised, often accurate, version of the famed battle--John Wayne would have hated it.
Veni, Vidi, Vichy: Isabelle Adjani toys with murder in World War II-era French farce 'Bon Voyage.'
Whydunnit?: 'The United States of Leland' investigates a murder without apparent motive.
Zen Coens: The Coen brothers make peace with the 1955 classic caper comedy 'The Ladykillers.'



Mega Men: Video games are bad for your eyes, but thanks to the Advantage, they're good for your ears.
Aural Fixation: Self-starting Oakland pop-punk quartet the Matches gets ready to catch fire with Epitaph release.



Belly Pulpit: Taverna Gyros lends Sunnyvale some Old World Mediterranean charm.
Club Life: Tamarine in Palo Alto.



Where There's a Willa: TheatreWorks opens the book on Willa Cather's 'My Ántonia.'



Please don't forget to write! Metro welcomes letters. Like any great work of art, they should be originals -- not copies of letters sent elsewhere. Include address and daytime phone (for verification purposes only). Letters may be edited for length and clarity or to correct factual inaccuracies known to us. Postal: Metro Letters, 550 S. First. St., San Jose, CA 95111. Fax: 408/298-0602. . Emailers, please include name, city of residence and phone number. Letters printed will list email address unless otherwise specified. Letters to the editor are not currently published in the online version of this paper.