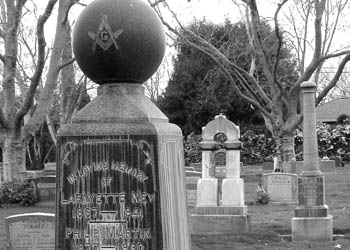 Monument Alley: Gravestones crop up in a new Los Gatos show.

Passing Fancies

A new exhibit in Los Gatos traces the touchy subject of preparing for the great beyond

By
---
Come lovely and soothing death,
Undulate round the world, serenely arriving, arriving,
In the day, in the night, to all, to each,
Sooner or later, delicate death.
Walt Whitman
Don't cry to me, oh baby
Your future's in an oblong box
Glenn Danzig
---
IN THE Santa Clara Valley, one just doesn't see too many museum exhibits that explore embalming techniques of the Victorian era. But that's precisely one of the main components of "Ashes to Ashes: The Birth of the Death Industry," running at the History Museum of Los Gatos through May 2.
Guest-curated by Monica Tucker of History San Jose, the show explores how memorial practices in the 19th century gradually flowered from home-based bereavement into a full-blown funeral industry. Funerary materials from History San Jose's collection comprise half the exhibit, while artifacts from antique stores and private collections make up the other half.
The exhibit showcases some delightfully morbid items, everything from garments worn at Abraham Lincoln's funeral to jewelry made from the hair of deceased family members. Tombstone symbolism is explained in detail. A copy of Habenstein's History of American Funeral Directing sits on a desk for your perusal. And don't miss the pressurized embalming machine, a newer model, circa 1960, courtesy of the Alameda Family Saratoga-Cupertino Funeral Home.
"They're fabulous people," Tucker says. "If you die, go there."
Another must-see is the wicker body basket, circa 1870, one of thousands used after the Civil War. These gave our language the term "basket case." Also, if you desire an explanation of the entire history of the Los Gatos Cemetery, it's here, with an artsy wall-size backdrop from the Masonic section of the park. Caretaker bios grace the far wall. Other gloomy gems include do-it-yourself coffins and 19th-century advertisements for hearses, embalming fluids and cold-air ice caskets.
Since public viewings of Abraham Lincoln's body after the assassination spearheaded the acceptance of embalming as a trade, what more festive way to kick off the show than to re-enact Lincoln's funeral on his birthday holiday? "A Nation Mourns: Remembering President Lincoln" took place at the museum on the afternoon of Feb. 16. Guests marched through Los Gatos to the museum while decked out in period clothing, black attire or whatever else radiated sorrow. It was not a normal museum reception.
"At a usual museum opening, you serve wine and cheese and people walk through the exhibit and look at it thoughtfully," Tucker explains. "We added another element into it, since it was President's Day. It was Lincoln's birthday, so we commemorated Lincoln's death. We pretended it was 1865 out here in California in the town that wasn't yet Los Gatos."
Civil War re-enactors attended the reception, as did Los Gatos Mayor Steve Glickman, sporting a black top hat. Thomas Brown, a living descendant of Civil War Major-General G.H. Thomas, showed up and eulogized President Lincoln with an authentic Virginia accent.
"It was a really moving speech, considering that history can be really dull if you don't do it right," Tucker says.
But "Ashes to Ashes" definitely does it right. Indeed, the show provides an educational glimpse into a subject most people just don't want to talk about. After all, who knew that embalmers add flesh tints to their fluids to help give corpses better complexions? Or that airtight coffins used at the beginning of the Civil War would often explode from stored-up gases produced by the body? Or that women actually dyed their mourning attire black?
Despite the oddball darkness of it all, Tucker reassures that no one will have a problem with the exhibit's grisly nature. "We haven't had anyone say that this is gross or ask 'Why did you do it?'" she tells me. "We thought it would be disturbing at first and that people would be sensitive with the language, but a lot of people are getting into the idea of celebrating death and that a funeral was a celebration of a person's life. We've had more teenagers come to this exhibit than to any other history exhibit Los Gatos has ever done ... They actually stay and walk around and read and learn something."
"Ashes to Ashes" states up front that the rise of the funeral industry--for good or bad--separated death from the family and morphed it into a taboo, one that still exists today. With home-based bereavement practices, family members got to see the body every day and learned how to deal with the misery of death. Nowadays, that's all separated.
But at the same time, Tucker explains, the rise of the industry also helped create a more pleasant image of death. "They wanted their business to not seem so gruesome," she notes. "They didn't want to be known as dismal traitors, but as 'grief specialists.'"
In addition, the rise of the industry also led to a proliferation of genealogical research. Death became more documented, and folks kept more formalized records. "Genealogy is tied into why we really care about death today," Tucker explains. "A lot of people don't want to think about it, but it does come up when you're researching your family history. ... Death is a big part of that. People don't think about it, but that's what you're researching. [With the rise of the funeral industry] they kept very detailed records, which, then, to us today, have a lot of historical value."
All in all, death has always been referred to as the last taboo. Junkies call it the greatest trip of all and a countless number of death euphemisms exist--kicking the bucket, buying the farm and basting the formaldehyde turkey, to name but a few. Especially these days, when homicide investigation shows are the in thing, true-crime paperbacks fly off the shelves and serial killers continue to fascinate us all, death is everywhere. We will always be obsessed with it, and the exhibit makes a delightful and necessary contribution to that obsession.
---
Ashes to Ashes: The Birth of the Death Industry runs through May 2 at the History Museum of Los Gatos (Forbes Mill Annex), 75 Church St., Los Gatos. Open Wednesday-Sunday noon-4pm. (408.395.7375)
---
---
Send a letter to the editor about this story to letters@metronews.com.
---
[ Silicon Valley | Metroactive Home | Archives ]