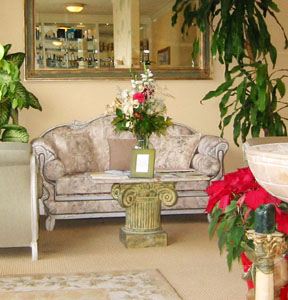 Biter

Goddesses 'R' Us

A spa that pampers more than just the body

By Traci Vogel

SARATOGA IS a city unembarrassed by its embarrassment of spas. There are day spas and luxury spas and spas for dogs. Distinguishing one's business from the sumptuous throng presents difficulty. When Maryling Yu and Albie Velayo opened Pavia Day Spa along Saratoga-Sunnyvale Road last year, they knew that they had to do something completely different. So they hired a psychic.

Yu is quick to give the hand to the inevitable neon-hand overtones. In fact, she used to count herself among the doubters. Yu first met Theresa Hatcher, Pavia's resident spiritualist, seven years ago at an AIDS fundraising dance-athon where a room full of psychics was part of the evening's draw. Sitting down at Hatcher's table, Yu had just one question. She was waiting to hear back about her application to Stanford Business School. Acceptance calls were supposed to be made on March 20. So, Maryling Yu asked, would she get good news on March 20?

Well, no, was Hatcher's reply. But there would be some good news on March 19.

Dejected, Yu took Hatcher's business card to be polite and left. As it turned out, the acceptance calls were made a day early, and Yu did indeed get good news.

"How could she have known that?" Yu wonders, her voice still full of surprise as she stands in the genteel front room of Pavia. The spa sports a kind of Greek-revival theme, with decorative columns entwined with ivy and murals painted by local artist Ellen Bass. In the lobby, a fountain frolics among frolicsome cherubs. Pavia features three facial rooms, three massage rooms, a pedicure chair and a makeup area. One of the spa's most popular packages is called Goddess Night Out, in which up to five friends can enjoy 2 1/2 hours of spa services including, if they choose, a mini-Tarot reading by Theresa Hatcher.

Hatcher, a dark-haired, warm-eyed woman with dimpled, quick hands, has been working as a spiritual adviser and teacher in California for more than 20 years. She specializes in Tarot-based intuitive readings, dream analysis and guided meditation. She also has a Master of Hypnotherapy Certification, and advertises the ability to channel messages from spiritual guides to help you recognize patterns in your life.

I recognize a pattern in my life of serious doubt about things like spiritual guides, but I agree to a reading anyway. At a small table at the end of one of Pavia's hallways (the special Soul Therapy room is still under construction), Hatcher doles out the tarot cards she's drawn. She uses a nontraditional deck, one without the typical death-head imagery. Instead, her cards are decorated with bright watercolors. The series she draws for me shows a yogi with a glowing center, a fairylike creature, the Earth surrounded by people holding hands, a figure crouching with another figure leaping out of it and a monk with his eyes closed stepping from one floating stone to another. The images seem comforting, and I lean forward.

Then Hatcher closes her eyes, and describes what she sees. "I see a young girl dancing. She's 5 years old. It could be you, or it could be your daughter in the future. I see rabbit or mouse ears, some sort of animal ears, and gold sparkles. This is a very important moment for this girl. This is the moment she realizes ..."

Well, it's not so important exactly what the little girl realized, but suffice it to say that Hatcher had, weirdly enough, landed on an exact moment in this writer's life. Although it could be argued that a lot of 5-year-old girls come to important realizations while wearing mouse ears and gold sparkles during tap-dance recitals, Hatcher's description was freakily exact. I found myself echoing Yu: "How could she have known that?"
---
Send a letter to the editor about this story to letters@metronews.com.
---
[ Silicon Valley | Metroactive Home | Archives ]