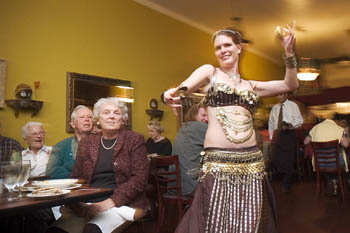 Photograph by Charlie Nucci

Hummus Along: Traditional gyros share the spotlight with traditional gyrations at Taverna.

Belly Pulpit

Taverna Gyros lends Sunnyvale some Old World Mediterranean charm

By Joseph Izzo Jr.

IN TRAVEL posters, the Mediterranean is a cobblestone walkway weaving through ocean-tinted villages. Whoever decorated Taverna Gyros may have had such posters in mind; the restaurant glows with Old World authenticity.

Hot mustard and ruddy pomegranate hues warm the room like sunlight through a veil of misty sky. Bright, fetching art hangs everywhere. Racks filled to the ceiling with wines (both domestic and imported) comprise the right flank of the dining room, instilling the digs with a cozy, informal charm.

Opened just months ago in a quaint storefront along the truncated byway of Sunnyvale's historic Murphy Street, Taverna already seems to have a mature menu. The recipes we sampled were fresh and simple; the menu lays out a tempting yet manageable collection of Old World dishes based on natural flavors and zesty Arabic infusions. Spices were woven gently into the food, rather than being set below the surface to explode with the force of blasting caps.

From the meze section of the menu, hummus ($4.95) made of garbanzo beans, Gilroy garlic, lemon juice, tahini and olive oil tiptoed across the palate with mild flavor and velvet texture. A Turkish specialty called ezme ($4.95) consisted of peeled and mashed tomatoes--fresh and juicy from the vine--mixed with diced green pepper, walnuts, parsley, red-pepper sauce, virgin olive oil and drops of lemon juice.

Baba ghanouj ($4.95), prepared in the form of a purée, combined flame-grilled eggplant, garlic, parsley and aromatic herbs. The traditional Arabic salad tabouli ($4.95), made with bulgur (crushed wheat), onion and tomato, was spooned like grainy beads onto pieces of unleavened flat bread.

Entrees were equally simple, highlighted by natural flavors uninhibited by heavy sauces or unnecessary seasonings. Lamb and beef gyros ($10.95) arrived as bountiful portions of minced morsels, grilled crispy in places, seasoned lightly with herbs, then placed in mounds on top of pita triangles. Chicken gyros ($9.95) arrived in similar condition, consisting of just breast meat, cut thin and browned, and served on pita. Adana kebab ($10.95) gave us minced lamb spiked with garlic and mint and broiled on a skewer to order.

As a condiment for these meat dishes, we ordered a bowl of cacik ($4.95). This versatile yogurt, blended with cucumber, garlic and dill, had a smooth, syrupy texture that allowed the liquid to fall from the spoon in long snowy tendrils. We drizzled it over the meat and rice, at times taking spoonfuls straight to our mouths like liquefied custard.

The food had been so light and fresh that in the end, although we had eaten a lot, we felt quite comfortable contemplating Taverna's dessert offerings.

We decided on the classic baklava ($3.50), made with thin, airy layers of phyllo dough filled with a rich paste of walnuts or pistachio, and honey, plus the similar kadayif ($3.50), topped with crispy phyllo shreds. With our desserts we sipped cups of thick, sweet Turkish coffee ($2.25) and finished our meal feeling exquisitely satisfied.

Our waiter at Taverna hailed from Istanbul and handled our table in a gentle manner, arranging and clearing plates effortlessly. His thoughtful and leisurely pacing enhanced the comfort of our experience.

In addition to the full dining experience, Taverna is well suited for the brief yet lovely respite, when a glass of wine and a few appetizers fit like a glove. The place glows with warm and slow Mediterranean enchantment.
---
Taverna Gyros
Address: 133 South Murphy Ave., Sunnyvale
Phone: 408.735.9971
Hours: Lunch 11am-2:30pm daily; dinner 5-10pm daily
Cuisine: Old Mediterranean/Turkish
Price Range: $3.95-$13.95
Catering available
---
---
Send a letter to the editor about this story to letters@metronews.com.
---
[ Silicon Valley | Metroactive Home | Archives ]