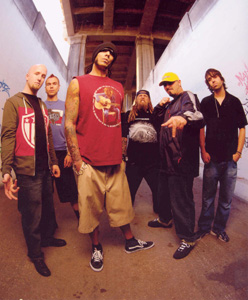 Huntington Beach's (hed)P.E. tore it up at the Fillmore.

American (hed) Charge

(hed) Planet Earth hit San Francisco with 'Blackout'

By Sarah Quelland

'I'M SO HAPPY to be here, I took two extra bong hits, and my dick's extra hard," announced (hed) Planet Earth frontman Jahred midway through the band's furious and funky set at the Fillmore. Part of the Jagermeister Tour, featuring Saliva, Systematic, Breaking Benjamin, Stereomud and Mystic Rage, (hed)P.E. turned the floor of the San Francisco club into a crazy, bouncing pit of sweat and testosterone. "It's very good, motherfuckers," Jahred said looking down and nodding his head in approval. "It's very nice. I'm very proud to call myself an American tonight."

This was (hed)P.E.'s first performance in the Bay Area with new guitarist Sonny Mayo (formerly of Snot and Amen), who looked happy to be there and fit right in. In true arena-rock fashion, (hed)P.E.'s stage went dark after every song, underscoring the title of its new album, Blackout (Jive Records). The band's set offered a balanced mix of songs from Broke and Blackout, plus the narrative psychedelic rap "Ken 2012" from its 1997 self-titled release. Anything but straightforward, (hed)P.E. brought new dimensions to its urban metal material, switching the songs up with samples, freestyles, audience sing-alongs and repeated homages to Bob Marley.

During the new instrumental, "Octopussy," (hed)P.E sped the song up to effectively spur on the momentum in the pit. Slow, bluesy guitars opened "Bartender." Meanwhile, Jahred prefaced the cover of Bob Marley's "No Woman No Cry" stating, "For the next two minutes, it's not about the people onstage. It's about the material we're about to play." He dug deep and put forth some authentic smoke-roughened rasta vocals.

Telling his fans he exercises his freedom of speech every time he has a mic in his hand, Jahred was in fine form, repeatedly addressing the crowd, thanking Jagermeister and talking about his band's chronic lack of mainstream support.

During the calm before the storm, in the extended buildup to (hed)P.E.'s last song of the night, Jahred challenged the men in the crowd with a call to the pit. "I'm pulling up your fucking skirt," he said. "Prepare for the hurricane." The whole floor was a whirlpool as (hed)P.E. tore up the stage with the title track and first single from the new album, "Blackout."

GREEN PLANET: Music and green energy sources flow on April 20 at the We the Planet festival at Speedway Meadow in Golden Gate Park. Check out performances by Cake, De La Soul, Concrete Blonde and the Coup plus acoustic appearances by Bonnie Raitt and Alanis Morissette at this event hosted by activist and author Julia Butterfly Hill and featuring Andy Dick. Tickets are $15 advance and $20 at the door and are available at www.inhousetickets.com/wtp. Visit www.wetheplanet.org for more information.

ROCK & ROLL VOODOO: Though primarily a dance hot spot, the VooDoo Lounge is getting in on the live rock & roll action by launching a music showcase called South Bay Unsigned. The first of these shows is scheduled for April 23. Bands interested in participating can send demos to: South Bay Unsigned, c/o VooDoo Lounge, 14 S. Second St., San Jose 95113.

HOT TOPIC: Dave Meyers, the award-winning director of music videos for Jennifer Lopez, Shakira, Aerosmith, Papa Roach and more, will be conducting a free workshop at the Ohlone College Student Film Festival this Saturday (April 12) at 4pm in the NUMMI Theatre. Call the Smith Center box office at 510.659.6031 to reserve space at the workshop. ... Systematic headlines KSJO's Screw the Tax Man concert scheduled for April 15. Listen to win. ... Jacek Rosicki's new nightclub and restaurant, Zoë is scheduled to open on May 1. ... Local rock outfit Lavabone has announced that it has parted ways with singer J.C. Franklin and is preparing to audition new singers. Interested candidates email [email protected].

PLAN AHEAD: The Substitutes, April 10 at the Gaslighter Theater in Campbell; the K.G.B., April 11 at the Los Gatos Outhouse; Alien Love Syndrome, Point 3 and Plush, April 11 at the Quarter Note in Sunnyvale; the Paladins and the Claim Jumpers, April 11 at the Blank Club; emaneht, April 11 at the gaslighter's music hall in Gilroy; Hippie Aggression, SECURITY, Borderwars and Mind-Eye, April 12 at Waves.
---
Send a letter to the editor about this story to letters@metronews.com.
---
[ Silicon Valley | Metroactive Home | Archives ]