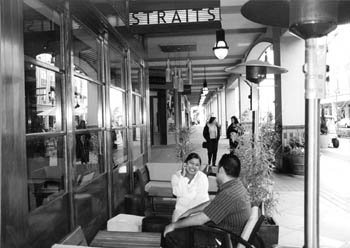 Photograph by Chris Revell

Singapore Fling: Straits creates some heat at the Santana Row scene, with Eastern-fusion entrees.

Straits and Narrow

The latest destination restaurant at Santana Row tries to find a balance between spicy and sweet

By Aaron Robinson

DRIVING TO Santana Row is the fastest route to Los Angeles. Like a splice of Rodeo Drive and Sunset Boulevard, the Row is filled with cosmopolitan shops and upscale restaurants--which makes the competition for "most hip" a fierce one. Among the competitors is Straits Restaurant, the third Eastern-fusion joint opened by Singaporean chef Chris Yeo.

Had I been blindfolded the Friday night I first visited Straits, I still could have found the place. House music pumped through the outer wall's sliding partitions. Inside, the décor consisted mainly of Singaporean relics and shouting human bodies, but there were far more bodies than relics. The place was so packed that we couldn't even see. I did manage to look up and admire the little red spotlights, which saturated the dining room like a San Francisco nightclub.

We wanted to make it easy on the overwhelmed hostesses, so we agreed to be seated outside in the heated patio area, where we had a meager chance at hearing one another. Our server rushed to the table, warned us of the wait for drinks and asked if he could put in our order right away. Given the atmosphere, we decided to forgo the wine list and try a couple of Straits' specialty cocktails. In actuality, we should have phoned in our drink order before we left the house. The cocktails didn't show up until somewhere around the second course. A Lemon Grass Mojito ($8) tasted more of soda water than anything else, but the Mangopolitan ($8) with house-made mango vodka and a clever mango garnish was very mangolicious.

The first wave of small plates arrived quickly. The Roti Prata ($6) was a griddled crispy flat bread with a moderately spicy dipping sauce. The spinach Meung Kum salad ($9) lived up to its enticing menu description: a semitart, hickory-smoke-flavored dressing complemented perfectly cooked prawns, and toasted coconut added texture.

Dinner's second wave began with the spicy marinated Duck Kapitan, accompanied by a "pandan" crepe ($12). Though claiming to be confit, the duck was dry and fibrous. I almost mistook the pandan crepe, a web of green batter, for a garnish.

The Laksa Paella ($22), a soupy coconut risotto with abalone, shrimp, clams and mussels, was beautifully presented, but the risotto was anti-al dente, the seafood too salty and the sauce too sweet.

All our hopes rested on our final entree, the Lobster and Shrimp Pad Thai ($21), thick rice noodles with egg, tofu, green onions, bean sprouts and peanuts. Again, however, sweet and salty made for overkill. The lobster chunks and shrimp were indecipherable, and the lobster claw, propped above the dish, was chewy and underseasoned. (On a second visit, at lunch, the Pad Thai's lobster was far more tender, but instead of shrimp the dish was served with fish cake).

The thought of writing about this experience unsettled me, so I asked the waiter if he could recommend a dish that best represented the restaurant. He thought about it, then nudged us toward the Straits Spare Ribs ($8): three pork ribs with a honey barbecue glaze. Thankfully, the ribs were tender and the glaze tasty, if again oversweet. I had expected some intense flavors, some exotic spices--aren't those what Eastern-fusion cuisine is all about?

We put in our order for the Chocolate Tasting ($12), a generous array of temptations: a warm handcrafted chocolate cake that was incredibly moist, a rich mocha pot de crème, a chocolate morsel with green tea mousse and many other decadent creations.

Morales boosted, we ordered a second dessert: a Mango Mousse ($8.50). It, too, featured exciting textures and flavors--custardlike mousse, flambéed fresh mango, mango sorbet and the zabaglione-like pandan sabayon--in a successful experiment that I wish more of the menu had emulated.
---
Straits Restaurant
Address: 333 Santana Row, Suite 1100, San Jose
Telephone: 408.246.6320
Hours: 11am-10pm Sun-Wed; 11am-midnight Thu-Sat
Full bar
---
---
Send a letter to the editor about this story to letters@metronews.com.
---
[ Silicon Valley | Metroactive Home | Archives ]