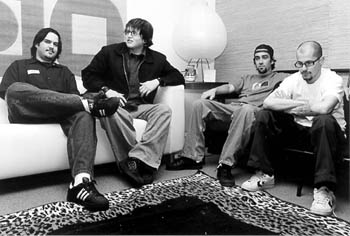 Divvy Up: Divided plays main support at Insolence's CD-release show at the Edge on May 9. Visit www.dividedmusic.com for updates.

Come Together

San Jose rock fusion band Divided learns to live with its differences

By Sarah Quelland

THE MEMBERS of San Jose band Divided are casually running through the tragic but potent new songs "My End" and "Untitled" in a converted East Side garage that feels more like a living room than a studio. The garage is decked out with track lighting, plush rugs, a huge aquarium and an assortment of comfy chairs and couches. Pillar candles sit on the coffee table; decorative lanterns hang from the ceiling. Vocalist Ryan Reynoso blames IKEA, but the décor provides a suitable space for this promising rock band to construct its magic.

Founded in 1998, Divided consists of Reynoso, guitarist Paul Borges, bassist Nelson Candido and drummer Paul Avila. The members come from different musical backgrounds, from jazz to speed metal, from punk to grunge. The end result is an eclectic and innovative fusion of world, jazz and metal that's complex, dramatic and poetic.

"It's kind of weird how it all works out," guitarist Borges says. "I guess Divided is a really good name for us."

Divided's sound has evolved so much since 2000's False Sense of Security that, as Borges says, "it's like another band." Borges expresses extreme distaste for his group's cluttered and angry nü-metal phase. "I don't even want to hear it. It was disgusting. It was horrible."

One of Divided's most intriguing elements is Borges' double-neck guitar and his unusual technique, which he compares to playing the piano. He says he chose the double-neck because at that time bands like Korn had popularized the seven-string guitar. He sought something different but still wanted to incorporate the low string. "When I saw a double-neck, I had an idea of what I could do with it and still have that real low-end sound and still have that regular drop D. So that gave me so many opportunities to write in different scales and patterns," he explains.

Similarly, Reynoso has advanced his own writing and singing style, which ranges from sweet and soaring to abrupt and enraged. "A lot of the lyrics have changed 'cause I used to be really pissed off," Reynoso tells me. "I used to hate some people, but now I'm more passive and into self-reflection."

Reynoso's lyrics are personal, often frustrated, accounts of loss, pain, loneliness and wasted time. On "Icarus," Reynoso mourns the death of his friend and fellow musician Rob Lumbre. On "The Scars I Wear," Reynoso uses relationships as a metaphor for things like substance abuse.

Despair and hope battle on the newer tracks. On "My End," he charges, "You don't know what it's like to be me / You've lived your life in a sheltered reality / Fuck this life, I give in / I can't live another day in this skin." On "Self-Sufficient," however, he fights to find strength within himself: "The sickness has me, but I'm in control / I'm tired of playing the part because I've gained more and more of my soul / But these scars will not heal; I can't let go / Even though I must be strong, I must do this all on my own."

Divided draws respectably around the South Bay, with a fan base that consists of 13- to 21-year-olds. "They're so into the music," Reynoso says. "It's really cool to hear kids tell you that they look up to you. I want to tell 'em, 'Stay in school. Don't do drugs.'"

With a name like Divided, working together wasn't always easy. In the beginning, practice was one continuous fight. They eventually learned to communicate and focus on songwriting. "Now, the songs we're putting out, we're confident about them," Borges assures me. "We all like them."

As with so many unsigned bands, the members of Divided dream of quitting their day jobs, diving into the mainstream and become as widespread as, well, IKEA. It's an appropriate analogy since, much like IKEA's merchandise, Divided was assembled from pieces that dovetailed to create something beautiful and well designed. The group recently secured an attorney in New York, and the goal is to shop its new demo (which features "No Regrets," "Self Sufficient" and "Scars I Wear") and get signed.

"We want to obviously make this a career," Borges says. "I live for the 30 minutes or 45 minutes onstage. That's the high that I love more than anything."
---
Send a letter to the editor about this story to letters@metronews.com.
---
[ Silicon Valley | Metroactive Home | Archives ]