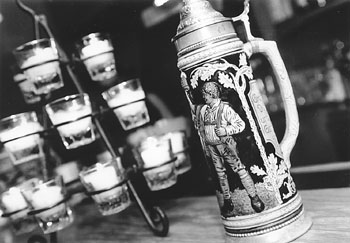 A Stein Is A Terrible Thing To Waste: Seventeen beers on tap means the river Elbe will never run dry.

Lederhosen in Springtime

Looking for a break from the flavors of Asia and Italy? Check out the Mitteleuropean vibes of Elbe

By Christina Waters

THE VOICEMAIL at Elbe, the durable German-Austrian restaurant in downtown Palo Alto, mentions "Bill and his magical accordion," playing on Fridays and Saturdays. Last week, that tantalizingly retro possibility, plus a hankering for bratwurst, sent me and Jack nosing toward University Avenue. We were strung out on sushi and pasta, and everyone knows that German cookery--bratwurst, schnitzel, sauerbraten--is the tried-and-true antidote.

Envisioning a guy in lederhosen and suspenders, we entered the trend-free dining zone that is Elbe. Named for the third-longest river in Europe, the restaurant adjoins Rudy's and hence hosts a boisterous next-door bar crowd. But the restaurant itself is an oasis of pale peach Gëmutlichkeit (look it up). Perfect indirect lighting is reflected in a bank of mirrors, while candles and fresh roses decorate every table.

Our waitress, a native of Germany, chuckled at my struggle to find a dry Riesling on the menu. Elbe is a place where one should be willing to drink wine that tastes distinctly like apple juice or order one of the 17 beers on tap. But Jack and I didn't much care once the sounds of swoony German cabaret and folk tunes began to waft over us like a gentle cloud of whipped cream on a slice of Bavarian pastry.

Heady stuff, Bill's magical accordion repertoire includes both Broadway and Marlene Dietrich. "Edelweiss," "Blue Danube," "Don't Cry for Me, Argentina," "Lili Marlene," "In München Städt ein Hofbrauhaus"--all the clichéd enchantment finessed by generations of squeeze-box aficionados poured from Bill's accordion. His fingers have moves any Parisian street musician would kill for. We felt like bierstube archaeologists who had hit the mother lode. Or perhaps Star Trek voyagers vacationing on the holodeck.

Seriously, this place has the distinctly non-Mediterranean attitude of Fassbinder on a mellow day. The ambience is deliciously undefined, but leans strongly toward Hollywood-on-the-Rhine.

Sampling terrific breads joined by unsalted butter shaped into those little round balls, we were soon brought an aromatic house salad of tender greens in a delicious tarragon vinaigrette ($3) and an appetizer of bratwurst and better-than-average Polish sausage ($6), sliced on a bed of excellent sauerkraut with two mustards--one hot, the other hotter. You just cannot get appetizers like this anywhere else on the peninsula--and certainly not with a background of irrepressible German pop schlock.

There's no doubt that the Old World vibes are a huge part of the appeal at Elbe, but the food is also welcoming, hearty and similarly trend-free. The salad was excellent, the sausages hot and earthy.

Jack loved his platter of rare venison steaks ($12.50), smothered in a pleasantly passive gravy with mushrooms and sided by sweet/sour braised purple cabbage and flawless house-made Spätzle sprinkled with hazelnuts. My Jagerschnitzel offered tender, thin scallops of pork, which needed a sprinkle of salt to be tasty but arrived with the finest roasted red potatoes I can remember. Not designer: sturdy and satisfying. Our dessert of apple strudel ($6) was a modest affair of thin, almost flaky pastry enfolding tender apples and topped with vanilla ice cream. Simple and comforting.

Bill programmed his accordion to sound like a merry-go-round pipe organ before launching into a smooth medley of polkas, and there were more than a few couples in that dining room who would have liked to cut loose with a spin around the room. But cozy restraint is also part of the Elbe experience, and we were all content to just hum along with the nonstop cascade of Germanic melodies, even if we couldn't remember--or translate--all the words. Elbe is proof that the culture that gave us kitsch, schmaltz and Alpine yodeling can still cast quite a spell.
---
Elbe
Address: 117 University Ave., Palo Alto
Phone: 650.321.3319
Hours: Lunch 11:30am-2pm, dinner 5pm-9:30pm daily
Cuisine: Central European
Entrees: Moderate
Extras: Full bar; live music on weekends
---
---
Send a letter to the editor about this story .
---
[ Silicon Valley | Metroactive Home | Archives ]