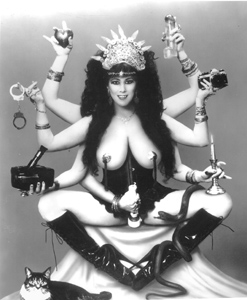 Post-Porn Goddess: Annie Sprinkle juggles art and outrage in her performance pieces.

Photo: Amy Ardrey/Art Direction: Leslie Barany





Welcome to My Womb

Annie Sprinkle sings the body eclectic for performance-art showcase at WORKS/San Jose

By Traci Vogel

'MY HAIR is pink, now," Annie Sprinkle says. I am speaking with her over the phone, and although I've seen images of this most famous of "post-porn modernists" in publications ranging from Penthouse to art books, I--like most people--just can't get enough of her physicality. Annie Sprinkle's body is not her own. That is, it very much belongs to her, but during the 30 years she's undressed for the public eye, her body has also come to represent a kind of roving museum of performance art.

Wait, keep reading! I realize the words "performance art" have the same ring as "kill me now" to most people, but there are reasons to give Sprinkle a chance. The first, Sprinkle has a sense of humor. She's the Janeane Garofalo of sex-positive performance artists.

Wait again! Yes, I said "sex-positive." Although it's no longer a part of her stage show, Sprinkle is famous for baring the deepest parts of her own, er, vagina monologues, in a display called "Public Cervix Announcement." Most people don't even know where the cervix is, and this is the point of Sprinkle's performance art. She estimates that she has cervixed around 40,000 people, proving that, contrary to mythology, "neither the vagina nor the cervix contains any teeth."

These days, Sprinkle uses the stage to address censorship, queer issues and sex-positive feminism through a mostly autobiographical slide show of outtakes from her previous works, Annie Sprinkle's Herstory of Porn and Post-Porn Modernist. She also makes "tit" prints, using her own, um, equipment.

Call Sprinkle what you like--some descriptions already hurled include "multimedia whore," "genius," "slut"--but now you can add "doctor" to any of those, since she recently earned a Ph.D. from San Francisco's Institute for the Advanced Study of Human Sexuality.

I posed some questions for Dr. Sprinkle during our recent phone chat.

Lots of people seem to be doing their own burlesque shows these days; it's as if there's some sort of amateur revival going on. Do you see a renewed acceptance for performance art?

There's certainly an interest in the old burlesque--I think because people want to hold on to the art form, to the creative ritual. A lot of strippers are performance artists. It's an art form that's here to stay, whether you like it or not. It started in the '50s, with Dadaism and Fluxus, and took off in the '60s with the hippies and the "happenings." By the '70s, it was so ubiquitous that it became a joke, but it's overcome that.

How would you diagnose the sexual pulse of the Bay Area right now? Hot, hardly beating, in cardiac arrest?

The Bay Area is the most sexually evolved place on the planet. There's more stuff happening here in terms of the avant-garde of sex than anywhere in the world. Maybe it's because of our history with the Wild West--being founded by outlaws and prostitutes.

Do you think the intersection of technology and sex has been a positive thing?

Oh, absolutely. Sexuality has been hidden for so long, I think that anything that brings it into the light is a way for us to learn and grow. The technology piece is pretty interesting--it's creating a new dimension, a new expression. It's a good thing for sex education. You gotta wonder about these countries that don't have much sex education, and then they get the Internet. It must blow their minds.

Now that you don't show your cervix anymore, what are you going to show the audience at your San Jose show?

It'll be a version of Herstory of Porn--an intimate little show and tell. Because [WORKS] doesn't have a regular theater, I'm not doing a play; so it's more of a presentation about my work. It'll still be what I like to call "trans-media," and will honor local sex workers. I really encourage women to come. Most women think maybe this is something for the guys, but it's feminist performance art.

Then, after the show, I'm going to be making and selling tit-prints. The money will go to the St. James Infirmary, a health-care clinic for sex workers.
---
Annie Sprinkle appears with HANK HYENA Friday (April 12) at 8pm. Tickets are $16/$20. The What Is Now? Performance Art Festival takes place April 11-13 at WORKS/San Jose, 30 N. Third St., San Jose. Other performers include John Fleck and Raquel Salinas (April 13) at 8pm. Video screenings and workshops take place noon-4pm each day. (408.295.8378 or [email protected]). Sprinkle will also lecture on 'Sex and Spirit,' Tuesday (April 16) at 7:30pm, at Spartan Memorial on the SJSU campus. Call 408.605.1687.
---
---
Send a letter to the editor about this story .
---
[ Silicon Valley | Metroactive Home | Archives ]