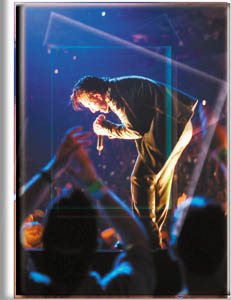 Love Me. Believe Lies
In the brave new world of trance and dance music, can an old-fashioned arena-rock band like U2 justify the high cost of admission?
By Gina Arnold
Photographs by Otto Kitsinger
MIAMI IS A CITY that hardly seems connected to the rest of the United States. Everything about it differs from the country most of us grew up in, from the tropical weather to the lingua franca, which certainly isn't inglés. Visually, viscerally and even olfactorily, Miami feels closer to Havana or Bangkok, crossing, as it does, the former's Caribbean influences and pervasive odor of cigar smoke with the latter's terrible high-rises, clogged freeways and swampy smell of mangrove bushes.
Miami is an anomaly in America all right, and not the least of its anomalous features is the fact that the arrival of a big rock band barely causes a ripple. Although U2's Elevation tour, which launched in Fort Lauderdale on March 24 and arrives in San Jose April 19-20 at the Compaq Center, née San Jose Arena, is one of the biggest and highest-priced tours of 2001, on the day before the show, there was no hoopla to be heard about it in Miami. No news articles. No radio announcements or giveaways every hour on the hour. No gossip, and no tickets for sale in the want ads.
Instead, that week's newspapers and radio stations concentrated on another musical happening: the 15th Annual Winter Music Conference in South Beach. This music convention and nonstop party sees the arrival of 6,500 dance music industry honchos, musicians and DJs and something like 10 times that many rave music aficionados and conventioneers, including such big-name spinners as Fatboy Slim, Paul Oakenfold and Daft Punk, who preside over a five-day orgy of parties and raves at every venue in Miami and Miami Beach.
Besides being U2's opening night, Saturday was also the day of Ultra Fest, a vast outdoor rave at Miami's Bayfront Park, and to the media, the latter fact was paramount. After all, Ultra Fest and the Winter Music Conference celebrate the fact that Miami has recently become the center of all things rave, dance and techno.
That's all very well for Miami, but it leaves a plain old rock band like U2--with its two guitars, bass and drums--pretty much out of the cultural mix.
At Ultra Fest, the 35,000 attendees were mostly between the ages of 14 and 24. They were young, gorgeous and nearly naked, spinning around trance-like to the throbbing and lyricless music, hoping to become one with the all-powerful Beat.
How different it all was from the scene in the parking lot at bluntly named National Car Rental Arena, the home of the Florida Panthers hockey franchise and location of U2's concert. At 7pm, while ravers munching pixie sticks and peaking on "e" cooled out in the shade of Miami's tallest buildings, the arena's parking lot was filling up with Lexuses and SUVs disgorging nicely clad men and women in pressed jeans, khakis, button-down shirts and skirts. There were few (if any) people under the age of 30, and no one who looked as if they were high. Everyone filed carefully into the arena in neat lines.
At Ultra Fest, I felt like I was at a young, hip, communal gathering, akin in some ways to Woodstock or Lollapalooza. At U2, I felt distinctly as if I were my parents going to see Neil Diamond or Wayne Newton, but it wasn't so much the band's fault as history's.
Once upon a time, a rock concert was an event of unbridled revelry, a place for young people to cut loose from their cultural mores and mingle with other like-minded souls. But in the last decade, these aspects of rock have been ceded to ravers, while live concerts have become almost the exact opposite experience: rigid, codified and hellaciously expensive.
Tickets for Ultra Fest ran $70; top-end tickets at U2 cost $130, plus service charge and parking. Thus, my question as I approached National Car Rental Arena in the waning light of day was whether U2 would be able to overcome the twin drawbacks of an aging fan base and an inhospitable concert environment and forge the kind of quasi-religious experience that the group is known for. Could the show U2 is taking on the road possibly be worth it?
Swamp Side
NATIONAL Car Rental Arena sits on the edge of the Everglades in a township called Sunrise, about 10 miles east of Fort Lauderdale and 30 miles north of Miami. It exemplifies the kind of venue preferred by most arena-rock acts for indoor concerts these days--while the outdoor shows take place in "sheds" built especially for rock music. (Shoreline Amphitheater is one; so is the Concord Pavilion.)
Both the sheds and the sports arenas hold anywhere from 10,000 to 20,000 people. They are usually located in suburbs that can draw from a large surrounding metropolitan area, and most have sold their names to corporations. (The San Jose Arena, for example, has recently been renamed Compaq Center, in a deal which brings the San Jose Sharks and the city of San Jose $3.13 million per year for 15 years.)
As distressing and unromantic as such places can be, they do have their advantages: parking, bathrooms, built-in concessions and lots and lots of security. Thus, they eliminate some of the discomfort and horrors of rock concerts of old, when patrons often waited in long lines, ate slop and sometimes found themselves in wildly jammed, even dangerous crowds, with no sight-lines to the stage.
But those comforts don't come cheap. At U2's San Jose date, for example, the top ticket price is $140, parking is $15, and a couple of beers run about $20. Throw in a T-shirt ($30), a program ($20) and the service charge on the tickets ($8.50 each), and you could end up spending close to $250 per person--the price of a round-trip ticket to Seattle or Chicago, two nights at a nice hotel, a leather jacket, a 60,000-mile tune-up, two weeks' electricity, 1,000 shares of EMusic.com, or some 15 or so new CDs.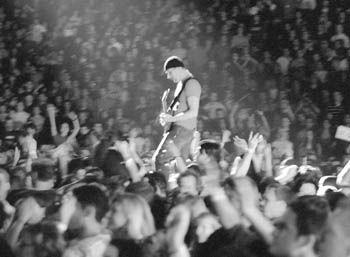 Where the Seats Have No Name: The best seats in the house can be had for the price of general admission by the first 300 fans in line on the day of the show.
Blame the Artists
THAT'S A LOT to shell out for a few hours' entertainment, and the blame rests with the Rolling Stones, says Gary Bongiovanni, editor of Pollstar, the industry's concert-promoting magazine. "They set a new bar when they charged $300 for their best seats at the indoor leg of Bridges to Babylon," Bongiovanni explains.
Also to blame, he adds, are the people who are willing to pay exorbitant amounts to see their favorite bands. U2's tour, he says, "is at the high end for any tour in any year, but it doesn't mean the public won't pay it. The pricing model for arena tours has changed, and what was once an unusually high ticket price has become commonplace. Basically, the acts that appeal to the baby boomers have found out that their audience will pay up to see them. They look around and go, 'If Tom Petty can charge that, and I'm Rod Stewart, well, I should get that much too.'"
Madonna's summer tour--her first in almost a decade--will likely command a similarly high price, he says. The Eagles could do some dates this summer scaled that high. But the Elevation tour prices--topping out at $185 in some markets--have really set a new precedent.
"People vote with their wallets," Bongiovanni points out. "We saw a 30 percent jump in ticket prices between 1998 and 1999, which was about $10 per ticket. Then prices leveled off in 2000, and we anticipate it will stay the same in 2001."
One reason U2 can charge so much is because San Jose area concertgoers are willing to pay higher prices than can be asked at the Oakland Coliseum, the Cow Palace or even Shoreline Amphitheater.
"Over the years, we've discovered that the expendable entertainment dollars are here in the South Bay," says Steve Kirsner, the Compaq Center's director of booking and talent. "A lot of times, we encourage bands to play both the Oakland Coliseum and here because we think of them as two separate markets, and it's just become clear that shows in San Jose sell better than in Oakland. That's helped our reputation a lot."
Nevertheless, Kirsner says frankly that the U2 prices shock him. He believes that the artists, rather than the promoters or the venues, must shoulder the blame. "Artists have been very vocal about ticket prices," he says. "To get them to go on tour, the promoters have to guarantee them a certain amount, say $10 million. Then they figure out their expenses and just divide the number of seats they have up, and if the figure comes out to $185, well ... tough.
"It's been a big topic of discussion at all our industry meetings. Are we going to put ourselves out of business by charging so much? At what point will people just stop paying?
"But the thing is," Kirsner continues, "the artists are adamant. They know there are scalpers out there selling $40 tickets for $250, so why not just charge $250 themselves. That's the latest mentality, to put the scalpers out of business. And in this area, anyway, people have just had the money to pay whatever is asked, although with the NASDAQ doing what it's doing, we might see an end to that pretty soon."
Kirsner points to Green Day as an act that refuses to charge high prices. The arena is currently negotiating a show with that band where ticket prices will be $25. "But then, you know, they want so much guaranteed, which means we make less money, and it becomes a dilemma for us, whether to do the show or not. Our only inventory is our days--that's what we sell. But we want to have a variety of different types of music here. And yes, we'll make money on parking, but that crowd only drinks bottled water."
Bongiovanni agrees that it is the artist's call in the end. And it will, he says, continue to rise until the public just says no. Of course, he adds, "invariably some band will ask too much, or play too large a place. It varies from market to market, artist to artist, and moment to moment. A band can be hot one moment, and four weeks later be dead in the water. Pricing tickets is a weird science."
It is also not necessarily a profitable one, says Kirsner, what with the expense of security, lights, heat, etc. The two nights of U2, for example, will gross $2 million, of which the arena will earn less than $100,000, mostly on parking and concessions.
The arena is owned and operated by the owners of the San Jose Sharks organization, and thanks to a deal cut with the city of San Jose early in its history, the franchise pockets the profit from concerts. It's all a great deal for a team that claims to be in the red (although Kirsner resignedly points out it would take 10 or 12 rock concerts to pay one player's salary).
And it explains why, in the last few years, the arena has gone out of its way to develop that reputation as a good place for rock concerts, mainly by hiring a talent buyer who makes sure the building puts in a bid for whatever rock tour is on the road. ("Before," says Kirsner, "we only found out who was coming when we read it in the Sunday paper.")
In fact, an even more profitable business is hosting corporate meetings, success seminars and religious meetings. So why do rock at all? "Prestige," states Kirsner promptly. "And because we have a constituency: the suite holders, the season ticket holders, the people of San Jose. It's important for us to get really big-name acts here to keep those people happy. So we swallow our pride a little and name a price that they [that is, U2] will accept."
One problem arenas like the Compaq Center have is logistical. In order to put in a bid for U2's dates, Kirsner had to negotiate with the NHL. April 19 and 20 are playoff dates, so in order for the arena to get U2, the Sharks and the NHL had to guarantee that if the team made the playoffs, the games wouldn't be played at home.
"They hate doing that," comments Kirsner. "And you know, you don't want to put the team in a situation where they might have to play back-to-back games. But U2 is such an important band, it was a risk we were willing to take."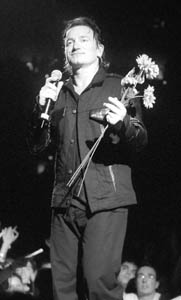 Do You Feel Loved? U2 frontman Bono accepts tokens of appreciation from fans in addition to payment of one of the highest ticket prices in the business.

Elevating Experience
FOR THE ARENA, the risk has paid off. The U2 concerts are sold out, the Sharks are in the playoffs, and all's right with the world. But what about the fans? U2 has always seemed like the most humane of rock bands, so the band's insistence on an exorbitant ticket price seems particularly perfidious.
Until you see the show, that is. Then it becomes apparent that U2 has considered many of these issues long and hard, with the audience's perspective well to the fore. The Elevation tour represents the conclusions U2 has come to, and those conclusions are all absolutely justified.
Conclusion No. 1: Some of the fans (presumably older and better off) want to sit, while others (frequently younger and less well off) would like an opportunity to get closer to the stage. General admission seating has become rare to nonexistent in today's sports-arena rock world, due to insurance and safety issues, but U2 insisted on it, thus revising the normal logic of ticket pricing, which puts the richer (and often less enthusiastic) people closer to the stage.
The result is satisfactory to everyone. Those who like to pay high prices, either for comfort's sake or because they believe the old adage that the more something costs, the better it is, are happy to be seated. Those who haven't got that kind of money, but love U2, get to be more up close and personal, since the set consists of a huge heart-shaped catwalk that goes halfway across the arena. Thus, when Bono is at the tip of the heart, he is some 500 or so feet closer to the back of the arena--and very close indeed to the 300 or so people who've been allowed into the heart itself on a first-come, first-served basis.
Conclusion No. 2: U2 fans love U2's music. They don't need distracting multimillion-dollar gimmicks like giant silver lemons, ever-changing LED screens and a constant barrage of video imagery (all of which played a major part in U2's last two U.S. tours). On Elevation, U2 relies on simpler gimmicks, such as appearing at first under house lights, with no fanfare, jumping into the audience, and simply playing music with total fervor.
Yeah, it's old-fashioned. But it's also a very real experience of artistic integrity and emotional fulfillment, meaning that U2's Elevation tour truly is worth the price of admission, and I say that in a born-again fashion, as a cynic who went to the show expecting a lot less than $130 worth of entertainment.
Yes, there I was, set to rage on them, but within two minutes of U2's appearance on stage (they were preceded, alas, by last-minute replacement act the Corrs, who stepped in for an ailing PJ Harvey), I knew that I was getting a whole lot more. Indeed, despite the cost of the tickets and the sterility of the concert environment and even my own disinterest in songs like "With or Without You" and "Sunday Bloody Sunday," which I've heard too often for comfort, U2 was brilliant: simple, yet impassioned and occasionally profound. My own favorite image of the evening came during the song "Mysterious Ways," when the screen behind the band flashed the words "Love" and then "Me," and then "Believe" and "Lies" over and over again. I thought that image got at some of the essential truths about life, and art, and rock stardom in a way that was neither didactic nor ponderous, nor over the top.
As that image indicates, Elevation isn't entirely free of indoor-tour gimmickry: huge screens broadcasting the giant faces of Bono, Larry Mullen, Adam Clayton and the Edge, and a tasteful display of lights. But it's toned down enough that the music is much more important to the concert.
Of course, it helps that the band's latest LP, All That You Can't Leave Behind, is their best in a decade, and that the songs from it were just as eagerly anticipated as older numbers like "I Will Follow," "Bad" and "One" (some of which were augmented by snippets of even more classic rock songs, including "Young Americans," "Walk on the Wild Side" and "Get Up Stand Up"). So many artists make their shows into Greatest Hits packages. U2 are in the enviable position of having a 20-year repertoire to draw from that has no real dips or valleys.
Conclusion No. 3: U2's place in the rock & roll pantheon is assured but not to be taken for granted. Judging by ticket sales, the band is in a position to coast through their gigs but doesn't. Instead, U2 throws itself into performances with the same verve it had when I first saw the band opening for J. Geils at the San Francisco Civic in 1981, rising to the occasion like it always does, in the process reminding me what's good about rock & roll--and, incidentally, what is lacking in dance music, fun though it may be.
At Paul Oakenfold's set at Ultra Fest, the audience raised its fists in unison and thrust them at the stage, but judging by an informal survey I took there, over half had no idea who was onstage: at a rave, personalities don't matter, because there's no message, and no particular set of values being preached.
Dance music is a body urge, and indulging in it rather than in U2's kind of narrative-based rock is the difference between having sex and making love, between a one-night stand and a marriage. Both feel good, but one offers a longer-lasting sensation. As with marriage, what U2 gets from its audience is commitment, and what it gives back is ... well, all that rock, at its best, promised long ago to those who love it--and all, as the band puts it, that it turns out we can't leave behind. And that's something you can't put a price on.
[ San Jose | Metroactive Central | Archives ]