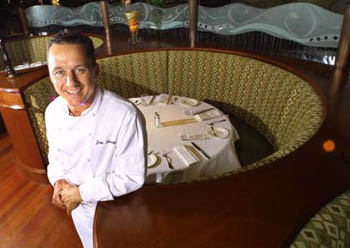 Kitchen Conductor: Jim Stump has brought a high degree of New American talent to his creations.

Stupendous Stump's

Philosophy of eating well, living well pervades lively downtown eatery

By Joe Izzo Jr.

THE BEST WAY to view A.P. Stumps is from above, preferably on the wings of a hawk circling the area, watching Jimmy Stump high-step from the kitchen of the Los Gatos Brew Company to the kitchen of his flagship, A.P. Stump's (on Santa Clara Street in San Jose). From up here I see the whole picture, and it's one that clearly depicts the wonder and spectacle of heat physics in the hands of a multitalented practitioner.

I watch the man at work orchestrating two kitchens, creating a symphony of New American Cuisine born from the tenets of good, basic cooking. But it's more than just cooking that makes his two restaurants truly unique. Stump has passion for his craft and devotion to his patron. "It's not about the money," he says candidly. The money comes later, the offspring of making people happy, well fed and taken care of.

Stump began as a line chef broiling steaks at the old Outlook (Towne and Country) where he learned the rigors of an unrelenting line where he was forced to capture flavor under pressure. From there, he worked at many other restaurants (Alexander's, H.S. Montgomery, Birks), paying his dues all along the way. When he opened the Brew Company, his talents unfolded from all angles like the petals of a wild rose. But he doesn't take all the credit, like so many chefs blown to the gills on their egos. He acknowledges those who have helped him, working as hard as he does, those as devoted and passionate, people like Kathleen Lynch, David Rosenberger and Vita Serpa, chef du cuisine at A.P. Stump's.

What I like most about Stump is his philosophy of cooking. One day, over at a health club in Los Gatos, he told me about how important it is to be able to simply cook a chicken. He talked about how a good cook will not force flavor out of the bird, that an individual must understand that foods have intrinsic qualities. And it's a cook's job to bring those qualities out without compromising what nature had in mind from the beginning.

And it all comes together here, at one of San Jose's few big-city restaurants. This ambitious venture is well thought out, lively and innovative. It's an exciting place to spend some time. I've had cocktails here before, listening to live jazz (7-11pm, Tues-Sat) and eventually tasting appetizers--the most memorable a grilled Sonoma foie gras served with endive salad.

The interior is a marvel of subtle design and beauty, rich with dark woods and Tuscan influences glowing like amber in the warm, palpable lighting. What I really like about the design is how open things are. The kitchen, the lounge, the dining room are like tiles in a beautiful mosaic. Wherever you sit, you feel engaged, never left out. It's romantic and cozy, yet big and open and charged with the possibility of great enchantment.

On a recent Friday, we opened with martinis, then popped bottles of Patz-Hall '99 Chardonnay and a Lambert Bridge '98 Merlot, both perfect for what we ordered. All presentations dazzled the eye. Each dish was thoughtfully composed. Freshness was outstanding, colors balanced, flavors true. Nothing was overworked or falsely conveyed, like so many pretty plates these days.

Thin slices of sturgeon partnered with smoked salmon ($11) came on a sky-blue plate and framed with sprinkles of caviar in a rainbow of colors. Morsels of Maine lobster with corn pudding soufflé ($12) were equally enjoyable in lobster reduction. We also had an assortment of sweet young beets ($9), full of earthy flavors and crunchy textures, in a light dressing with toasted walnuts.

One of my guests is a lover of duck and had nothing but compliments for Grilled Maple Leaf duck breast ($25), served in overlapping rows in a tempered huckleberry sauce ringing with the berry. It came with hedgehog mushrooms and potato galette, all accurate renditions full of natural flavor.

Wild Striped Bass ($27) with delicate boat-fresh flavor was sautéed, then finished with a Meyer lemon beurre blanc. It came with tender barley risotto strewn with ocean-sweet lobster.

Grilled pork tenderloin ($23) with bittersweet greens rounded out our entree selections with a hearty flourish. Fired to perfection, the meat came with mashed Yukon gold potatoes as creamy as rich, fresh milk.

We finished by sharing two desserts--aptly called temptations--Mascarpone Mocha Cake ($7) with three different sauces, and Apple Moons ($7) with walnut brittle ice cream and an astounding Calvados caramel sauce that left whispers of apple floating through the mouth.

We found the serving staff to be a professional crew working in harmony with Stump's overall vision. Our waiter that evening explained dishes with knowledge and enthusiasm, offering recommendations without hesitation. He was particularly well versed in the wine list and guided us to the delicious Patz-Hall Chardonnay.

For a long time, the downtown area has struggled to attract patrons from all those sleepy communities--like Los Gatos and Saratoga. But with A.P. Stump's on board, there's no reason to avoid coming downtown now. This landmark offers top-shelf dining that will expand your consciousness of food and take your breath away with its wondrous inroads into contemporary American cooking.
---
A.P. Stump's
Address: 163 W. Santa Clara St., San Jose
Phone: 408.292.9928
Hours: Lunch 11:30-1:30pm, Mon-Fri, Dinner 5-9:30 daily
Cuisine: New American
Price Range: $10-$30
---
[ San Jose | Metroactive Central | Archives ]