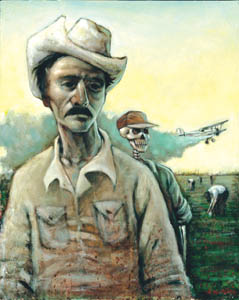 Let Us Spray: Ivan Rubio's 'Dying Fields' combines painterly technique with a political critique of agribusiness.

MACLA Scene

For its first biennial show, MACLA surveys the state of California Chicana and Chicano art

By Michael S. Gant

ONE OF THE highlight exhibits of the past few years was "The Darkening Garden," featuring works by San Francisco artist Tino Rodriguez at the San Jose Museum of Art in 2003. Rodriguez, who grew up in Mexico, paints sexually charged fantasy worlds using a gemlike style and a miniature scale that evoke Renaissance panel painting and illuminated manuscripts. The artist is represented twice in the new "Chicana/o Biennial" show now at MACLA. Dissected Fairy (Anatomy Lesson), done in the style of the "Darkening Garden" pieces, is a small black square with an inner oval frame like a mirror containing the image of a hand, palm forward, displaying a human-insect hybrid. The moth wings of the imaginary being are rendered with botanical precision. The naked, hairless body resembles an infant's, although the face shows a maturity of understanding beyond chronological years. The torso and groin have been opened with surgical dispatch, opening up a deep maroon vortex of organs. The image is both violent and exalted at the same time—not unlike the Catholic Church, whose rituals and punishments dominate much of Rodriguez's work.

The other piece, A Garden (Scared Marriage), is a large, altar-shaped mixed-media collage roiling with appropriated images in the manner of Jess' dense, layered collages. Two embracing males in a marital pose (Rodriguez is gay) are surrounded by free-floating rose blooms, hummingbirds, angels, a skyline of modern high-rises, the Virgin Mary and a lineup of swimmers ready to assault the ocean. The tension of sexual repression and release within a sacred setting gives a powerful charge to the work.

None of the other works in the show are quite so hermetic. Many of the nearly two dozen pieces tackle contemporary political issues head on. Gabriel Navar's Profiling cleverly reproduces the look of computer-screen pop-ups in a series of overlapping painted squares with websites about racial profiling in the age of terror alerts. Obscured in the back layer of panels is a very funny depiction of a hapless John Kerry proclaiming, "Bring It On." Working in the grand tradition of protest posters, Francisco Dominguez's Got Lunch silkscreen juxtaposes two farmworkers taking a minimal lunch break in the fields with a California driver's license for one "Arnold Schwarzenegger, a hard-working immigrant." Point well made and taken. Ivan Rubio's acrylic Dying Fields employs a painterly strategy to critique farming practices that harm workers. An angular foreground figure of a field hand, rendered in rich broad brush strokes, is shadowed by a sinister skeleton man while a crop-dusting plane spews pesticides overhead and stooped figures (reminiscent of Millet's Gleaners) tend the land.

Just as assured is the bold tenants' rights poster by Favianna Rodriguez, with a devilish landlord (complete with horns and attended by rats and cockroaches) looming over anti-eviction protestors. It has the jazzy assurance of Cuban revolutionary graphics. Some of the pieces, however, get stuck in a low didactic gear with no real traction, like Yolanda Guerra's digital print Choice, which shows a row of stylized soldiers shooting at the outline of woman with a key shape where her womb would be.

The show, a first for MACLA, solicited entries widely and represents an intriguing cross-section of works by both young and established California artists. Judging by the wide swings of media, method and message, "Chicana/o Biennial" looks like the start of what should become a significant art tradition for the valley.
---
The Chicana/o Biennial runs through April 20 at MACLA, 510 S. First St., San Jose. (408.998.ARTE)
---
---
Send a letter to the editor about this story to letters@metronews.com.
---
[ Silicon Valley | Metroactive Home | Archives ]