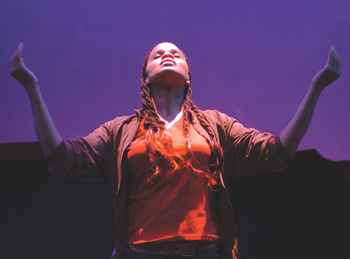 Photograph by David Allen

Southern Comfort: Tiffany Thompson learns about churchly attire in 'Crowns.'

Topping Off

TheatreWorks dresses up for 'Crowns,' a salute to Southern gospel finery

By Marianne Messina

'ALL GOD'S children got a crown," the cast sings in a gospel-style number at the end of the TheatreWorks musical Crowns, by Regina Taylor. That explains all the fussing over hats. Actually, as a group of Southern black women get ready for Sunday service—the jumping-in-the-aisles kind of service—they tell the new girl from Brooklyn that getting dressed to the hat on Sunday goes back to when Sunday service was the only time slaves were allowed to congregate.

The five women weave their personal histories into their hat tales, while the play subtly weaves in a larger history and ghosts of the Yoruba religion. That and the musical accompaniment are about the only subtle things going on in this show where hats "hit you with stuff that jumps out at you." At the performance I attended, Piano (William Liberatore) and hardy percussionist (Joe Hodge) were no match for the fortissimo singing of the ensemble. Hand-clapping and gospel singing, onstage and in the audience, are the order of the night, with a couple of brief but welcome outbursts of hip-hop from the Brooklyn-raised Yolanda (Tiffany Thompson).

At least a hundred hats hang en masse from stage left to stage right (Andrea Bechert scenic designer), as the women tell of owning hats in the hundreds and of usurping whole rooms and basements for hat storage. Two winding staircases on either side of a lofty pulpit form an imposing structure that dominates the action. Preachers, choirs and Orishas (Yoruba spirits) occupy the heights, while the human tales occur on the small apron space below. It's an interesting choice by director Anthony J. Haney; the lower part of Bechert's staircase reaches out like arms to visually engulf the human life in the spiritual. (Sensitive atheist alert: there are enough "praise Jesus" exhortations in this show to make your arm hairs twitch.)

The show is almost as humorous as it is colorful. When the big, beautiful, preacher's wife, Mabel (Sheila Ellis), lays down the millinery rules of order—"Don't let people knock the hat; don't let people touch the hat; don't hug too close"—she gets the audience going. She brings it to an uproar when she complains of women wearing short skirts in church: "My husband is trying to preach, and some woman is sitting up there on the front row with the gates of hell wide open." In fact, each woman has a personality, an outfit and a hat to match, thanks to costume designer Richard Battle. Sexy, smooth Jeannette (C. Kelly Wright) is a charmer in her close-fitting turquoise outfit and matching turquoise hat dotted with peacock plumes.

Crowns has no great plot arc to speak of. It's really a series of tales loosely strung together with the feel of ensemble comedy sketches separated by gospel singing. Though the frame for all this "hatstory" is Yolanda's plight—her brother has just been killed in a shooting, and she's been sent to live with grandmother Shaw (a strong performance by Margarette Robinson) to get her life together—Yolanda's story gets obscured by the hats. She does end up seeing the light in a revivalist sort of way (something about roots, loud singing, and Jesus curing all ills).

But don't expect that denouement to warm your soul. The great tug comes when Michelle Jordan sings with mercurial feeling and texture, "His eyes are on the sparrow, and I know he watches me." If you've ever been into, or had a close friend or relative into, the Sunday primping-for-Jesus culture, that number will get you misty.
---
Crowns, a TheatreWorks production, plays Tuesday (except April 26) at 7:30pm, Wednesday­Friday at 8pm, Saturday at 2 and 8pm (8pm only April 30) and Sunday at 2 and 7pm (2pm only April 17 and May 1) through May 1 at the Mountain View Center for the Performing Arts, Castro and Mercy streets, Mountain View. Tickets are $20-$50. (650.903.6000)
---
---
Send a letter to the editor about this story to letters@metronews.com.
---
[ Silicon Valley | Metroactive Home | Archives ]