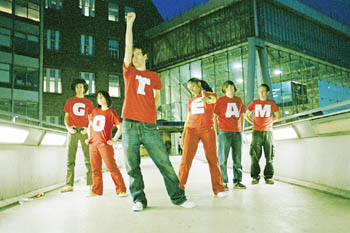 Photograph by Memphis Industries

England 6, America 0: The Go! Team gets ready for pep rally.

Do It Like a G.O.!

Submit to the Go! Team's not-so-subtle charms

By Todd Inoue

SO FAR, everyone I've played the Go! Team album for I've converted, including my finicky R&B-loving wife and my SXSW roommate and Sacramento Bee tastemaker Chris Macias. At a recent art night at Steve Caballero's house (see Cover Story), I dropped Thunder, Lightning, Strike in the CD and got some guys—one who hasn't been hip to new music since 1986—to look up from their projects and make comments. "This is cool; who is this?" "I think I love the drum breaks the best." "This sounds old."

To which I replied: The Go! Team, fool. Heck, yeah, they have two drummers like .38 Special, Adam and the Ants or Bow Wow Wow; they take old sounds and make them futuristic. Now I take my Go! Team sermon and spread it to the biggest, widest audience possible via this column.

I first saw/heard of the band from the SXSW flier. They're from England and wore matching shirts and had a multiracial/multigender lineup, which is a major plus in my book. I downloaded a few MP3s and saw a video for "Ladyflash," and then I was off to iTunes, where the album is available. I was hooked. Still am.

A live band with a jones for sampling, the Go! Team is like all my favorite bands roped into one convenient package. There are mod horns pulled from Gift-era Jam and accelerated Bis-style tempos. Female rapper Ninja chants along with a cadence that matches a young Roxanne Shante. There's a trainspotter mentality coursing through the album, with snatches of a "Liquidator" B-3 organ here, a guitar squib of "Tighten Up" there, a scratched countdown cribbed from Young MC propped up before a soul-crushing break, and odd pieces of flute, harmonica, supercompressed beats and melodica sprinkled about like jimmies on a moist cupcake.

But this isn't an album to sit down and roll a fat one to; its accelerated pace demands complete attention. "Junior Kickstart" is laps beyond Franz Ferdinand in the giddy guitar-rock department. "Bottle Rocket" is a faded postcard tribute to New York City with raps by Ninja. "Huddle Formation" is all treble funk drums, disco chants and red-lined bass swirled in a tasty Fro-Yo cup. When the Black Panther sample ("Revolution has come/ Time to pick up the gun") dropped during the last breakdown, I nearly collapsed in a puddle of reverence.

If it all sounds schizophrenic, it is, but no antipsychotics needed here. Peep the record and fall into the Go! Team spell. It's available at iTunes and at better shops near you.

The Hot List

1. D-Nice, the Boogie Down Productions DJ, is taking out bloggers and you don't know how he did it! www.d-nice.com/journal.

2. Raceball. A new blog combining our obsession with race and pro sports. www.raceball.blogspot.com/

3. DJ Serg kills conscious rappers dead during a recent rant at his blog beerandrap.com. Check the pearls of wisdom: "Turning off your TV and drinking green tea does not make you Che Guevara. Motherfuckers need to stop getting all scared of the fucking masons and this bullshit idea that some super computer is controlled by the secret society that the Catholic Church is going to use to kill your fucking hemp necklace. How about you actually try and make a goddamn difference instead of recording some bullshit about a car that runs on water. The only thing your third eye emits is turd nuggets." No joke. See more at www.beerandrap.com.
---
Send a letter to the editor about this story to letters@metronews.com.
---
[ Silicon Valley | Metroactive Home | Archives ]