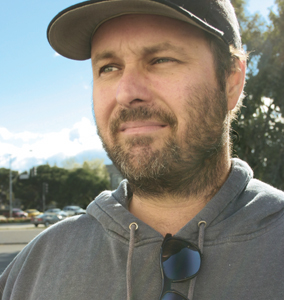 Who's Got the 411 on 215?: 'They say ignorance of the law is no excuse,' says Santa Clara medical marijuana activist Jim Lohse. 'But I guess that only applies to us.' Lohse has had to school area officials on his rights under Prop. 215, and he still can't get a straight answer on questions he's raised about the county's crackdown on the event his group is holding April 24 at Vasona Park in Los Gatos.

Smoke Gets in Your Eyes

Sure, the laws surrounding medical marijuana can be complicated. But when county officials' enforcement of them started looking as wacky as the tobacky, activists got fired up.

By Vrinda Normand

ED ROSENTHAL has been known as the "guru of ganja" for over 30 years, the guy whose "Ask Ed" books educated about everything from ripening marijuana buds to the economics of cannabis legalization. So when the city of Oakland deputized him to grow medical marijuana for a municipal program six years ago, one might say it was well-earned recognition.

But it started to look more like a setup in 2002 when the federal government prosecuted him for cultivating the drug—without letting the jury know that he had been directed to do so by Oakland for medicinal purposes. Although he was found guilty, a lenient judge sentenced him to one day in prison and a $1,000 fine. Rosenthal emerged as even more of a celebrity in the pot world and is currently appealing to clear his name.

His case typifies the discrepancies that members of the medical cannabis community deal with when it comes to local, state and federal laws. While the state allows for medical use of the drug, the federal government still sees all marijuana use as criminal. To add to the confusion, some local officials don't seem to fully understand what's going on.

At least, that's what Jim Lohse has discovered since he scheduled Rosenthal to speak at the second annual "potluck" picnic to be hosted April 24 by Area 420, the local medical marijuana group. After last year's event proved to be a hit, Lohse never thought he'd have a problem making the cannabis celebration a yearly tradition.

In 2004 at Stevens Creek Park, 60 patients joyfully medicated with brownies, herb butter, joints and glass pipes. No one stopped participants from exercising their freedom under Proposition 215, the 1996 California law that legalized marijuana use for approved medical conditions.

The Santa Clara County Sheriff's Department cleared the program, and a Mercury News article about it quoted Deputy District Attorney Karen Sinunu saying she "didn't have a problem with" patients smoking in the park.

Not Legal in Los Gatos

This year, partly in honor of Rosenthal, Area 420 decided to upscale their potluck to a crowd of several hundred at Vasona Park in Los Gatos. But Lohse didn't anticipate that his luck would start to run out in the gamble of convincing local law enforcement that pot is, in some circumstances, legal.

Two weeks ago, after months of planning, promoting and choking up over $1,000 for permits and porta-potties, Lohse discovered that Vasona Park rangers would not let his group smoke marijuana on public grounds.

Ranger John George told Lohse the law only allowed for cannabis use at home. So the activist went to look at Senate Bill 420—it's really called that, in case you wondered if state lawmakers had a sense of humor—that was passed in 2003 to fill the vague holes of Prop. 215 with more specific regulations for medical marijuana. The Health and Safety Code now says a legitimate patient may not smoke pot anywhere smoking is prohibited, within 1,000 feet of schools or youth centers, on a school bus or while operating a car.

"Legislators remember to prohibit marijuana use in all these sensitive places," Lohse says. "I guess they forgot to put Vasona Park on the list next to the school bus."

The activist then tried to arrange a meeting to clear up the misunderstanding, but he only received a negative phone message from head ranger Aniko Millan. Her voice on his answering machine said, "I do stand by what John George told you, that there is to be no smoking of marijuana at the event. As you can imagine, it is a nuisance to the public, and they would be confused as to what's going on."

Millan didn't bother to support her decision by citing a law. The ranger's office offered no comment.

The next week, when Lohse went to check out his reserved picnic area, park service officer Dave Gray, who's with the Los Gatos Parks and Public Works Department, drove up to the site in his patrol truck. During a composed conversation about marijuana laws, Lohse showed Gray his patient identification card issued by the city of San Francisco. Then Gray cited his authority under California Health and Safety Code 11550, which prohibits one from being under the influence of controlled substances in public.

For a second time, Lohse consulted the California code and discovered that this law pertains to opiates, depressants and some hallucinogens such as peyote and mescaline.

Marijuana is exempt. As is, in case you were wondering, LSD.

That night, Lohse wrote to Gray in an email: "It seems very clear I must be looking at the wrong law, based on your convictions that medical marijuana patients can't leave their homes when under the influence of marijuana. I know my homeless patients aren't going to like that, but we need to know the law as well as you do."

The next day, Gray responded by email, "You are correct. I had misspoken. The section clearly refers to different controlled substances." He also wrote to Gray that "I have been told to stop addressing your e-mails do [sic] to concerns about this issue."

2-4-6-8, Everybody Medicate

Now Lohse frets that trouble from law enforcement will drive attendees away. Area 420 member Christine Flora says, "I don't care what they say. I'm not going to be there all day and not medicate."

Flora has had her medicine seized by the San Jose Police Department twice. In 2003, officers took marijuana (in a prescription bottle) from her home and said they didn't have to recognize her doctor's note. It took the patient a month to get her pot back.

In 2004, her caregiver (appointed by her) was found with less than an ounce of her medicine and arrested because he didn't have a caregiver note or card on him. Flora called the Police Department to get it back, thinking things would go more smoothly because of her previous experience.

But the ordeal spanned two weeks.

Sgt. Gordon Bowen, former narcotics officer, says he jumped through hoops to avoid moving the process through court so he could get Flora's medicine back to her as quickly as possible.

At one point in the exchange, Bowen asked Flora for a government-issued ID card, which Santa Clara County doesn't even offer. She balked at the requirement and eventually retrieved her marijuana with her doctor's note alone.

Senate Bill 420 sets up a program for all counties to administer state ID cards, but lack of funding has stalled the initiative for almost two years. A handful of pilot counties, including Santa Cruz, intend to launch the program this summer.

Lohse acknowledges the legal gray areas in medical marijuana law. He has organized a "Town Hall Meeting" to be held a week before the potluck. On Saturday, April 16, in the chambers of the Santa Clara County Board of Supervisors, Lohse will moderate a panel of experts on medical cannabis and law enforcement.

So far, though, Lohse hasn't been able to get any law enforcement officials from Santa Clara County to come. He assured the district attorney's office that the event wasn't a trap, but a representative declined for legal reasons. The sheriff's office also turned down the invitation.

"That's nothing for the Sheriff's Department to get involved with," spokesman Terrence Helm said. "We're not doctors."

So far Lohse's phone calls and emails to the office of San Jose Police Chief Rob Davis have gone unanswered.

The activist's frustration builds every time he runs into these roadblocks.

"They say ignorance of law is no excuse, but I guess that only applies to us," he says. "How come I'm stoned, and the cops are the ones that don't know the law?"
---
Send a letter to the editor about this story to letters@metronews.com.
---
[ Silicon Valley | Metroactive Home | Archives ]