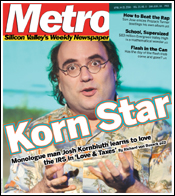 For the Week of
April 14-20, 2004
Cover Story: Korn Star:
Monologue man Josh Kornbluth learns to love the IRS in 'Love & Taxes.'
News: The High Price of Education
The East Side buys a state of the art high school--at $15 million over budget.
The Fly: This week's political bites.
Hide and Seek: Playing find-the-documents with the valley's cagey labor council.



Biter: The difference between free speech and running off at the mouth.
Techsploits: What if you had a flash mob, and no mobs came?



A Different Beat: Poet Lawrence Ferlinghetti's arty side shows at new San Jose Museum exhibit.



Dancer in the Bark: Attacking an elephant with a peashooter, Lars von Trier takes on America in 'Dogville.'
'Bill' Paying: When everything is cool, nothing is hip--Quentin Tarantino kills again.
Moral Fiber: 'The Girl Next Door' attempts an ethics lecture about living with porn stars.



Flow Pro: San Jose rapper Prozack Turner contemplates the music business, his next move and why eating cats isn't racist.
Aural Fixation: Blake Sennett's latest project, the Elected, offers eclectic twang on its debut, 'Me First.'



Out of the Ordinary: Two local restaurants bring Afghan cuisine to the masses.
Club Life: Forbes Mill Steakhouse in Los Gatos.



Greed and Gold: San Jose Stage Company moves B. Traven's 'The Treasure of the Sierra Madre' to the stage.



Please don't forget to write! Metro welcomes letters. Like any great work of art, they should be originals -- not copies of letters sent elsewhere. Include address and daytime phone (for verification purposes only). Letters may be edited for length and clarity or to correct factual inaccuracies known to us. Postal: Metro Letters, 550 S. First. St., San Jose, CA 95111. Fax: 408/298-0602. . Emailers, please include name, city of residence and phone number. Letters printed will list email address unless otherwise specified. Letters to the editor are not currently published in the online version of this paper.