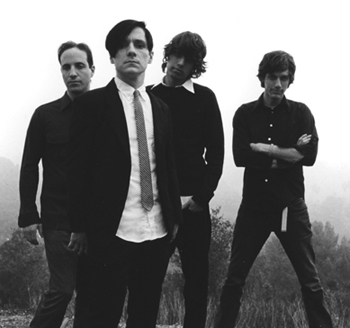 The Elected send greetings.

Election Year

Blake Sennett's latest project, the Elected, offers eclectic twang on its debut, 'Me First'

By Sarah Quelland

EASILY ONE of the most affecting songs released so far this year, the Elected's "Greetings in Braille" opens with the fragile request "If my senses fail, stay with me 'til they go, 'cause I don't want to be alone." As it nears its conclusion, the song begins fretting about the past: "I miss Tara and Melissa, Allen and John / And you'll never have friends like you did when you were young / But our bodies were pulled away and swept out to the sea / And I'd call and say hi if I thought you'd remember me."

With soft, lonely vocals; confessional lyrics full of frustration, resentment, concern and longing; and twangy, folky, retro-pop music that plays like the soundtrack to a late-summer sunset drive along a smoggy L.A. freeway, the Elected recently released its inaugural album, Me First, on Sub Pop Records. Last Friday (April 9), the eclectic group played the Indierock Ball at the Los Gatos Outhouse with Polar Bears, Audrye Sessions and the Velvet Teen.

Rilo Kiley's Blake Sennett heads up the Elected and serves as songwriter, vocalist, guitarist and whistler. Sennett is a minor celebrity (also credited as Blake Soper and Blake Swendson) whose television acting career began in 1987 with appearances on Highway to Heaven and Family Ties. He later became known for his role on Salute Your Shorts and had a recurring character on 3rd Rock From the Sun.

Live, Sennett's eccentric and experimental stage antics (he began Friday's show by donning a gas mask and playing a cover of Bruce Springsteen's "I'm on Fire"; later, he used a cell phone onstage to place a call to his mother who apparently told him he had Easter candy waiting for him at home) stand in direct contrast to the Elected's lovely, lilting music and honest, earnest words.

Set against music that evokes the carnival sound of a merry-go-round circling round and round, Sennett displays patience and restraint on "Don't Get Your Hopes Up" as he explains, "You know I never lost my nerve / And if you change your mind in time, I'll make it clear that I'm still here / It seems as though I'm never gonna learn / I'll just keep hoping that it's my turn."

Sennett seems to put a different spin on the world. On "7 September 2003" he sings of "riding around with my worst friend" and on the anxious-sounding country number "Waves," the former child star suggests, "Years amount to bank accounts and all is well on all accounts."

Perhaps most significant is Sennett's relationship with his mom, which frequently manifests in his lyrics. On "Go On," he asks, "Did you do something for yourself, Mom, and get the hell out of the house? / Well, would you do something for your son, Mom, and stop taking all these pills?" Similarly, on "C'mon, Mom," he confesses, "I'm too young to feel this tired / Sorry you ran out of money so soon / And drifting on the open sea won't get you there this time."

The ocean seems to be a persistent presence constantly looming in Sennett's life, and he uses its imagery repeatedly, referring to sinking, sailing and being swept away. Ultimately, Me First vividly captures some of the disappointment and neglect suffered in Los Angeles while still salvaging scraps of beauty and trying to extract hope out of hopelessness. Visit www.theelected.com.

HOT TOPIC: A Burning Water releases its debut album, We Can See the Sky From Here, this Friday (April 16) at the Vets Hall in Santa Cruz with (International) Noise Conspiracy, Moving Units and Time in Malta. Visit www.aburningwater.com. ... Machine Head is making the rounds. The band hits the R2 Cents studio this Thursday (April 15) for an interview and video premiere that's scheduled to air this Friday (April 16) on local cable channel 15. Friday, the band also invites fans to the Pound in San Francisco for a free preview of its latest album, Through the Ashes of Empires.

PLAN AHEAD: The Briefs, April 14 at the Blank Club; High on Fire, April 17 at the Blank Club; Something for the Broken, Farewell to Youth and Here Kitty Kitty, April 18 at the Gaslighter Theater in Campbell; the Horrorpops, April 21 at the Blank Club.
---
Send a letter to the editor about this story to letters@metronews.com.
---
[ Silicon Valley | Metroactive Home | Archives ]