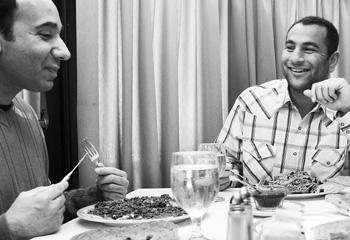 Photograph by Charlie Nucci

Meat and Greet: At Kabul, huge portions set the stage for welcome leftovers.

Out of the Ordinary

Two local restaurants bring Afghan cuisine to the masses

By Jayne Williams

AFGHAN CUISINE is just nudging its way into the consciousness of most Bay Area diners, but a short section of El Camino boasts two representatives of the expanding genre: Kabul in Sunnyvale, and Paradise in Mountain View, which bills itself as Afghan-Persian cuisine, reasonable enough given the common border and language.

If every strip mall held oases of delight like Kabul, strip malls would be revered. Gorgeous Afghan carpets accent the walls of the light, spacious room filled with lively conversation. We started with aushak ($3.95), delectable scallion-and-leek ravioli, and batter-dipped potato slices ($3.95), both served under a robust sauce of yogurt with sautéed ground meat. While the spuds were tender, the batter tasted of stale oil. We lapped up the sauce with chewy flat bread, also a useful vehicle for the enticing yogurt-mint salad dressing. The salads were unexciting iceberg piles, but the dressing--if you'll pardon the technical term--was yummy.

We craved kebabs and ordered beef (teka, $12.95), lamb (gousfand, $16.95) and a salmon-shrimp combo ($15.95) for our seafood guy. I went for sabsi challaw ($12.95), lamb stewed to buttery softness in a spinach purée with basmati rice. The kebab eaters got pallaw rice, subtly seasoned with cinnamon and cumin. And they got massive chunks of grilled food. The beef and lamb came hot, perfectly tender, free of visible fat and suffused with garlicky, peppery seasoning. Our seafood fan came out a winner, his salmon and shrimp moist and popping with flavor. Though Kabul's portions are gargantuan, we succumbed to a side of tender, sweet pumpkin (kadu, $4.95), topped with the ubiquitous yogurt-mint-meat sauce. It complemented the sweetness nicely, but you do wonder if Afghans have another sauce.

These dishes are fantastic with glasses of cardamom tea ($1.50), endlessly refilled by gracious servers. There are also beer and serviceable wines by the glass or bottle, like Mondavi Coastal Pinot Noir ($5.95/glass) or Rodney Strong Cabernet ($5.95).

Paradise is hidden around the back of a shopping center off Grant Road. The dark and quiet interior also boasts Afghan carpets and traditional costumes on the walls, with a little music for extra ambience. On the appetizer menu, mirza ghassemi ($4.25), a dip of baked eggplant purée with scrambled eggs, was a huge hit; we fought for the last garlicky bites. Maust-o-khiar ($2.75) tempted us with a claim of house-made yogurt, but the bland yogurt-cucumber combo failed to inspire. Even more disappointing, the "fresh, warm, Afghan bread" on the menu was actually warmed-over flour tortillas. The Persian soup included with our entrees--osh reshteh--was celestial, loaded with noodles, beans and parsley, seasoned with ineffable savor and laced with yogurt and mint.

My gheymeh bademjon ($9.50) featured dryish beef chunks, lentils and eggplant in a slightly watery tomato-based sauce. The watery-sauce theme was echoed in mourgh chello, a mild chicken-and-pea stew over rice, and again in gulpi chello ($8.95), with its poor cauliflower cooked to mush. We fared better with Paradise's aushak ($9.95 for an entree), though the filling was underseasoned. Tim's kabab-e-gousfand ($14.95 plus a buck for grilled tomato) was flavorful but a little overdone, and the pieces were skimpy compared to Kabul's monumental cubes.

None of us was tempted by the wine list, but I decided to try a Persian sour-cherry soda, a rip-off at $2.95 for about 6 ounces. Michelle's Persian iced tea ($1.50) was supposed to be the delightful cardamom-infused potion, but none of us was able to detect even a hint of spice in the liquid, nor was it refilled even once. You can stretch your dollar at Paradise, but none of us wanted to take leftovers home--while at Kabul we took boxes for every scrap.
---
Kabul
Address: 833 W. El Camino Real, Sunnyvale
Phone: 408.245.4350
Hours: Lunch 11:30am-2pm Mon-Fri; dinner 5:30-10pm daily
Cuisine: Afghan
Price Range: $10-$17
---
Paradise
Address: 1350 Grant Rd., Mountain View
Phone: 650.968.5949
Hours: Lunch 11am-2pm Mon-Fri; dinner 5:30-10pm Mon-Fri; 5-10pm Sat-Sun
Cuisine: Afghan-Persian
Price Range: $8-$16
---
---
Send a letter to the editor about this story to letters@metronews.com.
---
[ Silicon Valley | Metroactive Home | Archives ]