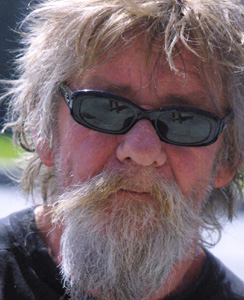 Nysted: Nader Raider.

The Fly

The Man Dems Hate

If John Kerry loses his presidential bid by a narrow margin, Santa Clara County Democrats will likely be looking for someone to pummel. That someone could very well be James Martin Nysted, a homeless car collector who hopes to be Ralph Nader's point man in the South Bay. Nysted says he faxed the Nader camp his credentials--a spokesman for the spoiler of the 2000 election says Nader will select county organizers in the next two weeks. Nysted says as Nader's Santa Clara point man he will devote most of his time to persuading the large percentage of Americans who refuse to vote to turn out for Nader. In fact, the 64-year-old Wisconsin native didn't vote for Nader in 2000. But he's grown so disaffected with both majors he's decided to go third party this election cycle. "Nader's got a reputation for being honest," Nysted says. "Even if not true, even it he's only symbolically honest, that's much better than the grab-ass politics we're playing right now." Nysted doesn't expect to be the Dems' Public Enemy No. 1 after November. He says Kerry will lose so badly Nader's votes won't matter. The current prez is too crafty, he says, too willing to go for the jugular. "Bush will pull an October surprise," says Nysted. "He'll announce the capture of bin Laden or another major terrorism effort."

Company Snitch

Folks have sued Cupertino-based Apple Computer Co. before, so it's no biggie that an ungrateful reseller from L.A., one from San Francisco, one from Oregon and another from Cupertino each joined the club recently to independently berate the Mac mothership in court for alleged rude business practices. The fresh thing is that on March 31 three companies that hawk Apple products--Cupertino's Elite Computers & Software, San Francisco's MACadam Computers and Oregon's MacTech Systems--took a page from Fuckedcompany.com and joined forces to launch an online Apple bitch site. The Fly feels that there can never be enough forums for whining and so wholeheartedly backs the TellOnApple.org venture. The purpose of the website is to scrounge up ammo against Apple for use in a lawsuit that basically claims that Apple acts mean to the stores who are authorized to sell its products by withholding new and exciting products, shipping faulty equipment, steering shoppers away from resellers and exhibiting what it suggests are other fraudulent, corrupt, unethical and evil behavior patterns. The chief complainer, Tom Santos, head of MACadam Computers, has said publicly that his litigious adventure isn't about money. That clears up what was left hazy by the following ambiguous statement in the 65-page complaint Santos filed with the Santa Clara County Superior Court in November: "As a direct and proximate result of the Apple's conduct, Plaintiffs have sustained damages in a sum of $7,500,000 or more."

Joining the Fray

The legal troubles of the South Bay Labor Council and Working Partnerships USA seem to be growing, Fly has learned. Already, Geraldine Lavallee, a former accountant for the organizations, has filed a wrongful-termination lawsuit against them ("Inside the Dean Machine," March 24). Now, Elizabeth Herrick, employed by the organizations for more than a year, has joined the fray. According to a letter sent to the labor council and Working Partnerships attorneys, Herrick will ask the court May 7 to join Lavallee's lawsuit, as another former employee fired for pointing out inconsistencies within the organizations. Lavallee, meanwhile, has already asked both organizations for documents, including two years' worth of credit card statements and receipts, two years' worth of bank statements and six years' worth of financial statements, audit reports and reports detailing the finances of specific programs, such as Toys for Tots and the Immigration Freedom Ride. To date, only labor boss Phaedra Ellis-Lamkins' collective bargaining agreement has been released. The parties have scheduled a court hearing April 23 to reconcile their differences.
---
Send tips to 'The Fly': .
---
---
Send a letter to the editor about this story to letters@metronews.com.
---
[ Silicon Valley | Metroactive Home | Archives ]