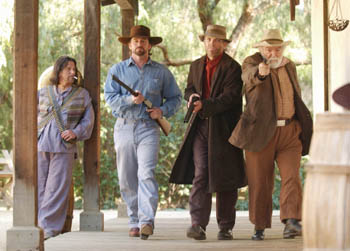 Photograph by Dave Lepori

Staking Their Claims: From left, Luis Saguar, Michael Craig Storm, Randall King and Wes Finlay prepare to storm the stage in 'The 'Treasure of the Sierra Madre.'

Greed and Gold

San Jose Stage Company moves B. Traven's 'The Treasure of the Sierra Madre' to the stage

By Marianne Messina

'MY LIFE belongs to me; only my books belong to the public." Ironically, this oft-quoted credo thrust reclusive author B. Traven into the public eye when his book The Treasure of the Sierra Madre became a film in 1948, starring Humphrey Bogart as gold prospector Fred C. Dobbs. His desire for privacy was liberally ignored ever after.

While Traven operated through agents and aliases, never appearing publicly as himself, reporters dogged him. One even snuck into his Acapulco home and pored over his private correspondence. In the lead up to the film, Traven twice pulled a no-show on director John Huston.

Before moving to Mexico, Traven is thought by some to have co-published a newspaper in post-World War I Germany under the name Ret Marut. The paper's avid and far-left ideology soon forced Marut's exit from Germany.

"That's why no one knows what his life was about," says San Jose Stage artistic director Randy King, "because he had a death warrant from the Nazis that never allowed him to disclose his true past." In fact, Marut's friend and co-publisher, who remained in Germany, was murdered by the Nazis in 1934. Reports that Marut surfaced in a British prison before he turned up in Mexico as Traven Torsvan (American-born, according to his passport) may explain how Traven's stories, like the Jungle series, and his characters, like Dobbs, wallow in man's potential for cruelty.

When San Jose Stage Company presents its premiere of Herb Robins' adaptation of Treasure, King will slide smoothly into the Dobbs role. "I've played every heavy in literature I've wanted to play, except Iago and Richard the Third," he quips. Dobbs starts out with two other prospectors on a hopeful search for gold and gradually sinks to a kind of depravity beneath the forces of greed.

The set consists of a mountainous structure with many levels of staging to suggest both diverse locations and diverse psychological states. "We're dealing with an environment that is an ascension and descension," King explains--the better to visualize Dobbs' trajectory.

Traven's examination of the alchemy between hate and greed also included his horrific six-book Jungle series, set in the early 1900s, in which he fleshed out the violent exploitation of the Mexican Indians during the quest for oil. "His perspective ... underlines the rape of Mexico and ... the pillaging of the mother lode of that country and how it financed the world--the gold that came out of that country," King says. "They had to kind of cut away that element to make the movie, just prior to the McCarthy era."

For this reason, both King and director Jim Reese believe that the Robins adaptation goes way beyond the 1948 film in mounting Traven's visceral vision. "I think it resonates, in a way, onstage because you don't have the luxury of close-ups and long shots and opening the story up with train robberies,"

According to Reese, the play is "much more focused on the three miners and their exposure to the Indians and that environment and what gold does to them--that's a lot."

King believes that San Jose Stage's Treasure is more vicious than the film. "And it should be vicious," he says, "because it's a vicious moment. It's a betrayal, it's thievery, it's greed--it's all those insanities that are bred from those eight or nine months up in the middle of nowhere."

Traven managed a feat by retaining the novel's stage rights when he signed his contract with the appropriation machine at the Warner Bros. studio. "I think Traven had something in mind for that," King speculates. But we'll never know what it was. And the question comes up, Would Traven approve of the stage version of his famed story. "I know he hated the film," Reese considers.

King responds, "I would like to think that Traven would go, 'Well, you're closer to the book than the movie was."
---
The Treasure of the Sierra Madre, a San Jose Stage Company production, plays Wednesday-Saturday at 8pm and Sunday at 2pm, April 14-May 9, at the Stage, 490 S. First St., San Jose. Tickets are $20-$42. (408.283.7142)
---
---
Send a letter to the editor about this story to letters@metronews.com.
---
[ Silicon Valley | Metroactive Home | Archives ]