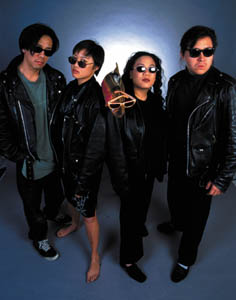 Back Up or Get Beat Up: The 18 Mighty Mountain Warriors come out to play.

Golden State Warriors

Comedy is a double-edged sword to the 18 Mighty Mountain Warriors

By Vivian Chen

NOT ONLY are guys in butt-floss bikinis an absurdly amusing sight, but the 18 Mighty Mountain Warriors sketch-comedy group takes the image to another level by proving that skimpily clad men posing as Chinese Olympians can send a powerful message about body image.

In "Dr. Bruce & Associates' Healthy Hard Body Clinic," a mock plastic surgery infomercial touches on issues of self-esteem. As Greg Watanabe, one of the founding members of 18MMW, says, "This piece, in many ways, epitomizes our approach. Guys in bikinis are always funny, but the message is still clear."

This unique combination is the product of more than a decade of development and maturation. The San Francisco-based 18 Mighty Mountain Warriors group uses humor to broach controversial issues and to express a voice seldom heard in the Asian American community. The ensemble, which performs this weekend as part of the Downtown Arts Series, explores identity beyond the stereotypes.

"The problem with a lot of stuff that has to do with Asian America is that it is under the radar," Watanabe says. "Yeah, there are stereotypes, but everyone knows and talks about how fucked-up those are, and that is a very basic thing. But it is the whole idea of bringing up things that people are not so aware of. It's the assumptions that you have about Asian Americans that you never knew you had and need to pay attention to."

The troupe fuses the comedic flair of In Living Color and the Chicano theater group Culture Clash with Hong Kong cinematic touches. In 18MMW's twisted worldview, Bruce Lee leads his own cooking show. Two angry Asian males grouse about their lot in life. Korea and Japan try to put aside the latter's imperialistic past to co-host a World Cup but end up trash talking each other. "My Own Private Sukiprata" retells the history of a mythical Asian nation colonized by one Scotsman.

"There is always constant dialogue about whether or not we've gone too far with something, or if it even belongs in the show," Watanabe says. "And sometimes we disagree. But I think it's all healthy. If we weren't having disputes like that, then we wouldn't be close to the right thing."

Whether through casual meetings or formal brainstorming, the group works together to keep material fresh and exciting. While the "Sukiprata" sketch serves as a metaphor for the Western colonization of Asia and covers many serious issues such as immigration and imperialism, the ridiculous hilarity of the "Sukipratan" people and their customs provides the proper levity.

Yet the jarring sting of reality hidden beneath the laughter is what the group hopes will pique audience's curiosity after the final curtain falls. "It is an eye-opening experience on many different levels," says Watanabe. "People who are familiar with Asian American issues or performers will like us because our approach is so different from other people. We are not going to be presenting a play. Sketch comedy treats issues differently, and we are allowing people to see another facet of Asian American artistry."

Beyond the political, Watanabe assures audience members they will be throughly entertained. Since its creation back in 1994, "A John Woo Family Dinner," which pokes fun at Hong Kong movie clichés, is now a signature in 18MMW performances. While some issues may be new for audiences, a good sense of humor is the main component necessary to appreciate 18MMW's fast and furious satire.

As Watanabe declares, "What's really great about comedy is that whenever someone sees or hears about something funny, immediately they want to share it with somebody else. And that identifies exactly what we want to do. That's how we communicate."
---
The 18 Mighty Mountain Warriors, presented by the Contemporary Asian Theater Scenes, perform Friday-Saturday (April 18-19) at 8pm at the San Jose Stage Company, 490 S. First St., San Jose. Tickets are $12. (408.283.7142)
---
---
Send a letter to the editor about this story to letters@metronews.com.
---
[ Silicon Valley | Metroactive Home | Archives ]