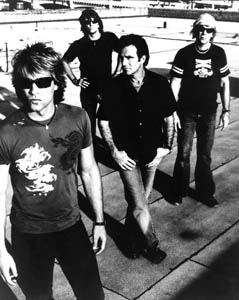 Bon Jovi hit town with songs from their new album.

Bounce Back

Bon Jovi's 'Bounce' tour packed the Pavilion; San Jose Jazz Society announces Jazz Festival Lineup

By Sarah Quelland

GOOD EVENING SAN JOSE, California, on a Saturday night," Jon Bon Jovi said, greeting the screaming fans who packed the HP Pavilion and flashing a brilliant smile. "I ain't gonna waste no time talkin' here tonight." Last Saturday (April 12), the Goo Goo Dolls primed the arena for Bon Jovi, who spent about two hours and 22 songs entertaining the crowd. Kicking off with "Bounce," the title track from the band's latest album, Bon Jovi kept its set as far removed from a greatest-hits concert as a band that released its first single in 1984 can. Looking and sounding phenomenal, the veteran group found a balance between old and new material, staggering its timeline from first hit "Runaway" to current single "Misunderstood."

Echoing Bounce's cover art, Bon Jovi's stage was set with three giant satellite dishes that rotated down to serve as projection screens. Wearing velvety black pants and a black leathery shirt, Jon spent his time onstage working all sides of the crowd, reading the signs and vanity license plates his female fans held up tirelessly throughout the night and shaking his bon bon to maximum effect.

Though an upbeat concert by its very nature, Jon made a point to remind the band's fans of the men and women overseas. He dedicated new song "The Distance" to the soldiers in Iraq, saying, "I wish them a safe and a swift return home." David Bryan used melancholy keys to open up "Undivided," Bon Jovi's tribute to the people who died on 9/11 and the nation that carries on. The crowd waved small American flags in patriotic support. The group even played Jon's solo hit, "Blaze of Glory," from the Young Guns II soundtrack, a song that honors the life of a young gunslinger.

Nowadays, Jon seems to be bringing more of his acting chops to his rock performances. During the dramatic new "Right Side of Wrong," he acted out a scene that ended with his hands in the air as if he were being arrested. He was theatrical during "Keep the Faith" as well, invoking some of Jim Morrison's wild spirit as he ceremoniously danced in circles and shook maracas.

Halfway through the night, Jon took a break offstage while guitarist Richie Sambora took the reins and sang the ballad "I'll Be There for You." The entire concert was a well-paced, well-choreographed, friendly affair complete with audience participation. After starting "Livin' on a Prayer" a capella, when the crowd joined in and took over, Jon shook his head happily: "Does it get any better than that?" When Jon said, "Get your hands up in the air," every hand started clapping with "Wild in the Streets," and when he said, "Raise Your Hands," a sea of hands reached for the sky.

After a long, successful show, the band exited the stage and returned for a three-song encore of "Someday I'll Be Saturday Night," "Bad Medicine," and a cover of the Isley Brothers' "Shout," that ended the night on a jubilant note.

GET JAZZED: The San Jose Jazz Festival, the biggest free-concert event of the summer for the city, announced its schedule this week. The opening-night gala of this year's San Jose Jazz Festival will be held Aug. 7 at Santana Row with the Count Basie Orchestra and Nnenna Freelon. Plaza de Cesar chavez is the setting for Jumpin' Jammin Jazz with Ricardo Lemvo and Makina Loca on Aug. 8; Sun, Soul, Sizzle and Salsa with Taylor Eigsti, Ledisi, Greg Osby, Yellowjackets and Cubanismo on Aug. 9; and Brunch with Julian and Nestor, Bop with Jimmy and Nnenna (featuring Julian Lage, Nestor Torres, Jimmy Heath and Nnenna Freelon) on Aug. 10.

HOT TOPIC: The Los Gatos Outhouse hosts a birthday bash for Eric Fanali Friday (April 18) with performances by the Phenomenauts, Matt Pond PA, Kennedy and the Muckruckers ... The VooDoo Lounge in San Jose hosts the first South Bay Unsigned showcase Wednesday (April 23) with Bad Brains tribute band the Regulator (featuring members of Insolence, Skinlab and Hippie Aggression), the Cliftons, Dopesick and Prime Selector featuring DJ Jerry "Da Hermit" Dalalo.

PLAN AHEAD: OAR, April 18 at the Edge in Palo Alto; Pat Travers, April 19 at the King's Head Pub in Campbell; the Faction, April 19 at the Blank Club.
---
Send a letter to the editor about this story to letters@metronews.com.
---
[ Silicon Valley | Metroactive Home | Archives ]