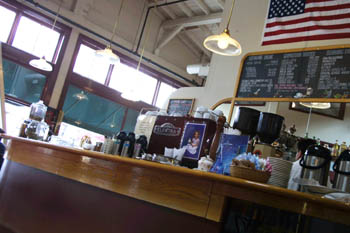 Photograph by Traci Vogel

Home Sweet Coffee Counter: Caffé Verona's casual atmosphere and central espresso bar encourage lingering.

Caffeine Cuisine

On the wings of great espresso, comfort Mediterranean food at Caffé Verona makes for a friendly bohemian evening

By Christina Waters

BREATHES THERE a sentient Palo Altan who has not stopped to swill some bracing elixir along with a pastry or two at Caffé Verona? A centrally located Hamilton Avenue fixture for almost 15 years, Caffe Verona offers a pleasantly unhurried atmosphere in which to peruse the papers, linger over lattes and basically get one's act together for the day ahead.

Tessa and I met at the Caffé last week, scoring the last of the outside terrace tables. The passing scene, the conversations echoing off the tiled floor and swirling through the cavernous entrance to the turn-of-the-century industrial building--all made for soothing simpatico. No rushing, just like in Italy. Whatever we wanted was fine. Just like in Italy. No designer show of culinary pretensions, simply a brief but comprehensive listing of pastas, salads and a few pizzas du jour, served with wines by the glass and finished off with all-star desserts.

An imaginary vineyard somewhere in Tuscany, maybe Umbria, shimmers on an endless afternoon--a huge trompe l'oeil mural looks down on our tiny faux-marble cafe tables. Like our fellow drinkers, diners and readers, Tessa and I find the illusion appealing. It sets a certain tone.

From the list of evening specials, we select a dish of penne with marinara and bay shrimp ($11.95), and a linguini carbonara ($10.50). Diner-friendly, both come with a choice of soup or salad, plus bread and butter. Caffé Verona wants us to be happy and not end up as poor as Enron investors at the end of the meal.

A bottle of San Pellegrino quenches our thirst, and after some brief chitchat about how we were stupidly overlooked for the Pulitzer Prize this year, Tessa and I raise our glasses. She likes her crisp, light Mezzacorona Pinot Grigio '00 ($5.75), and I especially enjoy the rounded, supple fruit of my Sangiovese '99 from Tuscan producer Col-di-Sasso ($6.75).

Along with a warm baguette and unsalted butter, the wine removes a few kinks of the day. The couple behind us, draped in leather and occasionally gesturing into their cell phones, are speaking rapid Italian. A quartet across the terrace is conducting business over wine and salad. Palo Alto strolls by on its way to Whole Foods and then home. Sono contento.

For a few additional dollars, I have opted for the house salad strewn with fat chunks of Gorgonzola cheese ($4). Tessa decides to help me address the acreage of crisp romaine, cherry tomatoes, mushrooms, purple cabbage and lots and lots of cheese. We could make an entire meal on this welcoming appetizer. But we don't, because halfway into the greenery comes a bowl of thin minestrone. Thin visually--very pallid broth--and thin flavorwise; here and there a carrot, or bean or bit of cabbage is detected. But otherwise, the drums are rather silent. We look up and shrug philosophically. We weren't expecting super-Tuscan gourmet stylings now, were we?

Here at our lovable cafe/trattoria, Mediterranean vibes fill in the culinary gaps. Tessa looks into the main room, admiring the huge array of local oil paintings lining the walls around the central espresso bar. Plates are removed, and more plates arrive, this time filled to overflowing with pastas. Tessa's is tossed with crimson, tomatoey goodness--nothing to give Marcella Hazan a bad night's sleep, but workmanlike, tasty pasta. Baby bay shrimp lazily lace the reddish sea of pasta--pasta that is four clicks past al dente, and then some. My linguine, also way past al dente, comes tangled in a froth of eggs and prosciutto. Italian ham and eggs in pasta: it is comforting, if overly plush.

Our waiters want us to be happy. We make dessert inquiries. This evening, Caffé Verona's usually well-stocked pastry cabinets have been depleted to a few slices of mousse and cheesecake. We wisely call for espressos ($3) and chocolate gelato ($1.75). Dinner ends with deep chocolate and caffeine capable of flying to Verona all by itself.
---
Caffé Verona
Address: 236 Hamilton Ave., Palo Alto
Phone: 650.326.9942
Hours: 7am-10pm Mon-Thu; 7am-11pm Fri; 8am-11pm Sat; 8am-3pm Sun
Cuisine: Coffeehouse and trattoria
Wine and beer
---
---
Send a letter to the editor about this story to letters@metronews.com.
---
[ Silicon Valley | Metroactive Home | Archives ]