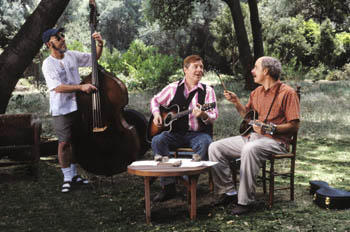 New Spinal Minstrels: Harry Shearer, Christopher Guest and Michael McKean unpack the pretensions of folk music in 'A Mighty Wind.'

Inherit Their Wind

'A Mighty Wind' scores with hilarity and poignancy

By Richard von Busack

THE ENSEMBLE cast of A Mighty Wind includes some of the funniest people alive. The credits say it all, foretelling a happy hour and a half with the glutted infantilism of Jennifer Coolidge, the terrifying spunkiness of Parker Posey, Fred Willard's sunny oafishness and Ed Begley Jr.'s glad-handing, presumptuous enough to make Mother Teresa bark. The group targets a folk-revival show, like the kind that haunts PBS as often as the pledge breaks. (Folk music is not just the easiest of all music to play but the easiest of all music to play badly.) A Mighty Wind chronicles a reunion concert featuring thinly disguised versions of the Kingston Trio and the New Christy Minstrels. The latter brought chorale music to folk, making many a "Greenback Dollar" off it. The Christyish New Main Street Singers, a "neuftet" getting a lot of work in Florida amusement parks, remain as fatuous as ever, even with only one member of the original lineup.

The Kingston Trio surrogates, the Folksmen, are played by the core of Spinal Tap. Director and co-writer Christopher Guest takes the part of the lead singer, with a glottal wobble in his throat so accurately measured from Pete Seeger that you'd swear Guest used calipers. Harry Shearer plays stand-up bass, and Michael McKean is the Folksmen's sharp middleman.

The concert's headliners are Mitch and Mickey, modeled on Ian and Sylvia, or maybe Richard and Mimi Farina, though the musical airing of their dirty laundry also suggests Richard and Linda Thompson. Co-writer Eugene Levy plays the anxious Mitch, who has not completely recovered from some dreadful breakdown. The solo album documenting his decline is titled A Cry for Help. His ex-partner Mickey (Catherine O'Hara) is now married to an impossibly prosaic man, the operator of the Sure-Flo catheter company and a model-train enthusiast.

Of Guest's three ensemble films, including Waiting for Guffman and Best of Show, this is his first about has-beens, as opposed to deluded strivers. O'Hara delivers a few poignant lines about how the breakup of her act finally got her to a prestige show; if Mitch and Mickey had stayed together, she muses, "We'd probably be opening for the New Main Street Singers in Branson, Mo." The elegiac slant warms the satire. Another key scene at the end, in which McKean suddenly notices Mitch and Mickey performing their hit "A Kiss at the End of the Rainbow." Snapped out of his thoughts, he says, "I know this song. That was their really pretty one." The Mitch and Mickey sequences give this Guest film something they haven't had previously, a heartfelt quality. And gorgeously silly as the lyrics are, the music in A Mighty Wind is nothing but robust and appealing. The soundtrack is lively enough to bring a second wind to the models for this parody. Just as yesterday's trend is today's joke, today's joke is tomorrow's trend.
---
A Mighty Wind (PG-13; 87 min.), directed by Christopher Guest, written by Guest and Eugene Levy, photographed by Arlene Donnelly Nelson and starring Guest, Levy, and Parker Posey, opens Friday at Camera 7 in Campbell and the CinéArts in Palo Alto.
---
---
Send a letter to the editor about this story to letters@metronews.com.
---
[ Silicon Valley | Metroactive Home | Archives ]