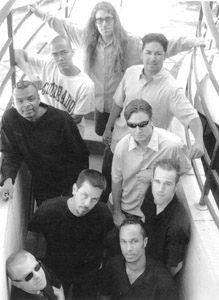 Dub FX fires it up for 4/20 at Kleidon's.





The Blahs

Are boring bands and bland material the future of rock & roll? Let's hope not.

By Sarah Quelland

WHETHER LIVE or on late-night TV, I keep checking out these bands I hear are the next big thing or the best new group--and I don't get it. We're being inundated with boring showmanship and bland material. People seem to love these newbies whose singers can't sing and whose musicians can't play--and I can't figure it out.

Beyond its basic structure, music should have heat, substance and style. Musicians should have something to say, and their music should make you feel something real. I can't understand this trend of celebrating unimaginative, noisy mediocrity. Novelty and shtick are fine--there's nothing wrong with having a gimmick--but these quirky, whiny, overrated little emo-pop-punk-new-metal-whatever hacks are lowering the standards to dangerous levels and wrecking it for all the good bands by oversaturating the market and confusing everybody. Are people really so lazy they'd rather be told what to listen to than go out and discover new music on their own?

Then we have these bands that are rehashing the past and being hailed as brilliant. What's the big deal about the Strokes? They're just fusing the traditions of artists like Lou Reed and the Ramones. And why is everyone so hot for party rocker Andrew W.K.? Boring, no, but he's embodies the worst clichés of hard rock.

I try to keep an open mind and be objective. My interests run the gamut from Marilyn Manson to Willie Nelson and, locally, from Lords of the Manor to Moodfrye to RevivALL, a supremely pissed-off band that's recently caught my attention. If it's good and engaging and meaningful on some level, I probably like it. But lately, I've been more disappointed than impressed. It seems as if we keep churning out crappy bands while overlooking the better bands. Do we really want the "next" whoever? Or do we want a band that's doing something different? The whole music business has become so full of corporate politics it's depressing. Technology and Pro Tools aren't doing us any favors either. Some bands sound great recorded, but they can't pull it off live. It makes me sad that solid bands like (hed)pe, Saliva and Mudvayne are considered second-tier while bands like P.O.D. and Adema are playing the main stage at OzzFest. I've said it before, and I'll say it again: there's no justice in this industry.

ALL THE NEWS: Ex-members of Salmon, guitarist Aaron Goodwin and drummer Pat Ruiz, have joined Triple Seven. The band has an album coming out soon on Spunout Records and will be playing with Mix Master Mike at the Usual on April 26. ... April 20 has become the unofficial national holiday for everyone who believes in living the high life. Two local clubs are celebrating the counterculture lifestyle with very different shows this Saturday (April 20). Kleidon's Lounge is holding a big 4/20 Day Festival featuring Dub FX, the Quito All Star Band, the Feathers, Horchata and a horde of DJs. That show starts at 4pm, and the cover is (what else?) $4.20. Over at the Cactus Club, Stikmon has organized a huge 4/20 Fest sponsored by KSJO, Popeye's and Body Exotic. Catch the one and only show by Helmet tribute band Brainbucket, a special treat featuring the all-star lineup of Stikmon (formerly of Disorderly Conduct) on vocals, Jimmy Arceneaux (Los Bastardos de Amor) and Jeremy Epp (Breach) on guitars, Steve Ratcliff (Trip Device) on bass and Dave Gary, Jr. (SECURITY) on drums, plus performances by Krenshaw, Divided, Unjust, RevivALL, Karate High School and Sikness. Or, for a jolt of '60s flower power and old-school political protest, check out Country Joe McDonald at the Brookdale Lodge.

PLAN AHEAD: The Destroyed, the Cliftons and the Eddie Haskels, April 18 at the Lido; Glasseater and Open Hand, April 18 at the Cactus; Firewater, April 18 at the Great American Music Hall in San Francisco; Nick Cave and the Bad Seeds, April. 18-19 at the Warfield in San Francisco; the Plus Ones, Limbeck and Olympic Year, April 19 at the Los Gatos Outhouse; Luckydog and the Mother Hips, April 19 at the Catalyst in Santa Cruz; Lords of the Manor, Shortie, downside, Solace and Wurkt, April 20 at the Gaslighter Theater in Campbell; Picnic, April 20 at Plant Fifty One; Les Claypool's Frog Brigade, April 21 at Cocoanut Grove in Santa Cruz; Robyn Hitchcock, April 23 at the Great American Music Hall; Short Bus (featuring members of Sublime and Long Beach Dub Allstars), April 23 at Slim's in San Francisco; Mike Watt and the Secondmen, June 13 at Slim's; Billy Idol, July 23-24 at the Warfield.
---
Send a letter to the editor about this story .
---
[ Silicon Valley | Metroactive Home | Archives ]