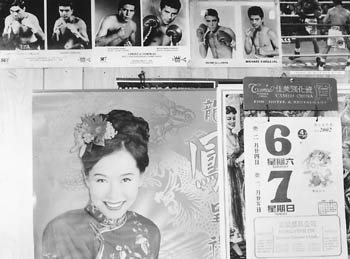 Photograph by Erika Pino

Asia de East Side: Dragon travels to Mexicali via Hong Kong.

Enter El Dragon

A sign above a Chinese restaurant leads to a unique cross-cultural experience

By Todd Inoue

AFTER MY weekly soccer game, a couple of guys were talking about a place on Story Road where they had watched the CONCACAF final. It was called Dragon--a Chinese restaurant that catered almost exclusively to a Latino clientele.

"The sign above the door reads 'COMIDA CHINA PARA HISPANOS,'" said Brendan, framing each word with his hand. "Apparently, they broadcast all the Mexican soccer games and boxing matches."

"And they serve chow mein?"

"Yeah. It's a weird combination."

Weird combinations: I recently ate natto spaghetti in San Francisco, but Mexicanized Chinese food and soccer games? That was something else entirely. So when the United States and Mexico scheduled a friendly, I knew where I was going.

Dragon sits in the Sunset Garden Plaza, near sundry shops and--conveniently--a soccer store. To label it modest would be an understatement. White tablecloths are squashed beneath Plexiglas. Mexican beer and boxing posters share wall space with Chinese-style paintings. The green miniblinds have been crushed by one too many "gooooal!" celebrations.

The shabby interior belies the owners' pride in the place. We were seated by Sun, owner George "Jorge" Chow's mother, who asked us, "Nay gong gong dong wa ma? [Do you speak Cantonese?]" "No." "¿Se habla español?" "Sí, un poquito." Yes! Common ground!

The Chow family emigrated from Hong Kong to Seattle, then moved to the California border town of Calexico in 1976. Sun's brothers owned restaurants in nearby El Centro and across the border in Mexicali. At age 14, George spoke more Spanish than English and was busing tables and washing dishes in his uncles' establishments.

"Chinese food is popular in Mexicali," Chow explained. "There are 50 Chinese restaurants. It's almost like McDonald's."

In 1987, George relocated to San Jose. His parents followed him, and they opened Dragon on the East Side in 1992. At first, he hesitated, because Chinese restaurants are a dime a dozen in the valley. But his Mexican soccer friends kept the pressure on. "Everyone kept telling me, 'Who cares if there's a new Chinese restaurant opening--we don't understand a single thing on [the menu].' And it rang the bell: this is going to be something totally different."

Dragon serves simple Chinese dishes with Mexican accents. The menu is in Spanish and English. Grilled meats and beers--Corona, Modelo, Dos Equis--are served with lemon slices. Forks replace chopsticks. The condiments are a study in diversity: soy sauce, Sriracha chili sauce, chili garlic sauce, salt, sugar and Tapatio hot sauce.

We watched the U.S./Mexico pregame as the tables around the widescreen TV in the main dining room filled up. One dude, decked out in the Mexican national team jersey, had his face painted with red, white and green stripes. During the Mexican national anthem, he whistled and waved the Mexican flag. During America's turn, he waved a tiny plastic American flag.

Our food came promptly. An appetizer platter ($4.50) presented a few pieces of char siu, a skewer of grilled beef, two meaty charbroiled pork ribs and an egg roll. A chicken hot pot ($7.50) turned out to be charbroiled chicken and yellow onions served on a sizzling black platter. The house special soup ($8.95) swam with beef, chicken, calamari, shrimp, clams, bamboo shoots and cabbage. And sure enough, chow mein was chow mein ($5.25) fattened up with canned mushrooms.

Dragon's food is just OK, but you can't beat the atmosphere, especially on game day. The Chow family and one Latina waitress, George's wife, Letty, chitchat with the guests and refresh the Coronas.

As the Corona bottles emptied, Mexico squandered early chances but didn't give up. Neither did the enthusiasm of our painted friend, who danced and whistled. At one point, Sun chastised the rowdy regular. "Loco," she whispered to us, rolling her eyes.

The United States won 1-0. On the way out, a television crew from Channel 48 Telemundo was heading in to film patrons' reaction to the game.

Dragon wasn't Asia de Cuba--more like Asia de East Side. It exists on another plane, somewhere between Hong Kong, Mexico and San Jose--a multilingual triangle where everyone's welcome.
---
Dragon Restaurant
Address: 2003 Story Rd, San Jose
Phone: 408.926.8888
Hours: 11am-10:30pm daily
Cuisine: 'Especialidad en Comida China'
---
---
Send a letter to the editor about this story .
---
[ Silicon Valley | Metroactive Home | Archives ]